Stated LORD mainman LT: "We can now reveal the title of our forthcoming album is 'DIGITAL LIES'. The track listing is as follows:
1. Incipio
2. Betrayal Blind
3. Digital Lies
4. Point Of View
5. Walk Away
6. 2D Person In A 3D World
7. Final Seconds
8. The Last Encore
9. Because We Can
10. The Chalkboard Prophet
11. Battle Of Venarium
Plus there will be additional bonus tracks for each territory release.
Once again, our cover art was handled by Felipe Machado [BLIND GUARDIAN, IRON SAVIOR, ICED EARTH, GAMMA RAY]. We're currently about half way through recording the album and while it's been a lot of hard work making sure it's up to the standards we've set ourselves, it's already sounding great.
Every artist says their new album is 'their best work' or their 'heaviest' or 'most brutal'. We'll skip those clichés and say that we believe we have a solid album of good music that we're proud of and we believe stands up to anything we've released so far. If you're familiar with LORD you'll know what to expect for the most part; a very diverse album ranging from traditional metal to commercial rock to extreme metal and everything in between. If you're wanting an album full of thrash songs, AOR songs, or progressive epic movie orchestral jazz djent punk songs that all sound the same then I'm afraid you'll be a little bewildered when the style shifts from song to song. It's the LORD you know with a few new elements that have fallen into the melting pot since the last album.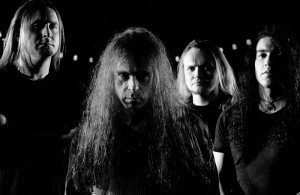 We expect the album to drop somewhere early in the second half of the year, released through Dominus Records via our licensors and distributors. Keep an eye on www.lord.net.au for ongoing studio blogs, videos and sneak peaks of the album. We hope you enjoy it."
LORD is essentially a continuation of DUNGEON, one of Australia's longest running and highest profile heavy metal bands, that disbanded in 2005. LORD has released three full length albums, two EPs and a digital-only release live album, and continues to play the DUNGEON back-catalog live. The band have shared the stage with the likes of GAMMA RAY, NIGHTWISH, QUEENSRYCHE and most recently ICED EARTH and continue to tour internationally, appearing at Germany's Headbangers Open Air festival in July. Their last critically acclaimed album, 2009?s "Set In Stone" featured guest appearances from Craig Goldy [ex-DIO], Pete Lesperance [HAREM SCAREM], Glen Drover [ex-MEGADETH], Felipe Andreoi [ANGRA], Olof Morck [AMARANTHE] alongside a host of other well known musicians.
Recording video for 'Digital Lies'
Video for 'Set in Stone' (Taken from the 2009 album 'Set in Stone')
Comments
comments