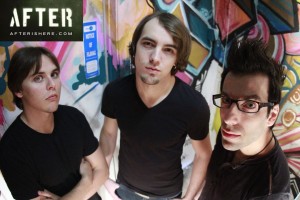 From Bio: AFTER was originally conceived by Jose Frietas (vocals/guitar/keys) and Brian Santner (drums) in the halls of the Los Angeles Music Academy; shortly after moving the fledgling project out to Orange County they were signed to Skullr Records, and released their first demo and subsequent self-titled album. They quickly exhausted the options available to them in the OC scene, and in 2008 decided to move the band to the epicenter of the music industry: Los Angeles.
A tumultuous couple of years followed as the band underwent numerous lineup changes, but in 2010 they finally started to gain some traction: they hooked up with their manager Don Hamister, released their second album, and pulled off a successful DIY tour.
2011 proved to be the band's breakout year; they solidified their line-up with Matthew Denis on bass and quickly garnered a reputation for awe-inspiring live performances, with standing room only shows at The Viper Room, The Troubadour, and The Roxy Theater. After crafting some of their most dynamic and musical material to date, they entered the studio with platinum producer Barrett Yeretsian to record their newest release, the appropriately titled 'Edges of the World'.
Shortly after the release of the 'Edges of the World' EP to a sold out crowd at The Viper Room in early 2012, founding member Brian Santner decided to part ways with the band to spend more time with his family; they found his replacement in Brian Sumwalt, who had worked with Matthew on a previous musical project, and returned with an even more intense live presence.
With a brand new video for their rendition of the Door's classic 'Riders on the Storm', and an excellent team behind them, AFTER is set to take their sound to your doorstep in the very near future.
We love the EP and think this band is pretty rockin' so well worthy of being one of our Best Things You've Never Heard…
Let's start with the basics first – for those that aren't aware of the band, what brought the band together and what is the inspiration behind the band name?
Jose met our founding drummer Brian Santner in music school, and shortly afterwards they dropped out and started a band in Orange County.
The name 'AFTER' actually came from flipping through a dictionary; we started with the first word and didn't find anything we liked at all until we came across the word 'after'.
Everyone had their own unique attachment to the word, and we liked it so much that it stuck.
Can you please introduce each member of your band and give us a rock 'n' roll fact or myth about each of them?
Our newest member is our drummer, Brian Sumwalt; he's a charismatic hard hitting fellow, and he speaks Japanese better than you. Both facts.
Matthew Denis handles the lower registers, and his bass tone can beat up your bass tone. Also a fact.
Finally, on vocals, guitar, and keys, the inimitable Jose Freitas; he has 17 illegitimate children currently residing in the Azores Islands. We'll let you decide on that one.
You have twenty seconds in an elevator to try and convince someone to listen to your new EP 'Edges of the World', what do you tell them?
'Hey, do you like free music? Here, take this. It's good for you.'
The EP itself is a great sounding rock release, are you currently working on more material for a full length album?
Thank you very much. We actually wrote a full album's worth of material before choosing a few for the EP, and we're currently working on an additional batch of songs as well; there will definitely be another release in the near future.
Stay tuned.
In terms of your song writing, what do you consider to be the most important ingredients that makeup an AFTER song?
To make an AFTER song, it seems important to include as many hooks as you can while remaining as musical and groove heavy as possible; some have called the flavor 'progressive pop', but it's best to have a taste and decide for yourself.
Both lyrically and musically, what or who inspires/influences your music the most?
Caffeine, as well as other stimulus.
You have recorded a cover of The Doors classic 'Riders on the Storm' which is a killer rocked up version. What was the idea behind recording this song to include on the EP?
The chord progression and melody of the original recording seemed a great fit for 'quiet-loud' dynamics, a favorite in our style of writing, and the theme of Jim's original lyrics fit the need to survive in today's frantic society. We've been playing the rendition live for a while now, and people seemed to like the interpretation enough that it made sense to include it on the EP.
You've also just done a video for the song, what can we expect to see from that?
It's a nice taste of the AFTER live experience. We had a great space to shoot in and a very creative director, and of course we had a lot of fun; we're really looking forward to sharing it with everyone at the Viper Room on June 10th.
Touring wise, what have you got in the pipeline in support of this new EP?
Now that we have our lineup solidified, we're planning on booking shows outside of Los Angeles as frequently as possible for the rest of the year; the video release show should be the start of a busy summer for us. That live show/DIY ethic has always been a big staple in the band, and we really enjoy making friends in new places.
Now for those that haven't yet seen you perform before, what can people expect from one of your live shows?
We sort of force you to have fun with us. We jump around and sweat quite a lot, and if you don't leave damp as well you're likely doing something wrong.
Going via your bio, it seems after a couple of rocky years as a band, you now seem to be settled and on the right road; how hard was it getting AFTER to the place you wanted it to be?
Calling it 'hard' doesn't seem quite accurate, although it did take a bit of time. We were also lucky enough to play with great musicians along the way, and all of those players helped us grow and shape our sound; after all, it's all about the journey. That being said, the current line-up is the leanest, meanest version of AFTER yet; we work out and stuff.
Now, for a bit of fun, recently at Coachella, we saw Tupac appear as a hologram, if you could have any artist perform on stage with you as a hologram, who would it be and why?
Definitely Michael McDonald; he is undoubtedly the best back-up singer of all time.
Lastly, here's a chance to gaze into your magic mirror. In the next year, AFTER will have:
1. A new album release
2. A new website and music video
3. An endorsement with Naked Juice
Essential Information
From: North Hollywood, California, United States
Sounds like: Rock/Alternative/Progressive
Band members: Jose Freitas – vocals, guitar, keys, Brian Sumwalt – drums, Matt Denis – bass
Website: http://www.afterishere.com