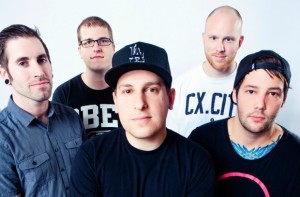 Get What You Give that's the title of the brand new record from California hardcore band The Ghost Inside, the bands third album and their first to be released through the legendary Epitaph Records.  Produced by Jeremy Mckinnon of A Day To Remember, The Ghost Inside fans are likely to find this to be the bands heaviest album to date, whilst also their most anthemic.  First single Engine 45 has already got tongues wagging, quite literally, with its highly impactful video clip.
On the eve of heading off on the Vans Warped Tour in the USA, we caught up with guitarist and chief songwriter Aaron Brooks to chat about what he got, from what he gave, to this album.
Hey, Aaron, thanks for taking the time to do this interview!  So next week, the action begins, your new album is released and you hit the road on the Vans Warped tour.  So what's the most overwhelming feeling now?
It's been exciting times for our band indeed.  We leave tomorrow to head off on the Warped tour as you mentioned and that's pretty much a dream come true for everyone in our band.  We've all been attendants of that tour and huge fans of it and would have liked to have played it forever, so to finally get the chance is a huge honour and we're very excited.  We are finally ready to get this record out, it's been a long time coming for us.  We've been excited for months now because we recorded it back in September/October, we are very excited with how this record came out and very proud, so we can't wait for people to hear it.
Being your third album, heading into it, did you have some pretty clear aims of what you wanted to come out with at the end, or was it more a case of letting it all evolve naturally?
When we wrote this album it was pretty unconventional as far as the way you would think it would go.  Normally you would write your songs before you get to the studio and polish them off and then record.  But because we were on tour so much, we didn't really even get a chance to write.  When we showed up at the studio, we didn't have one complete song.  We had a handful of ideas and from there on, basically winged it. Our drummer and I shacked up in the studio and wrote about 2 or 3 songs a day for over a week and then took a few days to finalise them all.  We basically wrote our whole album in just over a week, musically.  That's not the best way to do it as its very stressful and you need to be very creative in short blocks of time, but we lucked out on this one and ended up being my favourite record so far.  I think this is our first album where every song to me is such a huge part of the album.
So in hindsight, I dare say you won't probably be tackling the next album in a similar fashion, by choice?
As a band we've always written pretty quick, bands generally write over the course of many months or a year or whatever, but we've never really written for longer than a few months.  That's just our band and of course every band is different.  So for us to knock it out, in that short of time, was new and probably not something I want up do again in the future, but it worked with the circumstances we were given.
So whilst the writing was obviously a lot different to what you have done previously, how different was the recording process?
Well we tracked with Andrew Wade in Florida and it was a really nice environment.  He's got a great studio, we worked really well, we got along together really well and Jeremy McKinnon from A Day To Remember was part of the record and he was there as well to help keep the ideas flowing.  It was great fun, I had a blast working in this studio.
Working with Jeremy McKinnon on the new album, how involved and hands on so to speak did he actually get?
It's hard to describe his work on the album.  We definitely wrote the songs as The Ghost Inside, but with me as our main songwriter it was very fortunate that he and I think very similarly as far as writing songs and ideas.  If I started to get stuck he would be there to keep the ideas flowing and throw out some things we wouldn't have normally thought of.  He helped a whole lot with vocals and vocal patterns and gave us a nice little push for some clean singing parts as well.  It's not that we wouldn't have done some of these things on our own.  It's just that he's so great at doing it and some of his suggestions were great and we were so into them.  It's still very much a Ghost Inside record, but it was just awesome to have that other person around.  We had a great time working with Jeremy.
Musically, would you say that this your heaviest album to date?
That is probably the only aspect of our record that I had thought out previously.  For some reason I got the impression that people probably expected us to go light and not be as heavy and aggressive as our band is.  I think having that in our mind just naturally made me want to write heavier and more aggressive music.  Granted, we do have a lot of melodic parts on it, we even have one song without any heavy parts, and then there are the clean singing parts on the album.  Then you have a song like Engine 45, which we've just released, the video for which is one of the most aggressive songs we've written.  I just feel like people in our genre of music just view heavy as playing a really slow breakdown or something.  I just feel they don't view heavy in the same way I do.  I just wanted to write really aggressive music, as opposed to really heavy music.  I accept that it's almost kind of the same definition or whatever you want to call it, but for me this is our most aggressive record and I'm really happy about it.  To me if you are going to write a really heavy part, it should move you, just like a singing part would move you or affects the way that you feel.
So as far as the album title and imagery of the album cover, if you care to share, give us a bit of an insight into the background behind that?
"Get What You Give" to our band, is basically we feel very fortunate to have come as far as we have and accomplished the things that we have.  We feel with this record that we are presented with the opportunity to do even more, but it's not going to happen unless we do it ourselves. It's kind of like, "oh our band is getting bigger so now we don't have to try anymore".  To us it's inspiring us to work even harder to further ourselves as musicians and as a band.  "Get What You Give" to us is we are only going to get out of it, what we put into it.  With the record cover we didn't really give the artist much direction.  He came up with the idea of the mountain, which he described it really simply in terms of if you guys want to get anywhere, you've got to work hard, just like if you want to get to the top of the mountain, you've got to climb it.
Another big stepping stone for this album is it's your debut album on the Epitaph label, that's a pretty significant milestone for the band I'm sure!
That's definitely been a huge dream come true for us.  We have been huge fans of the label and all the bands on it since we were kids so to get to work with them is great.  Since working with them it's been nothing but good.  They understand our band and us as individuals in the way we want to take our band.  They like the band that we are and want us to be the band that we are and that's the reason why they liked us in first place!  Epitaph Records is such a huge label and to be part of it is so awesome.  They have so many outlets and resources to help our band accomplish what we want to do and they're there every step of the way to make sure it happens for us and we are thankful to be a part of it.
Given you are about to head out on the Vans Warped Tour, I'm sure you've got some new songs you are planning to slot into the setlist.  How have the new songs been shaping up in rehearsals?
It was really hard to pick our setlist for this tour, as obviously this is the most songs we've had to choose from in a few years.  On top of that on Warped Tour we are only playing for about 30 minutes.  We picked the songs we felt we should be playing from the last two records and for now will just be playing two new songs.  We will start cycling in more of them I guess after the Warped tour when we get a sense for what songs people like and don't like from the album, but for now it's a few songs from each record and will be a lot if fun.
So after Vans Warped, what's the plan for the rest of 2012, is it pretty much a case of relentless touring?
We are definitely booked through to the end if the year, but I honestly don't know what I'm allowed to announce or not announce at this stage.  I have a pretty good idea what we are doing, there's still a few things up in the air, but I just can't say anything right now or I'll get in trouble.  I feel really confident we'll be able to get to Australia before the end of the year.  That's our favourite place to play!
Essential Information
From: California, USA
Band members: Vigil – Singer, Aaron – Guitar/Vocals, Zach – Guitar, Jim – Bass/Vocals, Andrew – Drums.
Website: www.theghostinside.com
Latest release: Get What You Give (22 June 2012, Epitaph Records)