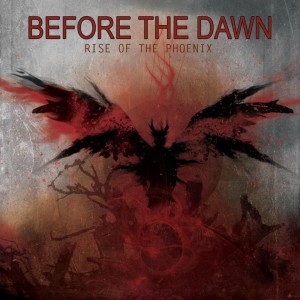 "The core of the whole music business should always be a band that writes music that they love without thinking the reactions of media, fans or labels.  Honest and true music will always gather fans and listeners."
Whatever you previously knew of Finnish melodic death metal band Before The Dawn over their 13 year and 6 album history, well you can throw that out the window and start again…  In preparation for new album Rise Of The Phoenix, the bands mastermind Tuomas Saukkonen assembled a new lineup and finally shifted the band musically to deliver the vision he has always longed…more aggressive and faster and the result is new album Rise Of The Phoenix!
Tuomas set aside some time whilst out touring to give us an insight into the new album and the new "dawning" for Before The Dawn.
Thanks for taking the time to do this interview!  Now in a few weeks, you have your new album Rise Of The Phoenix due to be released.  So what kind of feelings do you normally have before the release of an album?  Is it normally anticipation, expectation, excitement etc…
First of all I want to apologise to be so late with the interview since the album has been out now for few weeks, but has been insane with the schedules and the interest from media has totally blew me away.  The feeling varies pretty much and sometimes it has been frustration and some other negative feelings, but I am very happy that I am very happy and excited because of the result and the release.
It's been just over a year since you released your last album, but this time around, much has changed both with the lineup and sound of Before The Dawn.  So firstly, for you personally, what was the main driver for this change?
A lot of frustration was building inside the band and a lot of unprofessional behaviour was taking place.  I just wanted to be happy about BTD and see that the whole band gives 100% in the studio, on the stage and also for the band in general.  We started to be more like an amateur band instead of professional, so the changes were vital.
You have had a couple of line-up changes during this time, was this largely the result of the new musical direction the band was headed?
I have been wanting to write more aggressive and faster material for BTD but was unable until I got Joonas for drums. Fast music demands a fast drummer. I was very happy with our previous drummer but he was not able to play anything fast and that made me to cut off a lot of ideas for songs and that started to be a bit frustrating since there started to be clear limits with the song writing.  That is something that should be 100% free from all possible limits.
So can you tell us a little bit about the new band members that you have in the band, Pyry (bass) and Joonas (drums)?
Both are old friends of mine and we have shared the stage numerous times so to me they were not really new members.  Both are extremely talented and motivated professionals and even though I wrote all the material and mainly arranged all the instruments they were able to lift the BTD music to a new level with their personal input. Joonas had a big role to me since I was able to write whatever I felt like and I knew that he would be able to play them all.
Now onto the new album Rise Of The Phoenix, so when did you actually start writing for the new album as your previous album was released only just over a year ago, that's a pretty quick turnaround?
I started to write new music in spring 2011 and we entered the studio around early October so the writing process was pretty short.  When the big changes were done inside the band and the long lost motivation and energy was regained the level of inspiration was thru the roof. I was the easiest album to write and record in BTD history. I also wanted to have the album out as soon as possible since I felt that the band was reborn and wanted to turn the page between the past and future as clear and fast as possible.
How much of a liberating feeling was it for you to create the album in the style that obviously you have been burning to do for a while now?
This much (hands as widely open as possible) :). It is hard to describe how good it felt after 13 years and 6 albums already out.  It was like writing a 2nd debut album.
How much do you anticipate your fan base will change in response to the change in the bands sound?
I think there will be some change for sure since the clean vocals were in a big role and so was the case with the gothic elements.  I also am confident that we will find a lot of new fans, so was not worried about that at all.  The core of the whole music business should always be a band that writes music that they love without thinking the reactions of media, fans or labels.  Honest and true music will always gather fans and listeners.
So tell me, as far as the album title, lyrics and album cover – what influenced this album, are there any key themes?
The rebirth of the band was pretty much the main theme like the title clearly says.  I always write lyrics from very personal point of view and in many songs there is a very strong personal connection.  I can very clearly hear the situation of the band in the lyrics but also many personal issues that has been running in my head during last summer.
How do you find the balance undertaking a range of roles in completing this album. eg. writer, producer, lead vocalist, guitarist?
It all comes naturally and I don't see them as separated roles. As a songwriter the producer's job is not that big of a step and playing my own instrument is also just very natural thing to do.  For some BTD album I have also played drums and for one album I played all the instruments so this new album was actually very easy job since I only played guitar and keyboards on the studio 🙂
Ok, so obviously the musical style and lineup has changed considerably this time around…but how different was the actual recording and writing process?
The same old. It was just more enjoyable this time comparing to few previous albums. Our solo guitarist Juho mainly recorded and did all the mixing for the new album and same was with the previous album as well so it was the same well working team in studio. We have done together also all 3 my solo project albums BLACK SUN AEON so it is a well working team indeed.
What are some of your biggest musical influences, and I guess specifically was there anything in particular that was a key influence on what you wanted to do with this album?
I just wanted to write an album purely to myself. I can hear some influences from my childhood idols like Dissection, Paradise Lost etc so even though I don't listen to music much while I am writing a new album I think I will be always inspired by the bands that lead me into metal music few decades ago.
You have been signed to Nuclear Blast record label, being an International label, how much interest over the years has there been in the band in countries outside of Europe?  I think you toured Asia just recently for example?
There has always been some interested but this is the first time when there is literally been interviews from all over the world and for example from Australia :). NB has done an amazing job so far and after all the work during the years it is very good to have a home in such a big and well working label.
So looking ahead, what are the plans so far for 2012, no doubt lots of touring, action I assume?  Do you have many international touring opportunities on the horizon?
Touring indeed and we have already a Euro tour coming but I am really looking forward to tour in Asia, Australia, South America and USA. That would be so cool!!
Essential Information
From: Finland
Website: www.beforethedawn.com
Latest release: Rise Of The Phoenix (2012, Nuclear Blast/Riot! Entertainment)