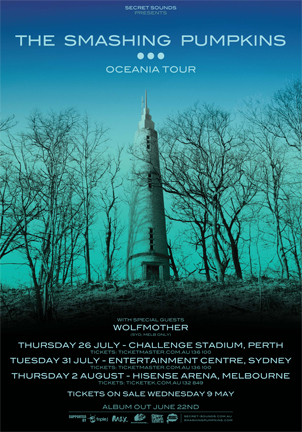 Secret Sounds are excited to announce that Splendour headliner THE SMASHING PUMPKINSwill be playing some very special sideshows in Perth, Sydney, Melbourne and Aukland, NZ. For these performances, as well as playing plenty of classic Pumpkins catalogue THE SMASHING PUMPKINSwill be debuting a unique stage design in Australia created to reflect the visual themes of their new album, "Oceania".
Alt rock'n'rollers WOLFMOTHER will join THE SMASHING PUMPKINS as special guests in Sydney and Melbourne. WOLFMOTHER'S self-titled debut album catapulted them onto the national and international music scene when it picked up the J Award for Album of the Year, multiple ARIAs and a Grammy Award, going on to sell more than a million albums worldwide.
"Oceania" will be released on June 22, 2012, through Create/Control.
TOUR DATES
Thu 26 Jul 12 Perth Challenge Stadium
Tue 31 Jul 12 Sydney Entertainment Centre
Thu 2 Aug 12 Melbourne Hisense Arena
Sat 4 Aug 12 Auckland, NZ Vector Arena