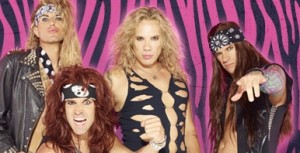 STEEL PANTHER are "Crude, rude, filthy, and more infectious than a bad case of herpes". – Revolver Mag.
For STEEL PANTHER, bringing the halcyon days of metal back to the world is not a job…it's a mission statement, a modus operandi, and a way of life.
In their first ever headline tour of Australia, Steel Panther are primed for an all-out assault on the senses with Michael Starr commenting "I can't wait to get my balls out in some fresh Australian air!" and Stix adding "I can't wait to come to Australia and rock all the genitals off your women then they'll know what America tastes like!"
They have remained rock's best kept secret for decades — prowling the Sunset Strip with weekly residencies while keeping the sleazy flame of rock 'n' rock alive…"But no longer. The ferocious Steel Panther has been let out of its iron cage and has only one mission: to roar with the tiger-like growl and strut with the sensual prance of glam rock n' roll from the halcyon days of the 1980s." – Metal As Fuck
With their brand new album 'Balls Out' in tow and having just been nominated for Metal Hammer's "Best International Band" Award, STEEL PANTHER will be bringing their full live show extravaganza to Australia this October!
Tickets go on sale now and on sale for the revised Melbourne, Festival Hall show on Friday May 25th at 9am.
THURSDAY 4 OCTOBER – BRISBANE, EATONS HILL – Lic A/A
www.oztix.com.au
FRIDAY 5 OCTOBER – SYDNEY, BIG TOP LUNA PARK (SOLD OUT) – Lic A/A
www.bigtopsydney.com / www.oztix.com.au / www.ticketek.com.au
SUNDAY 7 OCTOBER – MELBOURNE, FESTIVAL HALL –18+
www.ticketmaster.com.au
* It took Melbourne a mere 13 minutes to completely sell out STEEL PANTHER's huge Palace show.  The spandex army has spoken, so Melbourne's Sunday 7 October STEEL PANTHER show will now move to Festival Hall. All tickets remain valid and new tickets will go on sale Friday 25 May 12pm.
MONDAY 8 OCTOBER – ADELAIDE, HQ – 18+
www.oztix.com.au / www.venuetix.com.au
WEDNESDAY 10 OCTOBER – PERTH, METRO CITY – 18+
www.oztix.com.au