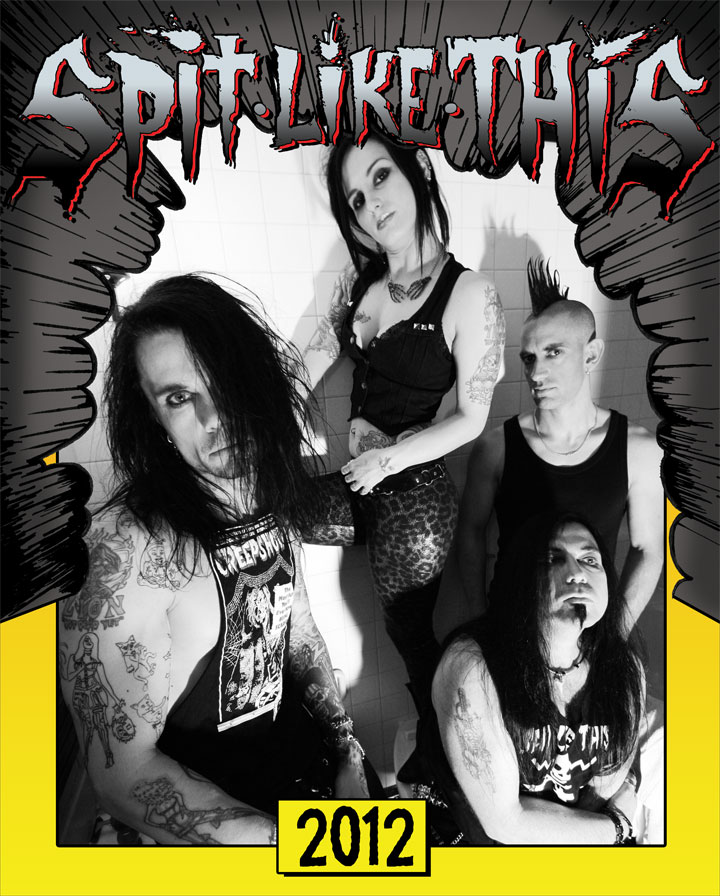 Official Bio: "With a middle finger proudly raised to your average schmuck and the mundane lifestyle they idly peddle, punk-as-fuck glam cult heroes SPiT LiKE THiS have returned amped to shove the metal right up all them tight asses with their 2nd full-length 'Normalityville Horror'. Produced by Grammy-nominated Chris Tsangarides (Judas Priest, Ozzy, Anvil) getting this hot-rod out the gates was no easy task but 2 years after its conception and 18 months after it was recorded, 'Normalityville Horror' is ready to burn rubber and take an already well-established underground band into top gear.
Since their inception in 2001, the band's tireless and resourceful DIY ethic has gained them a great deal of attention from within and without the music world. Vocalist Lord Zion and bassist Vikki Spit's incredibly successful t-shirt line 'Smell Your Mum' has famously caught the eye of Motley Crue drummer Tommy Lee, and has seen them featured in major publications such as Bizarre Magazine and Skin Deep. This isn't to forget that over the years they've shared the stage with the likes of Iron Maiden, Alice Cooper, Slayer, Twisted Sister and the New York Dolls, but to name a few. Known for their provocative and theatrical performances, they were voted one of the top ten highlights of Hard Rock Hell III, beating out an entire roster of high profile bands while Kerrang! readers voted them number eight in the best unsigned band category.
Axe-wielder Rob Riot joins their ranks while Vile Gilez returns to hold down the beat in what could be described as the unholy matrimony of The Cramps and The Damned in a sleazier metallic re-write of the Rocky Horror Picture Show hosted by Robin Black. But this isn't cheesy, manufactured, flavour-of-the-month rockabilly; it's the unbastardised, in your face spirit of rock and roll, fists up and ready to rumble.
Having already gained a great deal of praise for the unmastered version of the album they sent around to select press last year, 2012 has plenty of big things in store, including a triumphant return to Hard Rock Hell.  Expanding upon their already strong cult following (judging by the sheer number of people with their logos permanently inked on them – you can find a gallery on their website – they're quite the dedicated crowd) SPiT LiKE THiS and 'Normalityville Horror' will doubtlessly see the band recruiting and converting legions more to their filth-mongering, trash-talking rock and roll ranks."
So you want to know more about Spit Like This?  Well Lord Zion is here to answer our questions…
As this will be the first time a lot of our Australian based readers have been introduced to Spit Like This, let's start with the basics first, when did the first band get together and what was the inspiration behind the band name Spit Like This?
A spitting contest between Vikki and I on the day we met sealed the band name – not that we knew it at the time.  We were both very drunk and trying to gob on some cars in a showroom car park.  She was rubbish, dribbling on her chin, so I had to show her how to "spit like this".  Fast forward a couple of years when we were looking for a band name, we started recounting parts of our lives for inspiration and this memory came flooding back.  And, so, the deed was done.
Our official start date is something ridiculous like 2002, but we didn't start gigging until 2003 and, to be honest, I don't think we became a "serious" band until 2007.  Yes, before then, we had released EP's and things but 2007 marked the moment when it was time to decide whether to go for glory or not.  So, we really knuckled down, saved our pennies, recorded our first album and took it from there.
Can you introduce each member of the band and give us a rock 'n' roll fact or myth about each?
LORD ZiON (Vocals/Co-founder) – That's me.  Rock n Roll fact: I set fire to someone once for wearing an Iron Maiden jacket.
ViKKi SPiT (Bass/Co-founder) – My partner in crime.  Rock n Roll fact: Vikki gets paid £80 for bottles of her spit.
ViLE GiLEZ (Drums since 2003) – Rock n Roll fact: He won't thank me for this but, once-upon-a-time, when he did such things, he was so strung out on Cocaine, he picked up a prostitute but his equipment failed to work.
ROB RiOT (Guitars since 2010) – Rock n Roll fact: He won't thank me for this but, once-upon-a-time in Germany, he picked up a fan and tried to screw her in the road but his equipment failed to work.
We are currently seeking a Viagra sponsorship 😉
You have twenty seconds in an elevator to try and convince someone to listen to your new album 'Normalityville Horror', without resorting to threats or violence, what do you tell them?
Every once in a while a band comes up with an album that is pretty special.  We are that band and this is that album.  Do it.  Oh, and Floor 3, please.
This is now your 2nd album release, how different was the writing and recording process for this album, compared to your first album?
Very.  Album 1 was made up of material I had written, or co-written, with people over my musical lifetime.  Figuring that this might be the one chance to get this music down on disc, I pooled what I considered to be the best tunes and we recorded those.  Although very happy with the results, it is an eclectic and, some may say, confusing record.  To me though, it is like an early Queen record, full of different styles and quite exploratory.  But people have got dull over the years and some complained and bitched and whined like complainy whiny bitches.
Another accusation levelled at us was that we were so much better live than on that first CD.  That I have to agree with.  So, when it came to writing and recording for album 2, the decision was made to ensure that everything sounded live, overdubs were kept to a minimum, keyboards were thrown out and that, if the song didn't kick ass live, it wouldn't make it.
And I think we achieved that.  We also kept the recording process much simpler and more spontaneous.  Most songs were done in a couple of takes with us all in the same room.  I have to say, it was more enjoyable.
The final aspect was that we, as a band, were now all 4 people pulling in the same direction.  The guitar player on album 1 turned out to be – how shall I put this – a blackmailing prat, so I fired him and replaced him with someone that fits the role of SLT guitar player much, much better.
We now sound how we should have sounded from the beginning.
Tell us more about the album title and cover art – what is the concept you were shooting for with 'Normalityville Horror'?
It was actually a title I had knocking around from the 1st album.  I really liked it and it stuck with me but I figured it would have been used already.  When it came to the genesis of this album, I Googled "Normalityville Horror" and discovered it was a Googlewhack (only one entry on Google) – a Googlewhack from my own site, I might add!  So, I bought the domain name NormalityvilleHorror.com and now any mention on Google relates to us.  Magic.
Concept in place, the song wrote itself.  A kick against Normality.  Suburbia, regular jobs etc.  As the bridge goes: "Birth, school, work, death.. Is that really what it's all about?" – my thoughts exactly.
The idea behind the artwork was us bursting into the grey world of Normality and adding some SLT colour, destroying it in the process.  So the cover is us in a Mad Max'd 1980's 911 destroying all in our wake.  There is a cool gatefold as well which further explores the concept.  My dream is a comic book.
In terms of song writing, what do you consider to be the most important elements that feature in a Spit Like This song?
Rhythm.  It is what makes us move.  I've always been hot on that and, if you listen to really early stuff, it is very rhythmic.  We lost our way a bit with our old guitar player as he wasn't that hot on rhythm which forced us to change our sound and style a bit but, with Rob in place, I knew we could be really strong rhythmically.  Seriously, some bits on the album wouldn't be out of place on a thrash record, it is that tight.  Melody comes a close second.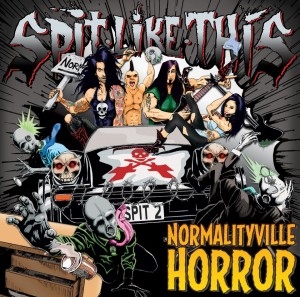 On your new album you worked with Chris Tsangarides who has a pretty stellar history, tell us about the experience of working with him…
Chris was so amazing, we signed to his label!  It really is that simple.  I must admit, I was a bit nervous upon first meeting, wondering what he would be like but he was perfect.  His attitude was similar to ours, he had no ego and the 19 days I spent with him were like the best vacation ever!  Obviously, he knows his stuff so I felt safe in his hands.  He knew where we were coming from and what we wanted to achieve and he helped us do that.  It also felt collaboratory; yes, he knows his shit but he was more than happy to listen to any ideas we had and try them out.  There were a lot of happy accidents.
Within moments we knew we had picked the right guy and the whole process was easy.  Once the recording was done, he mentioned that he was starting a label and asked if we would sign to it.  Abso-fucking-lutely!  It took a while for it all to get sorted out (he's a busy guy) but I couldn't wish for a better label boss.  Both him and his business partner (Dave Cousins from The Strawbs) are knowledgeable experts and I feel honoured to count them as friends.
Over the course of the bands evolution, what and/or who have you found inspires and influences your music the most, in both a lyrical and musical sense?
Life.  Nothing is more inspirational.  You can tell what kind of mood I am in from the song I write at the time.  Take the song "Sick" from this album, for instance, I was so pissed off with the liars, thieves and sharks that populate the waters of the music industry, I wrote a song about them.  I had several people in mind when that was penned – the results are great lyrics and a great opening track.  Assuming things go well with this album, I imagine that record 3 will be about how awesome life is and how I'm enjoying living in my new gold-plated mansion 😉
We've picked out 3 songs from the new album – can you give us a bit of background to each song and any important facts you think we should know:
1. The Life & Times Of The Suicide Kid
Lyrically slightly autobiographical.  It was going to be entirely autobiographical with me as the "suicide kid" but, as I wrote it, I decided that it would be a better song if I took a step away from it, changed sex and made it a frustrating tune about unrequited passion, due to someone wanting to top themselves.  There is a video to this song coming soon.
2. Very Very Good At Being Bad
Totally autobiographical.  I have a history of depressive illness and this is about my struggle with that.  There are times in my life where I should be so happy but, thanks to my illness, I'm not.  Suicide has always been an option hovering in the background but not one I want to take, most of the time.  I guess this is me having a conversation with myself telling myself that I will beat this and, when I die, it won't be by my own hand.
3. The Dumb Song
I love this song!  I spend a lot of time on Facebook and it baffles me how people seem to live out the most personal aspects of their lives on it.  A girl I knew got dumped by a status change on Facebook and that started the whole thing.  The song grew from the concept that stupid people talk about people, clever people talk about things and really clever people talk about ideas.  Hence the chorus: "Dumb people talk about people, and I hear you talking a lot".  I watch with bemused delight as people gossip and shit-stir online.  Seems to be an epidemic.
You hail from the London in the UK. For the benefit of those in galaxies far, far, away…what do you have to say about the rock scene in London at the moment and Spit Like This's place within it?
We are just south of London, about 20 miles out between London and Brighton.  Near Gatwick Airport, essentially.  Um, I'm not a fan of the rock scene in London.  It is full of cliques and full of musicians who stand around posing rather than just rocking the fuck out.  Give me a gig in a small town full of hungry punters over London any day of the week.  It's not the place people think it is.
If you were a person in the crowd at one of your gigs, what five words would you walk away using to describe the performance you just witnessed?
What the fuck was that?
Gigs, gigs, gigs…do you have any shows coming up that you wanted to tell the people about, if so here's your chance!
None in Australia!  Coming up we are playing our second Hard Rock Hell Road Trip in Ibiza.  Our agent is sorting out tour stuff to support and promote our album right now.  We're looking forward to seeing more hungry faces around the UK and Europe.  And we would LOVE to spread our wings further to Japan, China, Australasia and the USA/Canada.
With 2012 already four months down, here's a chance to gaze into your crystal ball. By the end of 2012, Spit Like This will have:
1. Survived.
2. Thrived.
3. Arrived.
Many thanks for the interview opportunity.  If I can take this moment just to promote our various online ventures, that'd be great!
www.spitlikethis.com – Official website
www.facebook.com/spitlikethis – Official facebook
www.twitter.com/spitlikethis – Offical twitter
www.smellyourmum.com – Official merch site run by me and Vikki
www.normalityvillehorror.com  – Making-of blogsite
Essential Information
From: UK
Sounds like: Alternative Horror-Streaked UK Glam Punk
Band members:
LORD ZiON – Vocals http://facebook.com/lordzionofficial
ViKKi SPiT – Bass http://facebook.com/vikkispit
ViLE GiLEZ – Drums http://facebook.com/vilegilez
ROB RiOT – Guitars http://www.facebook.com/robriot.slt
Website: www.spitlikethis.com
Latest release: (21 May 2012, Dark Lord Records)
Comments
comments