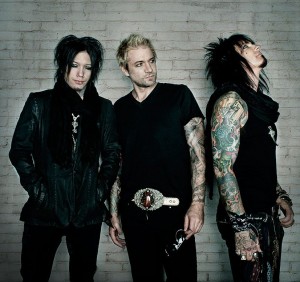 SIXX:A.M.'S NEW VIDEO "ARE YOU WITH ME NOW" LIVE WORLDWIDE AFTER JOINING RYAN SEACREST, VINCE GILL AND SUGARLAND TO SUPPORT CITY OF HOPE
Rock hit-makers Sixx:A.M. (vocalist and famed rock producer James Michael, Motley Crue bassist and radio personality Nikki Sixx and Guns n' Roses guitarist Dj Ashba) have made their new video"Are You With Me Now" available worldwide after using it to help raise funds for City of Hope, a leading research, treatment and education center for cancer, diabetes, HIV/AIDS and other life-threatening diseases. Ten days ago they joined other celebrities such as Ryan Seacrest, Vince Gill and Sugarland in their support of City of Hope offering their new music video for "Are You With Me Now" exclusively to the charity.  Fans who made a donation to City of Hope via www.cityofhope.org/radio received an exclusive preview code to unlock the never-been-seen-before video.
Check out the full music video:   
"Are You With Me Now" is the third single from the band's latest album, This Is Gonna Hurt. The album gave the band their first Top 10 debut on The Billboard 200 chart and has already produced the #1 hit "Lies of the Beautiful People." The 11-track CD that Billboard proclaimed "redefines the meaning of beauty" and AOL added is "boasting 11 radio-baiting tracks" is also the soundtrack to Nikki Sixx's New York Times bestselling book "This Is Gonna Hurt," which debuted at #4.
Sixx:A.M. is the rock band formed in 2007 by Nikki Sixx (bass), Dj Ashba (guitar) and James Michael (vocals). Their debut album, The Heroin Diaries Soundtrack, sold over 300,000 copies, and the single, "Life Is Beautiful," became radio's most played rock song of 2008.
Official Site:  sixxammusic.com
Official Merch Store: http://www.myplaydirect.com/sixx-am 
Twitter: twitter.com/sixxam, @nikkisixx; @djashba; @james_a_michael
Facebook:  facebook.com/sixxammusic
YouTube: youtube.com/user/sixxammusic