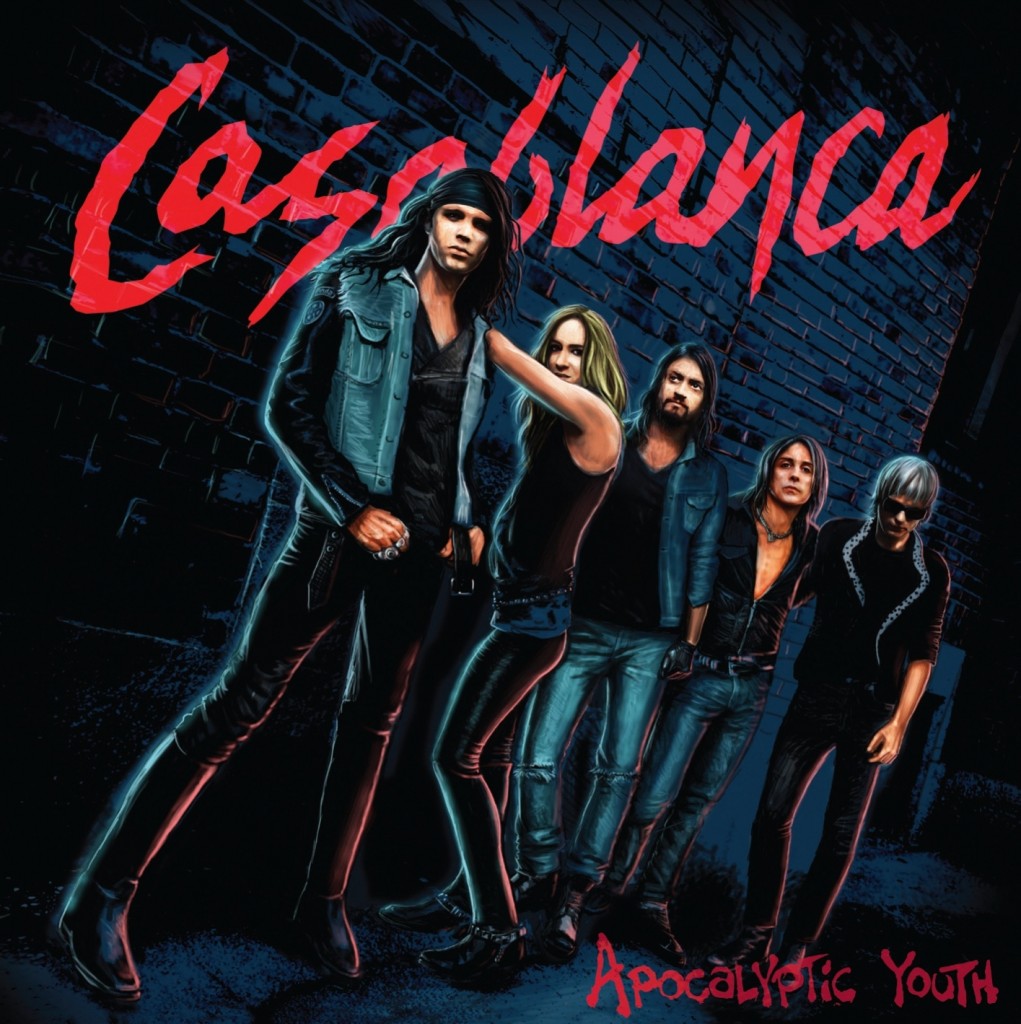 If you are familiar with the name Ryan Roxie, then you probably fall into one of two categories.  Category one, you are familiar with his involvement as a guitarist with the likes of Slash's Snakepit, or more prominently, spending a decade between the years 1996 and 2006 and now once again in 2012 as guitarist with Alice Cooper.  Category two, which is the one I fall into, is that you worship at the altar Roxie's knack for delivering some kick ass 70's glam infused rock, dating right back to the late 80's with Electric Angels, the cheekily titled Dad's Porno Mag in the 90's, through to the 2000's with a couple of stellar releases from his own Roxie 77 and now you can add Casablanca to the list, which you will find much to love if 70's glam, guitar driven rock is your thang'.
Relocating himself to Stockholm, Sweden the last bunch of years, it was obviously inevitable that Roxie would find himself involved in a band such as Casablanca and what an intriguing band it is at that, made up of drummer Josephine Forsman (Sahara Hotnights), bass player Mats Rubarth (Swedish national team football star), guitarist Erik Stenemo (Melody Club) and front man Anders Ljung (Space Age Baby Jane) on vocals.
My call into Ryan found him on the subway in Stockholm, Sweden with the undeniable enthusiasm he has for Apocalyptic Youth, almost as infectious as the songs on the album itself.  Having recently returned to the Alice Cooper touring lineup, you will be able to catch him performing on the upcoming USA and Europe/UK dates.
Hey Ryan, thanks for taking the time to chat!  So first things first you have a number 1 album on the Swedish Rock Charts with Casablanca, that's a pretty cool validation of what's a killer album!
Yes you're right, it debuted at number 1 here on the rock charts.  We are really proud of that album, we worked for a long time on making the songs into what they now are and since then we have really tried to hone the live show down so that we can hopefully come over there and play some Casablanca shows for everyone over in Australia.
Casablanca sure is an interesting concoction of band members, all with different backgrounds, but I suspect that you must all share a pretty similar bunch of musical influences?
The interesting part is that whilst everyone comes from different backgrounds, our record collections are remarkably similar and we have a lot of the same tastes in the bands that we like.  When we sat down as a band, we said what albums do we all admire and in a way this Casablanca album is a tribute to all those bands we admire and strung together into one, hopefully, original sounding band.
Well I think that's true with that "original" comment you made, you can hear elements of influences, but at the end, it's definitely something unique with Casablanca.
It's almost if you close your eyes whilst listening to the album you can hear all those bands.  We definitely come from late 70's glam/guitar driven bands such as Thin Lizzy, Kiss and bands like early Billy Idol.  You know there's nothing that we're not proud of, I always say if you don't acknowledge your influences, you're only fooling yourself.  We sort of have to pay homage to our influences, but the only danger is that you just can't copy your influences.  You can totally be inspired by them, but just don't copy them.  That's what we did, you can drag certain elements from certain songs and certain bands and the sort of spirit may make you want to play a certain type of guitar riff or whatever, so draw from your influences, but just don't copy.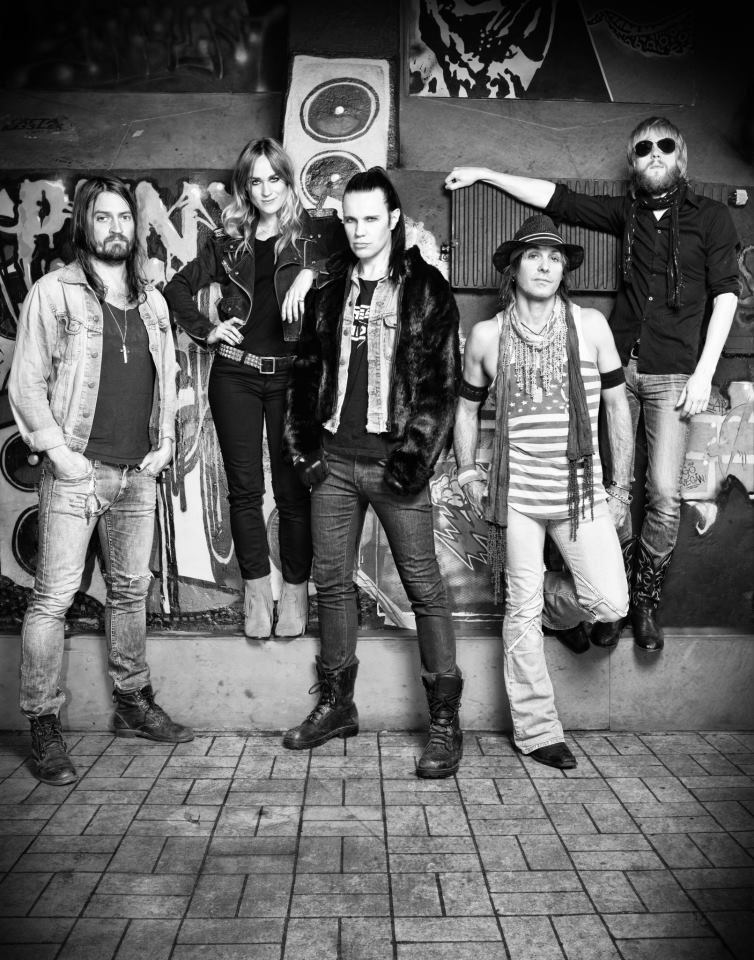 As far as the band name Casablanca, legend has it that this was inspired by the Casablanca record label, which Kiss was associated.  Assuming this is indeed true, what was it about "Casablanca" that motivated you to name the band after it?
I think if you go back and look at what Casablanca represented to the era of the 70's, it really had a huge influence over social phenomenon.  It came from bands like Kiss and Angel who were rock n roll bands and cutting edge rock bands, all the way through to disco bands and the whole era of disco music which pretty much captivated the world for a while.  So I think the spirit of the name Casablanca is what we like to draw from.  It's also one of those names that everyone has heard, but nobody can really pick it out on the map, kinda like Sweden (laughs).  It's a place you kind of have a kinship with the name, everyone's heard of Stokholm, everyone's heard of Casablanca, but you just can't pick it out if you're forced to, it's somewhere over there….
You had the track Love and Desperation floating around for a few years before the album actually was released.  Was this just simply a product of the time it took to get all the pieces of the puzzle together and find time in each of your relatively hectic schedules?
That's the thing, we all do come from a background of other bands and given they pay the rent for want of a better term, everybody has commitments with their other bands and Casablanca supports it, as do the other bands support Casablanca.  That's what I really like about living here in Sweden, the bands really do support each other.  It reminds me a lot of when I was based in Los Angeles back in the 80's.  Even though there was competition, it was always a friendly competition, which is really important, there's almost that brotherhood amongst the bands, or in our case now, sisterhood because we have a girl drummer!
The album producer was Chris Laney who anyone with even a passing interest in the Swedish scene will be well familiar with.  How was it working with him and how much involvement did he have in the arrangements of the songs etc, as opposed to just merely the sound?
Well Chris really sat down with us and worked on the record from the very beginning.  We sat down in the rehearsal studio and did pre-production.  I know these days, because of the convenience of all the stuff that's out there technology wise, pre-production isn't a word that's used so much.  For us though, it was really important to the overall outcome of the sound because there were a number of different changes occurring within each song, and that was all done in the studio before anything was even recorded and Chris had a big involvement in that whole process.  We are all big fans of Chris Laney and luckily enough, Chris became a big fan of us and it was the perfect synergy for that album, to have him behind the board and us all in a room recording the tracks, which is how we did it.
One of the other key elements of the release for me is the album cover, which just has that kind of classic feel about it?
You can't go wrong with a brick wall now can you?  Unless you run into it (laughs)!  So many bands we admire and thought they had cool debuts and cool photos, we kept coming back to a brick wall theme.  Whether it was the classic Ramones publicity shot, or the first Skid Row album.  You see that painting that is our album cover and you also get the vibe of that 70's movie The Warriors.
And to just complete the whole package, you are even selling the album in a vinyl version as well, who was the instigator for that one?
Nobody could be happier about that than our singer and maybe you (laughs).  Vinyl is one of those things that is making a resurgence and our label has been very supportive of that, given our singer requested a vinyl version since day 1.  When we first saw the copies, he had a big smile ear to ear about it, but I did as well actually as there is something special about being able to hold that big plastic disc in your hands and say hey, we created this and now I get to listen to it the way I grew up listening to music.
Now getting onto your return to Alice Cooper for a minute, it's a bit of a different dynamic this time around with a fellow Aussie on guitar in Orianthi to form a triple guitar attack!
I'm looking so forward to playing with Orianthi because she brings such a new fresh energy to the band.  I'm sort of the old school dog given I'd been there for many years and I think it's going to be a magical blend with both of our differing guitar styles and hopefully we have the same sort of charisma in that we are both entertainers and looking forward to backing up that crazy old guy with the funny eye make up!
In hindsight, it's probably not a bad thing to have come about as far as bringing some much deserved exposure to Casablanca on a grander scale, now that fate has you back in the Alice cooper band.
I'm really happy the opportunity came up to play again with pretty much the best boss I've ever had in my life with Alice Cooper.  I told the guys in Casablanca that the attention it's likely to get, even though I may not be able to play shows myself, I told them keep playing shows without me and we shall fill in with another guitar player for the shows I can't do, but by all means, keep the spirit of the band out and about.  In today's world, the best way to earn fans is just playing live shows and having them slowly becoming your fans one by one.
Later in the year I even see that all roads lead back to Sweden when both Alice Cooper and your Roxie 77 will be appearing on the same festival lineup, that must be pretty cool for you?
You've been doing your research haven't you (laughs), sounds like someone needs to do another road trip back to Sweden! As you said, yes we come back to Sweden with Alice Cooper in August for a festival and my band Roxie 77 is playing on the same bill as Alice, so I'll be a busy guy, but at the same time I'll be very, very happy to be playing these two shows.  I think there's something really special about the Swedish summer festivals.  The one we are playing with Alice is a really cool up and coming festival, you've heard obviously of Sweden Rock Festival and then there's also the Peace and Love Festival as a couple of main ones and it's really cool that Sweden opens itself up musically and let a bunch of International and National bands come in and share the stages.
You must be due to head back to the USA soon for rehearsals and the start of the tour?
Yes I'm going to be leaving Stockholm in the next few weeks which is a bit bitter sweet as I've gone through the whole winter with long, dark, cold days and turn when it starts to get sunny in going to be leaving it.  But then again, I'm going up be heading to places even sunnier at sunny California!  We start the tour off in Mississippi and I look forward to catching up with many old acquaintances and hopefully many new ones that come out for the tour.
Well Ryan, it's time to wrap this up, hope you have a great tour with Alice and if it's a world tour, let's hope you might get to head back down to Australia some time in 2013!
Let's try and make it 2012, c'mon man (laughs).  I would love to get my butt down there again and visit all those different towns we got to the last few times.  Every time I've been there I've had great experiences it's just one of those special countries where not only in Sweden do we look upon Australia favourably, I always say Australians are much like Los Angeles but with much sexier accents (laughs).  But seriously, thankyou for the support of Roxie 77 and Casablanca and be sure to keep an eye out on www.ryanroxie.com.
Check out our review of Apocalyptic Youth right here…
Essential Information
From: Stockholm, Sweden
Band members: Anders Ljung – Vocals, Ryan Roxie – Guitar, Erik Stenemo – Guitar, Mats Rubarth – Bass, Josephine Forsman – Drums
Website: www.casablancaband.com & www.ryanroxie.com
Latest release: Apocalyptic Youth (2012, Rocket Songs)