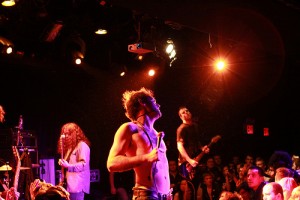 "I guess it's just some kind of a release you know, I mean every day you've have to walk around and you've got to go to the supermarket and you have to pet your cats and you don't really get to freak out that much, so when I get to play a show I just get to freak out as much as I want you know?"
Zoo press release – Ceremony's fourth record Zoo is out now through Matador / Remote Control.  The band enlisted producer John Goodmanson (Blood Brothers, Bikini Kill, Sleater Kinney, Weezer) to work with them on this release and he helped the band refine their jagged sound while continuing to pursue themes of exurban alienation and confinement.
The music of Zoo explores punk and post-punk traditions: the rhythm section remains as tense and propulsive as ever, while guitarist Anthony Anzaldo moves with ease from ringing power chords to stealthy leads reminiscent of Gang Of Four and The Cramps. Ross Farrar's future primitive vocals sometimes recall Pink Flag or Metal Box, ranging from a melodic howl to a muttered incantation.
Ceremony rate this as their "first fully comprehensive sounding record", which the results both gripping and indelible.
We chatted to Ceremony frontman Ross Farrar about touring and their live shows, their new album 'Zoo' and his book.  Check out Ceremony…
You're headed to Australia in June / July for some shows and as part of Hardcore 2012.  What can people expect from a Ceremony show?
I'm gonna have a freak out at every show on stage I'm gonna be in the zone, let's just say that.  I haven't been to Australia in a really long time and I love Australia so I'm really psyched to be able to come back.
Watching some footage of live performances, it seems you truly get into the music, what is it about performing live you enjoy so much?
I guess it's just some kind of a release you know, I mean every day you've have to walk around and you've got to go to the supermarket and you have to pet your cats and you don't really get to freak out that much, so when I get to play a show I just get to freak out as much as I want you know?
Is it something you do on purpose or does it just happen naturally?
I think it started as I wanted to give, you know when you perform you want to give people a show in a sense, but now it's just kind of a natural thing, it's kind of like a dance I guess, it's just a freak out.  It's the feeling I get from a show.
For those that haven't heard of Ceremony before, and with a number of genres used to describe you such as punk or my favourite powerviolence, how would you describe your sound and who you are to someone?
I don't know man, we just play fast songs.  I mean we really love powerviolence stuff but I guess we never put ourselves to one form of genre, we just did it all.
You released your newest album 'Zoo' earlier this year, where you've changed up the sound a little returning to a more old school sound, what was the intention of doing that?
I don't know, it's probably a combination of stuff we've been listening to and we just didn't want to put out fast songs our entire career, we kinda wanted to mix it up and try different things.  When we started writing this record originally I guess we just got a little weirder, which is kinda what's gonna keep happening I think on our records, it's just going to get weirder and weirder.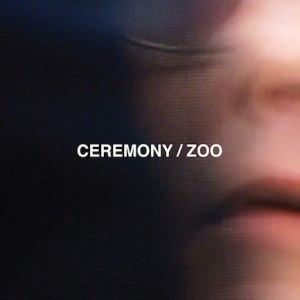 Song wise, what inspired the writing process this time around for the album?
Not really, I don't know, we all listen to different music, so I think that kind of comes out in the songs.  You can hear a lot of different stuff; I was really listening to The Fall a lot, kind of one of my big things.  And grunge stuff like Mudhoney and Nirvana and stuff like that, always been in to that kind of stuff.
Do you all come in with different ideas and put them all together?
Yeah we all come in to a room and play different stuff.  I've kind of been messing with the bass lately and Jake plays drums and he plays guitar, all of us kind of do something, so we try to piece together songs like that.
The title itself, why call the album 'Zoo'?  Is there a meaning behind it?
No not really, it was just kind of an idea I had about people in general and our weird voyeuristic pleasures, it's kind of like being in a zoo how you're watching a TV program, we kind of have this obsession with watching people. It's also the same way with music, we're very interested in the interior things that people are thinking all the time.
What did bringing John Goodmanson in to produce the record allow the band to do?
We we'd never had a producer, so this was our first time having a producer where he came to the Bay Area, he lives in Seattle, so he came to the Bay Area for a week and listened to our songs and did pre-production which was really interesting, I've never had to deal with that before.  It was kind of nice having an outsider come in and say 'Hey, this is really good, maybe you should try and change this, think about this' so that was kind of a fresh new thing, it was awesome, I enjoyed it.
Would you continue on now using a producer?
I don't know if we'd do it again, who knows?  It just kind of depends how we're feeling I guess when we're in the studio writing again.  I mean I kind of liked it, and I think Anthony liked it a lot, but, I don't know, Jake wasn't sure if he liked it or not and if it helped, so we'll see next time.
Do you constantly keep writing while you're on the road or do you wait until you're off tour?
I'm always writing lyrics and stuff but we take a break from writing music as a group which *I* am kind of bummed about, I wish we could just be writing not just in the studio all the time, I think that's how bands should work, but I don't know for some reason, we write the record, we tour on it and we go back in to the studio, which is kind of a bummer but whatever…
So can we expect another album in a year or so?
Yeah, in about another year and a half or so we're going to do another record on Matador.
Looking back over your four albums released how do you feel you've grown as a band over these releases?
I think that kind of comes out if you listen to 'Violence Violence' and then you listen to 'Ruined' and then 'Zoo' I mean it's a very very drastic change you know.  People argue that it's uphill and downhill but I think it's a nice change, I think if you looked at me when I was in my 'Violence Violence' era, if you just looked at me on the street you'd say 'Oh yeah, OK there's that' and if you looked at me now, you'd say 'Oh yeah, Zoo, there it is.'  He's weak, he's drinking coffee, no, I'm drinking tea in a car right now, I'm driving in a car, drinking green tea on the way to an art show, so you can take that as whatever you think ha ha but it's kind of weird I guess.
I saw that'd you'd released a book, can you tell us a little about that?
Yeah I did this thing called 'Society Verse' it was like a discography of the lyrics I'd written thus far, it's everything from 'Ruined' to 'Rohnert Park' released on Bridge 9 and the way it was made was it was lyrics put in to poem form rather than the way it looks on the record per se.  It was kinda like a poem / lyric project I was doing for fun and then I pitched it to Bridge 9 and they were like 'totally, yeah we'll put it out' and I think they're going to try and repress it soon, I don't know exactly when it's going to come out.
Are you going to continue on with that sort of stuff?
Yeah yeah, I love doing stuff like that, making zines, doing books, putting art out in to the world that people can see, I mean it's cool if you have an audience, you have a base of people or fans or whatever, I think it's nice for them to get the other side that's not just music you know?  They can see it and other things you're doing and other genres you know?
What's your take on the punk genre today?  Do you feel it's still alive and well?
Yeah definitely, there's always going to be punk and hardcore bands no matter what, I think.  I think that's just an inevitable thing as you grow up, you hate your parents, you hate cops, you're not in to any of that stuff, so naturally you want to rebel against that and I think punk music is one of the most important things.
I like your bold statement on your website that you do not have a twitter, myspace or facebook, are you anti social media?
No, not at all, I do tumblr and Instagram and I have a Gmail account, we just don't do facebook or twitter because don't have time to do it, that's the reason why.  We have to answer a whole bunch of emails and shit so it's not like we want to do four more things you know?  It gets out there in to the Internet that we're playing a show.
What does the rest of 2012 have in store for Ceremony?
We're going to try and go to Europe for two weeks after Australia and we're going to try to be going to South America but we don't have the Ok on that yet, we're still kind of in the making.  Never been there and it's kind of like a dream to go all over the place, try to get the main countries under our belt.
Lastly, do you have a message for your Australian fans?
I'm really excited to come to Australia and I love them all and I love you.
Essential Information
From: USA
Band members: Ross Farrar, Anthony Anzaldo, Andy Nelson, Justin Davis, Jake Casarotti
Website: http://www.ceremonyhc.com/
Latest release: Zoo (Matador Records / Remote Control Records, 2012)
CEREMONY AUSTRALIAN TOUR DATES
Resist Presents: From Rohnert Park, CA, Ceremony.
Fri 29th June Melb AA – Irenes Warehouse
Tickets at the door
Sat 30th June Melb 18+ – Bendigo Hotel
Tickets from the venue, Oztix outlets and oztix.com.au
Sun 1st July Adelaide AA – Animal House
Tickets at the door
Tues 3rd July Perth 18+ – The Den
Tickets from Moshtix outlets and moshtix.com.au
Wed 4th July Perth AA – YMCA HQ
Tickets from Moshtix outlets and moshtix.com.au
Thurs 5th July Bris AA – Between The Walls
Tickets from Kill The Music, Oztix outlets and oztix.com.au
Fri 6th July Bris 18+ – Basement 243
Tickets from Kill The Music, Oztix outlets and oztix.com.au
Sat 7th July Syd 18+ – Hardcore 2012
Tickets from www.thehifi.com.au, tel 1300-THEHIFI (8434434), Resist Records, Red Eye Records and Utopia.
Sun 8th July Syd AA – Hardcore 2012
Tickets from www.thehifi.com.au, tel 1300-THEHIFI (8434434), Resist Records, Red Eye Records and Utopia.
Tickets on sale NOW