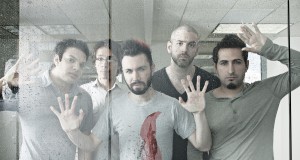 PERIPHERY ANNOUNCE NEW ALBUM & OFFICIAL TRACK LISTING
Combing the complex atypical rhythms and technical precision of math rock with the sensational brutality of progressive metal, PERIPHERY have redefined the boundaries of progressive music.
PERIPHERY's much anticipated new album, Periphery II, is set for release on June 29 through Roadrunner Records Australia..
Periphery II features guest solos from Guthrie Govan (The Aristocrats), Wes Hauch (The Faceless) & John Petrucci (Dream Theater).
Misha Mansoor (guitars) states: We are very happy to announce the full track listing (see below) and show you guys the artwork for our sophomore release. We put so much hard work and time into this album and we thank all of you for your continued support and patience. The album clocks in at sixty-nine minutes exactly and has tons of brand new material, so I assure you it is well worth the wait. Make sure to keep on the lookout for the first track which we will be releasing in the coming weeks.
Periphery II – Official Track Listing
1. Muramasa
2. Have a Blast – Guthrie Govan guest solo
3. Facepalm Mute
4. Ji
5. Scarlet
6. Luck as a Constant
7. Ragnarok
8. The Gods Must Be Crazy!
9. MAKE TOTAL DESTROY
10. Erised – John Petrucci guest solo
11. Epoch
12. Froggin' Bullfish
13. Mile Zero – Wes Hauch guest solo
14. Masamune
Periphery II is out on June 29 through Roadrunner Records.
www.facebook.com/peripheryband
http://au.roadrunnerrecords.com/
www.facebook.com/roadrunneraustralia

Look out for our chat with Spencer coming soon…