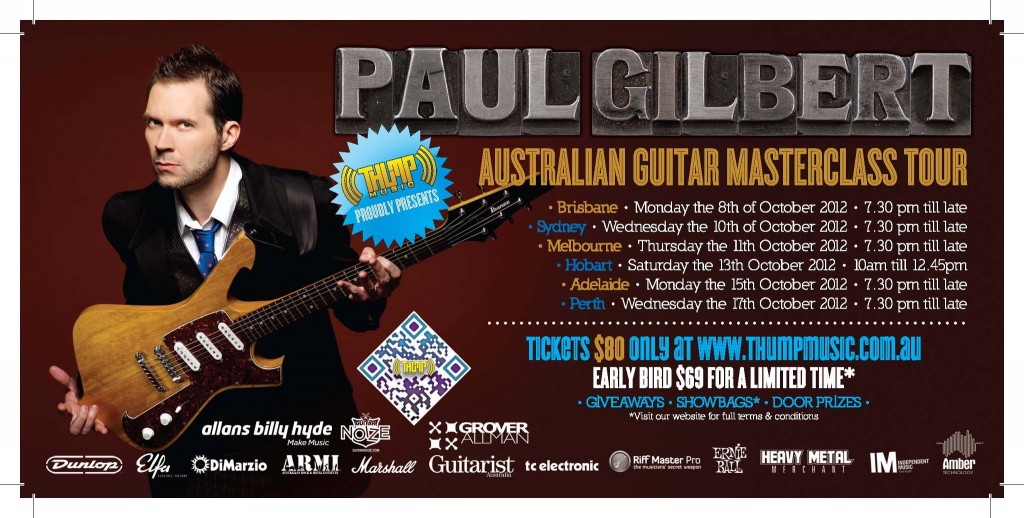 Thump Music is proud to present our next Master Class tour in October 2012.
Paul Gilbert is here to carryout for the first time a full Master Class tour in 6 states around Australia. Paul is known in the trade as being a high profile guitarist and clinician. Paul is currently recording his latest CD which will be released on the tour. To bring even more excitement to each clinic Paul has requested a local bass player and drummer support him on stage with some of his new tunes. Keeping with Thump Music's tradition of supporting Australian musicians on our tours means you may get the chance to play with Paul on the night. So Paul will be playing live with a band, demonstrating typical lessons he provides for students from beginner to advanced, answering questions from attendees on the night, covering sound, technique, theory and industry questions.
Clinics will run for over 2 hours and give opportunity for attendees to jam alongside Paul at the clinic.
Paul Gilbert has an extensive biography, which shows his accomplishments.
From platinum album sales and number one chart success as a founding member of MR. BIG, to frightening the guitar community with new levels of ferocious picking technique with shred-pioneers RACER X, to exploring punk, pop, classical, blues, jazz, and progressive instrumental styles in his solo career, Paul Gilbert has recorded a massive amount of stunning guitar music, all while circling the globe to play sold-out arenas from Japan to Jakarta.
Paul's style stands out for it's rare combination of accuracy, creativity, and power – all which are balanced with Paul's sense of humor and pure love of music.
Although Paul is best known for his work with MR. BIG and RACER X, he has also toured with Joe Satriani's G3, played in a host of tribute concerts with legendary drummer Mike Portnoy, and been integral in the design of his signature Ibanez PGM and Fireman guitars.
Paul's legacy as a guitar instructor began when he was eighteen, when he was hired to teach at Hollywood's Guitar Institute of Technology. Paul's groundbreaking "Intense Rock" videos and DVDs have inspired legions of guitarists to improve their accuracy, speed, and phrasing. Years as a columnist for Guitar Player magazine, and most recently, Premier Guitar magazine, along with giving countless clinics, private lessons, and serving for five years as the dean of MI Japan, have given Paul deep experience in the art of communicating music to all levels of guitarists.
Over twenty-five years in the music business have only increased Paul's passion to explore the possibilities of music and the art of playing the guitar. Whether he's playing to 10,000 fans or jamming one-on-one with a student, Paul is living his childhood dream of taking the sounds in his head and bringing them into reality – on the electric guitar.
Dates & Times
1. Brisbane – Monday 8th of October 2012 – 7.30 pm till late – Book now
2. Sydney – Wednesday 10th of October 2012 – 7.30 pm till late – Book now
3. Melbourne – Thursday 11th October 2012 – 7.30 pm till late – Book now
4. Hobart – Saturday 13th October 2012 – 10am till 12.45pm – Book now
5. Adelaide – Monday 15th October 2012 – 7.30 pm till late – Book now
6. Perth – Wednesday 17th October 2012 – 7.30 pm till late – Book now
Standard ticket pricing is $80 per person. However for our loyal clinic attendants we are opening up an early bird price of $69.00 per person. The early bird period will last for only a limited time so we encourage you to jump online fast and secure your ticket.
A Thump Music Show Bag will be supplied to all pre-paying customers. We cannot assure a Show Bag to customers paying on the night. This Thumpin' Show Bag comes with over $50.00 worth of awesome gear.
As Thump Music has become well known for there will be giveaways big and small on the night ranging from pedals, strings to instruments and more.
In each state Paul will be answering your questions.
Due to Paul's condition with his hearing he has requested that all questions be emailed to Thump Music and we will print out the question and Paul will address that question in your specific state. All questions should be sent to questions@thumpmusic.com.au and should in the SUBJECT have your Name, ticket number and State where you will be attending. There will be a cut off period prior to the tour so that we can travel and have Paul go through the questions prior to each show.
If you have any further questions or queries before purchasing your tickets please