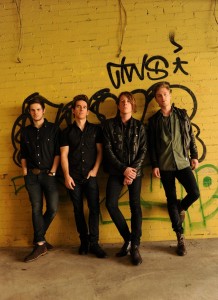 New Empire scores a slot on the US Vans Warped tour East Coast acoustic tour dates ready to roll ahead of Olympics coup!
New Empire is set to embark on one of the busiest periods of their burgeoning career, with live dates that commence in May and culminate in a perf0rmance slot on the prestigious Vans Warped Tour in the US throughout July. Prior to heading off overseas, they'll hit the road for shows heading up and down the East Coast on their acoustic tour.
In another big win for the band, their inspirational song 'One Heart/Million Voices', from last year's album 'Symmetry', is featuring in the Nine Network's on air promotional spots for their broadcast of the 2012 London Olympics. Produced by lead singer Jeremy Fowler and manager Andy Mak, 'One Heart/Million Voices' was tracked in sessions at The Grove Studios and Chris Joannou's Central Coast studio. The delicate, sparse arrangement is immediately arresting and will no doubt strike a chord with the millions of Australians watching the Olympic Games in coming months. Check out the video below.
Following The Getaway Plan shows, New Empire will embark on their own headline tour, a series of intimate, acoustic shows that will showcase their material to perfection. These dates run throughout June, concluding July 1, and take in a selection of venues across Queensland, New South Wales and Victoria. With the Vans Warped tour later in July to look forward to, along with a gig on the Dangerous Summer Tour, Jeremy Fowler sums it up succinctly, saying, 'Life's pretty good right now! It's going to be a massive few
months ahead, but we're relishing the challenge!' New Empire has just played to more than 10,000 punters on the main stage at
Easterfest and collected a whole new legion of fans playing stateside with New Jersey singer/songwriter Jenny Owen in February. Last year their sophomore LP 'Symmetry' debuted in the ARIA Album Chart top 40 and they reached the top 5 in Channel V's Oz Artist of the Year. They have released the singles 'Give Me The World, 'Here In Your Eyes' and 'Ghosts' from the 'Symmetry' album, winning over thousands of passionate supporters with their quality releases and consistent touring.
'SYMMETRY' is available from iTunes and all good record stores NOW- For more information, head to:
www.facebook.com/newempireband and www.symmetryalbum.com
AUSTRALIAN ACOUSTIC TOUR DATES:
Wed 6 June The Vanguard, Newtown
Tickets – www.thevanguard.com.au
(02) 9557 9409
Fri 8 & Sat 9 June Front Gallery & Bar, Canberra
Tickets – www.moshtix.com.au or 1300 GET TIX
Sun 17 June Toff in Town, Melbourne
Tickets – www.moshtix.com.au or 1300 GET TIX
Wed 20 June Black Bear Lodge, Brisbane
Tickets – www.oztix.com.au
Thurs 21 June The Loft, Gold Coast
Tickets – www.oztix.com.au
Fri 22 June Bon Amici Café, Toowoomba
Tickets – (07) 4632 4533
Thurs 28 June Yours & Owls, Wollongong
Tickets – www.moshtix.com.au or 1300 GET TIX
Fri 29 & Sat 30 June Glee Coffee Roasters, Tuggerah – ALL AGES
Tickets – (02) 4353 4410
Sunday 1 July Brass Monkey, Cronulla
Tickets – www.brassmonkey.com.au