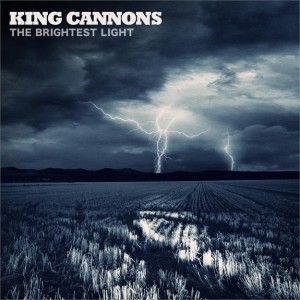 "THE BRIGHTEST LIGHT" ALBUM LAUNCH DATES THIS JUNE…
KING CANNONS don't much care for what is supposedly cool.
Since day one, their manifesto has been to be a band for the people.
The type of band that actually means something.
A band with a career that is based on substance over style.
KING CANNONS' debut album "The Brightest Light" will be unleashed on the world on June 22 with releases confirmed in Australia, New Zealand, Germany, The Netherlands, Austria and Switzerland.
Having recently returned from the biggest tour of their career, a month-long blast through Europe, KING CANNONS will embark on a series of East Coast dates on June 21. The album launch set will be a white knuckle ride through the band's assured debut with a couple of old favourites and new surprises thrown in for good measure.
Shihad's Tom Larkin, one of the best-loved drummers in the world, will join KING CANNONS as a special guest-drummer for the upcoming June dates. Having produced the lion's share of "The Brightest Light", Tom is the ultimate addition to the line-up.
Also joining KING CANNONS on the upcoming tour is Major Tom & The Atoms, featuring ex-Little Red baritone crooner 'Major' Tom Hartney; an explosive 6-piece rhythm 'n' blues orchestra that perfectly fit the bill as the main support for these national launch shows.
Check out the video for 'Too Young' here:
__________________________________________________________________________________
KING CANNONS – "THE BRIGHTEST LIGHT" ALBUM LAUNCH TOUR
With Special Guests MAJOR TOM & THE ATOMS
$25 – ALBUM & TICKET BUNDLE – MEMBERS ON-SALE NOW
(Access via the code word "CANNONS")
General Public On-Sale: Monday 21 May
THURSDAY 21 JUNE – MELBOURNE ALBUM LAUNCH – THE TOFF IN TOWN
Tickets: $12.00 + BF
Physical Album Bundle Tickets: $21.60 + BF (Collected on night of show)
www.moshtix.com.au or 1300 GET TIX
THURSDAY 28 JUNE – SYDNEY ALBUM LAUNCH – OXFORD ART FACTORY
Tickets: $12.00 + BF
Physical Album Bundle Tickets: $21.40 + BF (To be received via post before 22nd June)
www.moshtix.com.au or 1300 GET TIX
FRIDAY 29 JUNE – BRISBANE ALBUM LAUNCH – THE OLD MUSEUM
Tickets: $12.00 + BF
Physical Album Bundle Tickets: $21.50 + BF (To be received via post before 22nd June)
www.oztix.com.au or 1300 762 545
www.oldmuseum.org or 07 3257 4089
SATURDAY 30 JUNE – RIVER SESSIONS FESTIVAL – MACKAY, QLD
Tickets: www.riversessions.com.au
(Major Tom & The Atoms Not Appearing)
__________________________________________________________________________________
KING CANNONS | "THE BRIGHTEST LIGHT" | OUT JUNE 22
For further information check out: