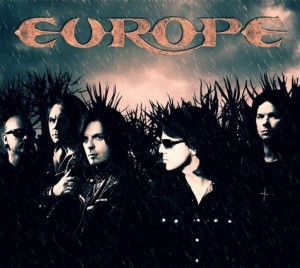 "It's great that we can still do this after nearly 30 years and have songs that have their own lives such as The Final Countdown, but also being able to release new albums and gain new fans.  It's amazing, I'm laughing myself to sleep every night!"
I can remember vividly back to the day I purchased Europe's 1986 release The Final Countdown, which incidentally was my third ever album purchase and for over 25 years, Europe has been a massive part of my musical life, whilst recognising the band itself has existed now for over 30 years.  After taking a decade long hiatus after their Prisoners In Paradise album, the band returned in 2004 with Start From The Dark, an album that saw the band pursue a darker and heavier direction than that of their halcyon days in the 80's. Subsequent releases have seen the band continue their musical metamorphosis to what they have now delivered with their 9th studio album, Bag Of Bones, an album that sees the band return to their roots so to speak, to deliver their most raw, bluesy and riff dominated album yet.  Not what you probably were expecting from Europe?, well they even wrote a song about it, the somewhat autobiographical lead single Not Supposed To Sing The Blues… 
Having briefly met Europe drummer Ian Haugland at Sweden Rock Festival last year, it was great to get the opportunity to chat down the line with him and delve deep into Europe's Bag Of Bones…
Hey Ian, thanks for taking the time to chat!  Congratulations on Bag Of Bones, it's a monster rock record and you've just had the first show on the new tour and for the new album, how did that go?
Well yes that was two days ago in Poland and as you said that was the first show with the new songs.  I think it went down pretty well, every time you put down a new setlist with new songs there's an extra tension there going on stage playing those songs because it's as much a new experience for us in the band playing those songs as it is for the people in the crowd.  We felt pretty confident though and we opened the show with three new songs, then we added a fourth song later into the setlist.  It seemed to me that the audience responded quite well to the songs and when you speak to people, it sounds like they've really listened to the album and are familiar with the titles and all that.  Obviously the further we get into the tour and the summer, people will even recognize the songs and be able to sing along more and more.
As a band how do you find the newer songs mixing in with older ones, obviously songs like Superstitious for example is still in the setlist and certainly epitomises the Europe sound of the 80's, how much have you had to change some of those songs to fit into the context of Europe in 2012?
I think we manage quite well.  The new album Bag Of Bones is an outcome of how the band plays and performs today, so I think when we play the older songs today, we play them in a similar way to how we play the newer songs.  But I know what you mean, I think we've just tried to pick the songs that work best together to get a consistent live show package.  But from what I've heard, our fans seem to like the way the new and the old songs fit together.
So let's start with the concept of the album title Bag Of Bones, I believe it might have been you that come up with that album title?
Yes that's right!  Joey was the one who had commented after our last tour that at the end of it he felt like a "bag of bones" and very drained.  So that title came from that expression.  We used that term for a song title and when we started talking about what we wanted to do with this album we immediately felt it was going to be a lot more rootsier and connecting to the bands early roots.  We went for the title because it has the gritty, rootsy feel to it and seemed to work well as an album title and reflect the feel of the album.
This is your 4th album back and each one has gradually inched towards this classic bluesy rock sound that is now all over Bag Of Bones, so musically, where do you think the band is at, do you feel like you've now arrived at the Europe sound you have been striving for sine your return from the hiatus?
As you said, each album has had its own identity, but this album was the first one where we didn't really try to do a specific thing.  We didn't have any plot or scheme or ideas to make the album sound a specific way.  We just wrote the songs and then said lets just see how they come out the other end.  I would say this album is the one that is most true to the Europe sound today.  I think when we constantly play live, people comment that we sound so different when we play live to the albums, so we wanted to make an album that had the same feel as when we play live.  Nothing too fancy with production and not worrying too much if there's a small fuck up with the playing, so long as the vibe and feel of the song is right.  I think this album is the one that does us justice when comparing us to our performances live.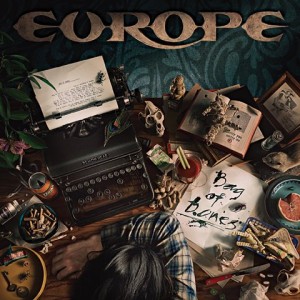 Obviously a key aspect to capturing that sound would have been working with Kevin Shirley (Iron Maiden, Aerosmith, Black Country Communion, Joe Bonamassa), which is your first album working with him, how was that experience?
As you said we had got hooked on his productions with Black Country Communion and even the stuff he did earlier on like Aerosmith and Iron Maiden and Rush.  So we thought lets try and see if he would be interested in producing us and right away he said I've always loved your music but I always felt you made albums that were too good!  So that was kind of funny, because that was the type of thing we wanted to get away from and sound more like we did live.  So we were on the same level from day one and when we started working on the songs and everything, it was really inspiring and really creative.  We didn't really do any pre-production as you might do with a producer and sit down for a week or two and work through arrangements before you head into the studio.  We just checked into the studio and he was like "ok guys, what ideas do you have, what do you want to record?".  So we played him an idea and then would take things from there.  He had a great way of using the studio creatively, almost like an instrument, I think we just got a lot of inspiration from being in the studio together.  That environment really took songs in different directions I would say than they would have if we had done demos and done all the rehearsals prior to starting recording.  In that sense it was great and from what I can understand is how he has worked with guys like Joe Bonamassa and Black Country Communion who pretty much do everything and write in the studio.  So we had a lot of trust in him when it comes to working this way because we had never done it this way.  We've always been very well prepared before we had gone into the studio, so we were nervous the first few days in the studio, but we realized this guy knows what he's doing.  He's a simple guy, a backpacker type man, he prefers walking through the fields than taking a cab to studio from the Hotel.  He's an ordinary guy and we just love that kind of stuff!
First single and video from the album is for Not Supposed To Sing The Blues, is that song in a way almost an autobiographical song for Europe?
Yes I think so, definitely.  Europe will always be compared to The Final Countdown, whatever we do now or in the future.  If you are not familiar with any other Europe songs than that one song, people will be standing there just scratching their head wondering what the fuck are we doing?  So it's a reflection of that fact, but I have to say since we recorded that semi-acoustic album a few years ago, Almost Unplugged, we recorded some cover versions including Since I've Been Loving You by Led Zeppelin and we got a lot of great reviews, particularly of that song.  I feel that it has turned, there's more and more people, media and our fans who realize there is more to Europe than just The Final Countdown, and that we actually have a solid background and solid base.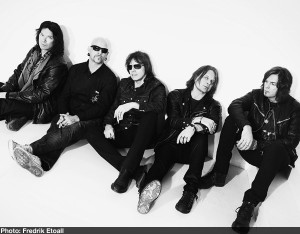 Have you noticed a new generation of fans getting into the band now?
Absolutely, we are seeing a lot of younger fans as you say.  The cool thing with the young fans is that once they discover Europe, every album is going to be a new album for them.  If they hear Bag Of Bones first, then pick up The Final Countdown, the whole perspective of age behind the albums almost disappears.  Every album for them is here and now, it makes our music almost eternal in a way.  I also find the younger fans are more tolerant to different styles.  If you go back to our fans from the 80's if we don't have a certain type of hair or certain sound, then it's not going to be Europe to them.  The youth of today mix everything together, they don't give a shit, we could probably make a rap song and they would think its cool.  The youth seem to be more receptive and tolerant of different styles and I think in that way Europe has an exciting future.
So what about the bands association with Australia, there was a cancelled tour many, many years ago, but in the years since, has there been much interest shown from promoters over here or similarly from yourselves to come and play some shows?
Of course we would love to come to Australia and play one day.  One of the greatest rock bands of all time in AC/DC comes from Australia so that says it all about the rock 'n' roll climate down there.  I always get comments from Australian fans via the internet, so I know there's fans down there.  I know we are planning on going to Asia next year sometime and I think it would be great to fit in Australia on that tour, but I'm really going to try and stress our desires to come to Australia as its one of those black holes on the face of the world that Europe has never toured.
Well Ian, it's been great chatting and hope this album cycle and all the touring goes great for you guys, it certainly seems like some exciting times ahead for Europe!
It's great that we can still do this after nearly 30 years and having songs that have their own lives such as The Final Countdown, but also being able to release new albums and gaining new fans.  It's amazing, I'm laughing myself to sleep every night!
Essential Information
From: Sweden
Band members: Mic Michaeli – Keys, John Levén – Bass, Joey Tempest – Vocals, John Norum – Guitars, Ian Haugland – Drums
Latest release: Bag Of Bones (26 April 2012, ear Music/Edel)
Website: www.europetheband.com