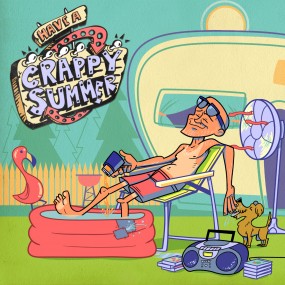 Ok, so the greatest record label in the world Crappy Records has put together a compilation of awesome tunes for your summer soundtrack.  Well, obviously it's heading into Winter here in Australia, but that's even more reason to get onto this early and get ready for our summer….or at least pretend it's summer!  Featuring Bowling For Soup, Dollyrots, Jarinus, People On Vacation, Nerf Herder and Linus Of Hollywood featuring the shredtastic guitar talents of Paul Gilbert (Mr. Big, Racer X) and then there's Brett Anderson of The Donnas….you know you want it!  Oh, and if you order the right package, you will even score yourself a 6 pack of  beer koozies!!
Check out all the details right here through this link… http://crappyrecords.com/buy/
Album Track listing:
1 Bowling For Soup – T.G.I.S.
2 Allstar Weekend – Buzzed
3 Dollyrots – Super Mega Ultraviolet
4 Erik Chandler – Malibu Classic
5 Linus Of Hollywood (feat. Brett Anderson of The Donnas) Summer Fling
6 Nerf Herder – I'm The Droid You're Looking For
7 Hollywood Ending – Famous
8 Jarinus (feat. Paul Gilbert) – Why's It So Hot?
9 MC Lars – Summer Camp Love (It's So In Tents)
10 Patent Pending – These Pools Were Made For Hopping
11 Josh Caterer of Smoking Popes – Ask
12 Sunderland – Wherever You Wanna Be
13 People On Vacation – This Is Me
14 Super Happy Fun Club – OK OK
15 Madina Lake – Every Little Thing
16 Ryan Hamilton – We've Got the Summer (Bonus Track)
* Look for this awesome collection in all digital outlets June 5, 2012 and hit up www.crappyrecords.com
ABOUT CRAPPY RECORDS
CRAPPY RECORDS is the brain-child of Jaret Reddick (Bowling For Soup) and Linus of Hollywood (Linus of Hollywood / Size 14) who teamed up with big time record exec Carl Caprioglio (Oglio Records) to make the rock and roll dream a reality. Formed during a conversation while lost in a car in Beverly Hills, Crappy Records was established to repopulate the earth with happy / fun music and give some great bands a CRAPPY home…
Jaret Reddick is an avid watcher of anything funny, and a fan of all things HAIR METAL, a former toy store owner, a wannabe stand up comic, a fantasy football enthusiast and the lead singer and guitarist of The Fabulous BOWLING FOR SOUP. As a member of BFS, Jaret has toured the world countless times, consumed 2,457,862 beers (and counting), appeared in movies with Britney Spears and Shannon Elizabeth, co-wrote and produced songs for Jimmy Neutron, Phineas and Ferb and countless other television shows and movies, and failed miserably at learning to whittle. Jaret's favorite color is brown, because no one else ever picks it. His favorite food is definitely NOT fried cow balls, even though he has always, and will always reside in the great state of Texas. Jaret currently lives in Dallas with his family and enjoys drinking in his driveway with his suburban neighbors in his spare time.
Carl Caprioglio lives and works in the Los Angeles suburb of Torrance California with his wife, his two kids and his 1964 GTO. Carl's embarassing credentials include a stint as a trumpet player in the Torrance High School Marching Band, a semester as president of his high school Electronics Club, various jobs repairing vintage pinball machines and an internship at KROQ in the mid 1980s. Clearly Carl was not prepared for any sort of serious employment. Thankfully the music business has few educational or social standards allowing Carl to make a living. Driven by his inexplicable love of 80s music, Carl Caprioglio founded Oglio Records in 1993. Oglio is well known for reflecting Carl's off-beat tastes with 80s music collections, power pop, novelty music, stand up comedy and even adult film soundtracks. Fancy name dropping forces us to mention that Oglio has released projects from Brian Wilson, Cyndi Lauper, Nerf Herder, Parry Gripp, Beatallica, Wesley Willis, Jackie Martling and George Lopez. Carl's mom is proud of him and thats all that matters.
Linus Dotson started his lifelong musical journey as a young headbanger in Florida listening to "Van Halen II" repeatedly and working at the local Subway sandwich shop. He eventually moved to LA and started his professional music career as the frontman of the influential punk/pop band Size 14 who went on to sell "multi-hundreds" of records in the late 90s. Since then, he has established himself as a successful producer and song writer in many genres, having worked with everyone from Puff Daddy to Puffy Amiyumi. He currently resides in Hollywood CA, enjoying the finer things in life – good melodies, sophmoric humor, drinking Budweiser and cheering for the Green Bay Packers.