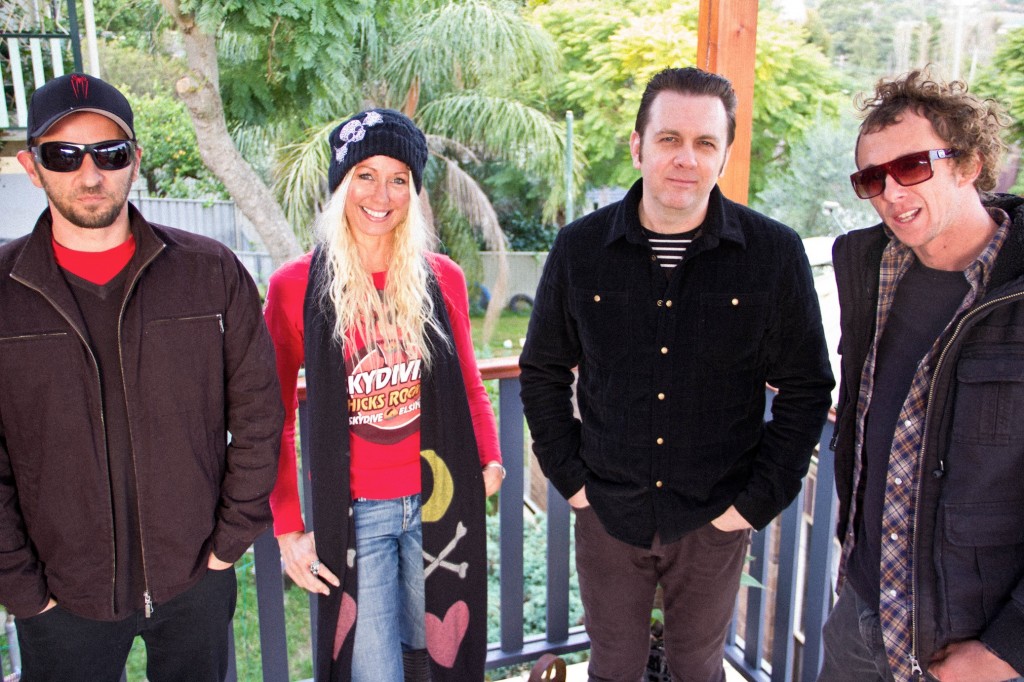 Tour press release: "This week, one of Australia's most extraordinary electro-rock groups will begin their highly anticipated national Reunion tour. DEF FX will be bringing their electronic beats and samples, rock/metal instrumentation and grunge vocals first taking over Australia in the early 90's to the stage to bring back a killer live show.
DEF FX draws comparisons with artists as disparate as Pink Floyd, Metallica and The Prodigy. Pair this with the charm and charisma of the band members and a fierce live show, and you have a captivating combination that saw DEF FX maintain the intrigue and fascination of audiences well beyond the duration of their recording history.
Although DEF FX hasn't taken the stage for 15 years, their ever-vivacious lead vocalist, Fiona Horne has stayed true to her musical roots.  She released her solo album 'Witchweb' on Mystic Monkey/Sony in 2009, which became the best selling Pagan album of the year. With celebrity friends like Billy Corgan, Pink and Dannii Minogue all being fans of Fiona's personal brand of music, it is obvious we have a little magic in our midst. Fiona became infamous for her wild energy onstage and even wilder stage outfits. She is working again with designer, Mindy McTaggart, to recreate some of her most popular looks for the Reunion tour.  Be prepared to be dazzled!
DEF FX's success was largely a product of their hard work, which determined them a solid fan base. Their dedicated fans saw them grow from strength to strength from their early releases through to mainstream success.   It was, of course, the support from these fans that saw DEF FX enjoy consecutive number ones on the ARIA Independent Charts from 1990 throughout their career, and hold the record for having three releases in the ARIA Top 20 Independent Charts at the same time in 1992 – the Water EP, the Surge EP and the Blink EP.
The band's POST MORONIC EP in 1994 was another charting success, reaching No. 43 on the ARIA Charts, and spawned the triple J hit 'Masses Like Asses', which also ranked in the 1994 Hottest 100.
During 1995 DEF FX started their own label, Cicada Music, on which they rereleased most of their old material as well as the more experimental album, RITUAL ETERNAL.  Later that same year the band released 'Psychoactive Summer'.  More pop than their previous releases, 'Psychoactive Summer' was an instant hit on both triple J (No. 51 on the 1995 triple J Hottest 100) and commercial stations, and reached No. 42 on the ARIA Charts.
In 1996, DEF FX released their final and by far most successful album, MAJICK, which reached gold sales status in 1997.  Featuring the songs 'Psychoactive Summer', 'I'll Be Your Majick' (No. 61 on the 1996 triple J Hottest 100), and 'Spell On You', the album integrated more pop and electronica into their sound than any of their previous releases.
The reunion tour will give fans a well-awaited chance to relive the experience of DEF FX and take part in the evolution of the band's history.  Original members Horne and Basha will be joined by Ant Banister (founding member of the 90's label and electronic art music collective, Clan Analogue) and NSW's North Coast sonic metal rock guitarist, Wiley Cochrane.
Joining DEF FX in Sydney and Melbourne are industrial rockers, INSURGE. With 20 years of politically charged music powering behind them, including the triple J hits 'Political Prisoners', 'Speculator' and 'Timebomb', INSURGE are sure to get audiences electrified and at the ready! "
We fired off some questions to Fiona last week who was in the midst of rehearsing, check out our interview below.
Hey Fiona, thanks for taking the time to answer these questions in the midst of rehearsals!  With the shows starting this week week, what's the general feeling within the Def FX camp right now…has it fully hit you that after 15 years, Def FX will be taking to the stage again?
Cheers : )   It's feeling great!  The first song we played together in the room was Surfers of the Mind and it ROCKED!  When we finished it we all just stood there for a second looking at each other with our mouths opened, then I think Marty said 'Woah…' and we all cracked up laughing – we knew this is going to work!
The 2012 lineup features yourself and Marty Basha as far as original members go, can you introduce the other members you have in the lineup?
Ant Banister has replaced Sean Lowry and Ant is the founding member of electronic music and arts collective 'Clan Analogue' – Def FX were fans of Clan Analogue back in the early 90's and Ant is an amazing programmer and musician and sounds just like Sean when he raps! LOL  So he has a lot of substance and cred and I know fans won't be disappointed.  Wiley Cochrane our new guitarist is like a fusion of Blake our first guitarist and Dave our second guitarist – sonic and heavy.  He and Marty have played together in surf metal bands for years and have a fantastic musical rapport, so it all makes sense and rocks!
Given its been around 15 years since Def FX has performed, how have the rehearsals gone thus far, playing all those songs again and of course developing the dynamic with some different band members?
We are being very true to our original arrangements and sounds, but the whole thing is heavier and more solid.  There's a really exciting energy too with the fusion and chemistry of the new members.  This is a nostalgia tour – a best of, we want everyone to party like its 1997!  But sonically everything is bigger and better!
Whilst you personally have remained very busy in the years since Def FX was last active, have you got a sense of the legacy left by Def FX in the years since you broke up?  By this I refer to things such as YouTube and the Internet which would no doubt have enabled a new group of fans to await you at these shows, who may not have even been into the band first time around, or even born when the band first started….apologies if that made you feel old 🙂
I never feel old!  I live by the adage 'you don't get older, you get better' : ).  I'm really happy that people who have gotten into my books and the work I've done in TV and radio since Def broke up are going to come and see us play.  There are a lot of people who knew I used to sing with a band, but never saw us.  Now they can : )  And I feel truly blessed to have the opportunity to rock out onstage again.
Re the Internet, it's awesome that things like Facebook and You Tube have kept the band alive over the last 15 years.  There is amazing energy at the bands official Facebook page.  Fans are posting pics of set lists they've kept – tour t shirts and album collections photos etc etc – its awesome www.facebook.com/deffxofficial
One of the key elements of Def FX has been the visual element – what and who were some of the bigger influences on you as the band evolved and what can we expect this time around with Def FX circa 2012?
Clan Analogue were an influence and the trance and rave scene of Northern New South Wales and internationally, tons of stuff.  We were always evolving creatively – especially because we sampled musically from so many different sources.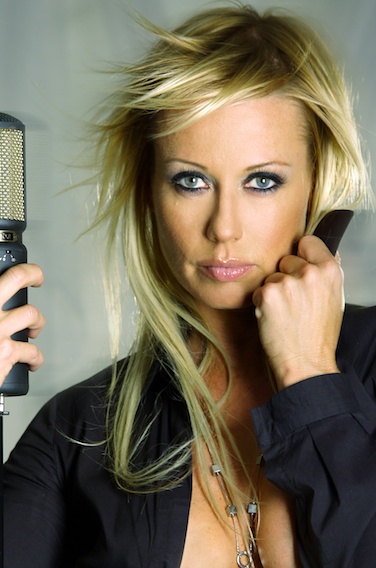 As far as what you were doing musically back then, that was in the days before the computer and Internet revolution even existed.  What are your thoughts on where the music of Def FX sits with what's out there today?
We were the first band in Australia to have a website I think!  Gosh and the Internet was SO SLOW back then ! LOL   I am a big fan of dub step and psy trance now… stuff like Skrillex and more underground mash up stuff.  In playing these songs again I realise a lot of our analogue sounds are featured in some of the most cutting edge underground music now and I think it would be interesting to incorporate some dub step into our songs…but I'm not allowed to do it LOL!  We promised the promoter this would be a nostalgia tour : )
Without necessarily giving too much away, what can we expect from the setlist at these shows and I guess also, the way in which the songs will be delivered as far as musically/arrangements?
It will be a best of collection – staying true to the original arrangements and sounds… just heavier and more intense!
For you personally, you have spent most of your recent years in Los Angeles where it seems you have been keeping very busy with a recent solo album, a number of book releases and even TV shows, it sounds like you have well and truly settled in over there?
Yes LA has been my home for 10 years.  I stay busy!  I have a new book out in Oz this  September too.  My first work of Young Adult fiction.  It's a magical mystery romance novel about a teen witch called 'Witch -A Summerland Mystery' published by Allen & Unwin (who put out Harry Potter)
Whilst obviously the focus has so far been on rehearsing for the upcoming shows, has there been any talk of potentially doing some songwriting down the track for new material?
Considering it's sounding so good in rehearsals we won't rule it out.  If we do, the songs are going to have to have mash up dub step melt downs in them – LOL!
Ok, just before we finish up, we just wanted to have a quick Def FX word association, hit us with your thoughts and memories for each of the following:
1. Ritual Eternal –Transcendental
2. Surfers Of The Mind – Fun
3. Big Day Out – Intense
4. The year 1997 – Now!
Essential Information
From: Australia
Band members: Fiona Horne, Marty Basha, Ant Banister, Wiley Cochrane
Website: www.facebook.com/deffxofficial
Tour dates:
DEF FX Reunion Tour May/June 2012
Thursday May 31.  The Zoo, Brisbane.
Friday June 1.  The Factory, Sydney. with Insurge
Saturday June 2.  Corner Hotel, Melbourne. with Insurge
Sunday June 3.  Republic Bar, Hobart.
Sunday June 10.  The Gov, Adelaide.
Monday June 11.  The Bakery, Perth.
Tickets selling fast!
More info: www.metropolistouring.com and www.oztix.com