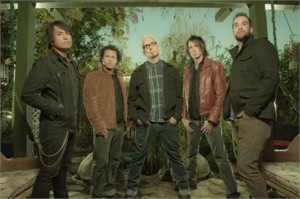 MULTI-PLATINUM ROCK GROUP EVERCLEAR TO RELEASE "INVISIBLE STARS," FIRST ALBUM IN SIX YEARS SUMMERLAND TOUR HITS CITIES ACROSS THE U.S.
(New York, NY) – EVERCLEAR is set to release its new studio album, "Invisible Stars," on June 26, 2012. The album is the group's first collection of songs in six years, and it embodies the same qualities of sonic punch, sturdy song craft and edgy introspection that have long endeared Everclear to its large and loyal worldwide fan base.
Formed in Portland, OR in 1992, Everclear has gone multi-platinum with over 6 million albums sold in the U.S. and Canada alone, 8 Top 40 hit singles on the Billboard Mainstream Rock, Top 40, & Adult Top 40 charts, including: "Santa Monica," "I Will Buy You A New Life," "Wonderful," & "Father of Mine."
Singer/guitarist/songwriter Art Alexakis notes, "Everything about this record came very naturally, and it feels completely genuine to me."
Additionally, EVERCLEAR will be spending much of the summer of 2012 co-headlining the Summerland Tour, along with four other notable American bands that emerged during the 1990s: SUGAR RAY, THE GIN BLOSSOMS, LIT and MARCY PLAYGROUND.
EVERCLEAR is: Art Alexakis (lead vocals, guitar), Dave French (guitar, backing vocals), Josh Crawley (keyboards, backing vocals), Freddy Herrera (bass, backing vocals) and Sean Winchester (drums, percussion).
http://www.everclearonline.com
http://www.facebook.com/everclear
http://www.myspace.com/everclear
http://www.twitter.com/everclearband