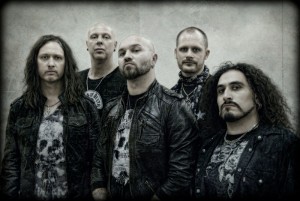 Multinational Melodic Metal band EDEN'S CURSE has inked a worldwide management deal with Germany's ROCK N GROWL MANAGEMENT. The band is also making great progress with the writing process for album number four; a short snippet from a new demo track called "LOSING MY FAITH" can be streamed here:
http://soundcloud.com/edenscurse/edens-curse-losing-my-faith
Bassist Paul Logue says: "We are delighted to welcome Axel to the EC family and we look forward to making great strides in taking Eden's Curse to the masses. Our primary goal is get out and play to as many people as possible over the next few years, and with Axel's experience and extensive network of contacts, we are confident we have the right guy beside us".
EDEN'S CURSE line-up features: Marco Sandron – Vocals, Thorsten Koehne – Guitars, Paul Logue – Bass, Pete Newdeck – Drums and Alessandro Del Vecchio
– Keyboards
As previously reported, EDEN'S CURSE announced Italian vocalist Marco Sandron in March as the new voice of The Curse with the release of their brand new single and promotional video "TIME TO BREATHE". The track is currently available for free download atwww.EdensCurse.com and the video can be viewed here:
http://www.youtube.com/watch?v=xb-g_7kxrvw
The band are also thrilled to announce play Dokkem Open Air Festival in Holland onSaturday 30th June alongside Arch Enemy, Jon Oliva's Pain and Dominici –www.dokkemopenair.eu/nl/bands/207
The future looks ever brighter for the British/German/Italian quintet who head into the studio to record their most hotly anticipated record to date, later in the year. The best part is … this band is just getting started!
www.facebook.com/edenscurseofficial
www.EdensCurse.com
www.rockngrowl.com