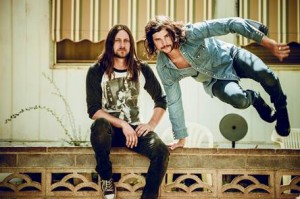 AUSTRALIAN TWO PIECE TO RELEASE DEBUT ALBUM ON JUNE 8 – PAPER SCISSORS ROCK TOUR ANNOUNCED
Fire up your engines, Mildura garage rockers Jackson Firebird are ready to launch their high-octane debut album Cock Rockin' on June 8, 2012.
 Known for their brutally energetic live sets it seems fitting that Jackson Firebird should mark such a momentous occasion with the Paper Scissors Rock tour in Victoria and NSW.   Previously, the band has earned their touring stripes alongside You Am I, King Cannons, Snowdroppers, Little Birdy and the Fumes. Two killer visits to Byron's prestigious Bluesfest sealed their fans, while this month, the pair have ventured to the UK to tour, including a performance at the Great Escape.
"Clearly a well-gigged band, they made their manic and unpredictable tempo changes look effortless and sailed through a set of hyperactive twists and turns with apparent ease: slide-heavy swamp-rock one minute, almost psychedelic-rock soloing the next… They stole the show." –  Craig Elliot – theupcoming.co.uk
 Rugged, explosive, full-tilt Aussie rock & roll – Jackson Firebird (aka Dale Hudak and Brendan Harvey) have delivered one hell of a mighty wallop in the form of Cock Rockin'.  The album consists of ten killer tracks which perfectly capture the band's no-holds-barred live show, recorded in Adelaide with engineer/producer Mick Wordley at Mixmasters studio. Laid down in various sessions over a 12 month period, for their debut Jackson Firebird had one aim: to capture their volatile live power on tape.  "Jackson Firebird is all about the live show," insists Harvey. No frills, nothing fancy: just straight up, 12 bar lovin' rock & roll.
"It was chaos distilled in a whisky bottle and poured all over the stage…" summed up The Brag in Nov 2011. Now it's time to see for yourself. Hold on for the ride and turn it up loud: with Cock Rockin', Jackson Firebird has landed.
PAPER SCISSORS ROCK TOUR
JACKSON FIREBIRD
With special guests River of Snakes 
Thursday 7 June – Retreat Hotel, Brunswick, VIC
FREE ENTRY
Friday 8 June – The Patch, Wollongong, NSW
www.oztix.com.au
Saturday 9 June – The Vanguard, Newtown, NSW
www.thevanguard.com.au
Sunday 10 June – Great Northern Newcastle, NSW
www.thegreatnorthern.com.au
Monday 11 June – Brass Monkey, Cronulla, NSW
www.brassmonkey.com.au
Thursday 14 June – Retreat Hotel, Brunswick, VIC *
FREE ENTRY
Friday 15 June – Wheelers Hill Hotel, Wheelers Hill, VIC
www.ticketmaster.com.au  & www.oztix.com.au
Saturday 16 June – Bended Elbow, Geelong, VIC
www.oztix.com.au  & Bended Elbow: (03) 5229 4477
Thursday 21 June – Retreat Hotel, Brunswick, VIC *
FREE ENTRY
Friday 22 June – The Loft, Warrnambool, VIC
www.oztix.com.au
Thursday 28 June – Retreat Hotel, Brunswick, VIC *
FREE ENTRY
Saturday 30 June – Settlers Tavern, Mildura, VIC **
www.oztix.com.au
* Mammoth Mammoth also appearing
** River of Snakes not appearing 
www.facebook.com/jacksonfirebird
twitter.com/#!/JacksonFirebird
Comments
comments