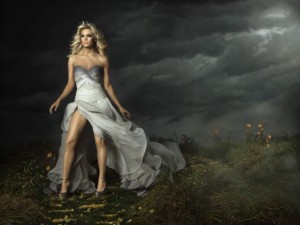 From London's Royal Albert Hall on June 21 to Sydney's Opera House on July 2 – the 14-million album-selling, five-time Grammy Award-winning, 14 US #1 hit-scoring dynamo – CARRIE UNDERWOOD will tour outside North America for the first time and include Australia, promoter Chugg Entertainment confirmed today.
Chairman of Chugg Entertainment, Michael Chugg, said it was fitting Underwood would end her first Australian tour at another of the world's most iconic venues, the Sydney Opera House.
Sponsored by Olay, Underwood will play four intimate and exclusive concerts in Australia, including a special show in Tamworth.
"The last concert we did in Tamworth was Keith [Urban]," said Chugg, "and we blew the lid off it.
"Carrie will too.  We worked the itinerary to get her there on a weekend night and it's the start of the school holidays."
Underwood's tour will kick off at Melbourne's Palais Theatre on Tuesday June 26; play TRECC, in Tamworth, on Friday June 29 and the Brisbane Convention Centre on Saturday June 30.
Underwood will end her first Australian tour at the Sydney Opera House on Monday July 2.
"Tickets to Carrie's Royal Albert Hall concert sold-out in 90 minutes," warned Chugg.
"We're expecting Australian fans will be equally as quick."
Tickets for all shows fan pre-sale this Wednesday and Thursday and general public tickets are on-sale from Monday May 14.
"Touring is more fun now because I know what it's like to headline a tour," said a clearly modest Underwood, whose 2008 and 2010 North American headline tours (200-plus shows to 2.2millions fans) clocked her as the Top-Selling Country Female Touring Artist Of The Year on each occasion.
"I feel like I'm able to be more and more creative all the time.
"I always feel like I'm taking steps forward."
Underwood will tour Australia on the back of her self-described "stormier" fourth studio album, Blown Away, released in Australia last Friday, which includes the new hit single, Good Girl.
Get ready to be Blown Away Australia.
TOUR DATES:
Tuesday June 26         Melbourne                          Palais Theatre                         www.ticketemaster.com.au
Friday June 29            Tamworth                           TRECC                                     www.visittamworth.com
Saturday June 30        Brisbane                             Convention Centre                 www.ticketek.com.au
Monday July 2             Sydney                               Opera House                           www.sydneyoperahouse.com
Tuesday July 3             Sydney                               Opera House                           www.sydneyoperahouse.com 
FANCLUB PRESALE
www.carrieunderwood.fm
Wednesday May 9, noon   >   Thursday May 10, noon
GENERAL PUBLIC
Monday May 14, 9am