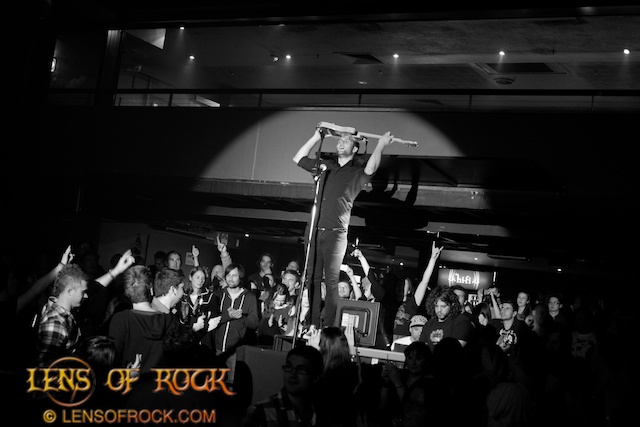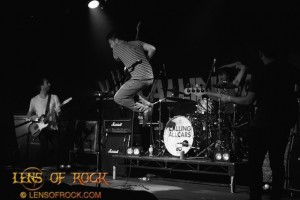 Being a hometown show for Calling All Cars, I rocked up to the Hi-Fi Bar on a wintery Melbourne, Friday night, expecting to be greeted by a reasonably packed house, so was somewhat amazed upon entry to find the Hi-Fi Bar pretty damn empty.  For those who turned up later on, shame on you for missing Perth band Arts Martial who incidentally were playing their first show in Melbourne.  Having no familiarity with the band prior to tonight, I have to say I was pleasantly surprised by their earnest brand of harder edged pop rock.   Rule The World is the bands first single which you may have heard around the traps and I am sure the boys will build upon the following gathered by being out on the Delirium Tour with Calling All Cars and Strangers.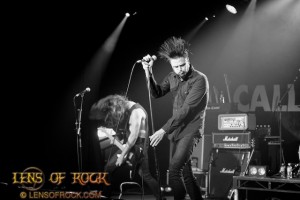 Having been digging Strangers first single Bred For Breeding,  (I mean the video is awesome in itself, featuring a Cinderella (Cinderella the BAND) t-shirt wearing "fan"), I was pretty keen to check out what Strangers were all about as a live band.  I got a glimpse of this a few nights earlier when they were supporting The Darkness at The Palace Theatre, but even though that was my first real time seeing the band live, I got the sense that The Darkness support performance wasn't a real indication of Strangers as a live act.  So tonight it was time for the band to play a bit more intimate venue and play to a far more appreciative crowd than of a few nights earlier that were only after one thing – jumpsuits and falsetto!  As I suspected, tonight I wasn't left disappointed.  The band has a real undeniable energy on stage and they are certainly an interesting concoction of personalities, which I haven't quite been able to pinpoint, who the band remind me of.  Frontman Ben Britton possesses a real brooding kind of persona, with his real power coming from his vocals, rather than necessarily relying on a commanding and showy on stage presence.  Meanwhile, it's the dual guitar attack of Mark Barnes (who incidentally sports one helluva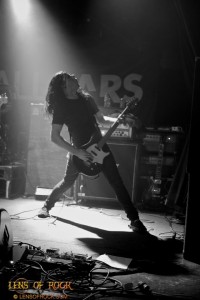 handle bar moustache) and Ben Kinsela that provides the animated visual dynamic of the band with all amounts of guitar posturing.  Musically, Strangers are one of those types of bands that could be described as being many things, but for me, I just find it easier just to say they're ROCK and really, that's mighty fine by me.  It's all about big riffs, some intense heavier moments, and songs such as lead single Bred For Breeding deliver a chorus that will reel you in hook line and sinker, then the band will throw in a bit of a curveball with a bit of tambourine for equal measure.  With an album yet to be released, the momentum for Strangers is gradually building and with the obvious fans they picked up from tonight's performance, along with a stomping new single Persona Non Grata, Strangers will not be "strangers" for very much longer…that is guranteed!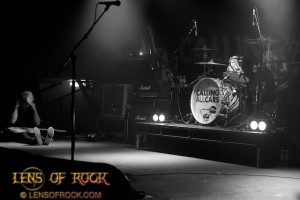 I have witnessed Calling All Cars perform progressively throughout their evolution, but tonight in a way, was all about affirmation of the commanding live act that they have now become.  With confidence obviously at a high after the last few years playing stadium tours supporting the likes of AC/DC, Foo Fighters, Queens Of The Stone Age, as well as major festivals such as Big Day Out, tonight the guys came out with all guns blazing and put on a relentless performance for what was now a packed house.  Whilst they may have opened up early with Disconnect off their Hold, Hold Fire album, the rapport between crowd and band is anything but "disconnected".  From heading out to sing from the mixing desk, to climbing up on the second level stairs to and running around the room at various other moments, frontman Haydn Ing showed that getting knocked out by an over zealous crowd as happened at the Sydney Big Day Out is one of the furtherest things from his mind.  Being a trio, unfortunately I have to push myself down that well trodden path of stating that "for a trio, Calling All Cars really do deliver one hell of a powerful sound"…well it's true!  Of course, drummer James Ing and bassist Adam Montgomery are a pretty bitchin' rhythm section and certainly keep the "thunder" rolling, in the midst of Haydn's roaming the room.  It's almost accustomed at a Calling All Cars show for there to be numerous displays of cruelty towards instruments and this time we found ourselves seeing Haydn's customary Fender having beer poured over it, being slung around and thrown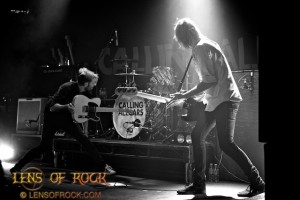 into the photo pit, not to mention finding itself being acquainted with a drumkit, but that's just all in a nights performance!  The band may have only recently released the latest single She's Delirious off of Dead Man Walking, but tonight we were treated to a brand new track, the product of the bands recent writing sessions for the follow up album and the good news, it kicked ass.  As Calling All Cars head into the studio to continue work on their new album, they do so having undoubtedly stamped themselves as being one of Australia's premiere live rock acts.
Essential Information
Click here to view the full live gallery…
Venue: Hi Fi Bar, Melbourne
Date: 11 May 2012
Supports: Strangers, Arts Martial
Website:
Calling All Cars www.callingallcars.net
Strangers http://strangers.net.au
Arts Martial www.artsmartial.com.au