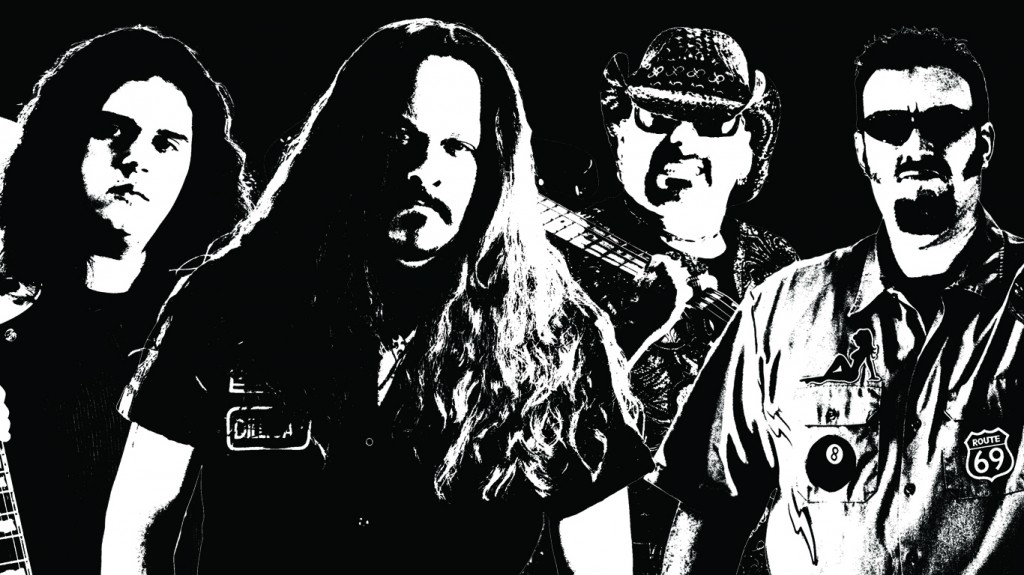 Official Bio: Bombay Black was formed in the spring of 2003 with singer Erik Johnson and bassist Ty Sims recording Erik's material.  Guitarist Jim Perry and drummer Rob McCauley were recruited to round out the band about a year later and began their first tour opening for bands such as L.A. Guns, Firehouse, and Slaughter.  They've since shared stages with Vince Neil, Bret Michaels Band, Black Stone Cherry, Winger, Mudvayne, KORN, Black Label Society, Static X, Warrant, Lita Ford and more.
The first 4 albums (Kivel Records) consisted of:
2004  "Mercy" which received rave reviews from the melodic rock community,
2006 "Anger Management" which continued in the Melodic Rock vein but with a hint of Modern Rock.
2008 "Psycho Magnet" produced by famed Producer Beau Hill drew in a Modern Rock fan base re introducing them to what harmonies and incredible riffs sound like.
The next album released on Triage Records:
2010 "Love You To Death" resonated with both the Melodic and Modern Rock fan base, is hard hitting and impossible to get out of your head.
Bombay Black 5th album "Bullets And Booze" is right around the corner with a May 2012 Triage Records release.
Those familiar with Bombay Black know the previous albums were often centralized around the core theme of "Get Mad Get Even". Bombay Black 's new album, "Bullets And Booze", is instead a reflection of the partying mayhem that happens on their tour bus. The fans and fellow musicians who have walked on (and crawled off) the "Rock 'N Roll Pain Train" know well that the band does not mess around when it comes to cranking up the music and matching you shot for shot.  "Bullets And Booze" invites fans to live life to the fullest all wrapped up in one rowdy and raunchy package.
Two singles out soon include "Helluva Time" which attempts to answer the age old question "What happened last night?" and "Bad Boy" for the guy that the girls love and the boys hate.  You can listen to samples of these singles at www.bombayblackmusic.com.
CD pre-orders are available only via http://triagemusicfirm.com/Bombay-Black-Merch.html beginning 4/15/2012.
Live, Bombay Black is a relentless rock n roll machine, employing every form of stage production allowable by club owners and local fire codes."
Now it's time to hand over to Erik and Ty to tell us more about Bombay Black and the new release Bullets and Booze.
As this will be the first time a lot of our Australian based readers have been introduced to Bombay Black, let's start with the basics first, when did the first band get together and what was the inspiration behind the band name Bombay Black?
ERIK: I got the band name on a trip to a local office supply store.  It's a color of black printers ink.  I looked at the name and thought "that's a goofy rock band name".  I threw it out there and it stuck.
TY: When Erik brought the name to me I didn't know where it came from, I just thought it sounded cool.  It sounded like a band name.  There are so many bands out there with really stupid names today… I'll bite my tongue now…
With a very recent lineup change, this question comes at a perfect time – can you introduce each member of the band and give us a rock 'n' roll fact or myth about each?
Erik Johnson: lead vocals and guitar.  Outside of music, Erik is a freelance voice actor and did some movie work in Hollywood, most notably "Almost Famous" and "Galaxy Quest".
Justin Velte: Lead guitar and backing vocals. Justin is the newest (and youngest) member of Bombay Black.  He's a very "in demand" guitar instructor and produces records for several local bands in his home studio.
Rob McCauley: Drums and backing vocals. Rob makes custom kick drum heads and drum wraps (along many other cool goodies for the rest of the band). You can see (and order) all of his handiwork at cazdudedesigns.com. When he's not behind a drum kit you'll find him on a BMX track coaching his two young sons and racing himself.
Ty Sims: Bass and backing vocals. Ty was a touring sound engineer for many different international rock/country/hip hop acts and is now the owner of "The Recovery Room" studios in Conway, Arkansas. Besides recording all of Bombay Black's records he has produced and mixed records for many bands over the last few years including FarCry, Talon, Tango Down and The Screaming Santas.
You have twenty seconds in an elevator to try and convince someone to listen to your new album 'Bullets & Booze', without resorting to threats or violence, what do you tell them?
ERIK: Girls have a very particular reaction to this album.  Forget the little blue pills, my friend, and play this instead!
TY: It's the most fun you can have with your clothes on… Then again , who needs clothes?!?!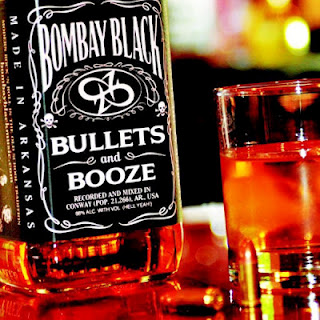 This is now your 5th album release, so you should be seasoned veterans by now in the recording studio.  How different was the writing and recording process for this album, compared to your past releases?
ERIK: I started demoing songs back in the first few years of the band using Sony Acid Pro which is better for beat matching and DJ mixes. Once I upgraded to Pro Tools and really got into the nuts and bolts of the system, I found I could write whatever was in my head and then adapt it on the guitar. It puts me in a position of "playing what I write" instead of "writing what I play". It's made me a better songwriter from a musical standpoint.
TY: This album definitely has a much more "live" feel than any of our others. It's a lot closer to the way we actually sound. We had a lot of fun recording this record and I think you can hear that in the final mix.
In terms of song writing, what do you consider to be the most important elements that feature in a Bombay Black song?
ERIK: A catchy riff and a cool rhythm groove topped off with a chorus that'll drive you nuts when it gets stuck in your head.
TY: I agree with Erik, we're all "pocket" players so we love the groove but it's GOT to have that big catchy chorus.
Over the course of the bands evolution, what and/or who have you found inspires and influences your music the most, in both a lyrical and musical sense?
ERIK: Since I've learned how to really use the midi features in Pro Tools, it's allowed me to write whatever's in my head. As a result, I've been getting into using chords beyond the usual power 5ths and barre chords and learning how to color the song. Listening to groups that use 'jazz chords' has expanded my thinking a good bit, too. Lyrically, it's all from the gut. I've got lyrics that I really dig and some that I cringe at, but I've learned to accept that sometimes people are gonna like what I write even if I don't.
TY: Every recording project is unique. You can't help but be influenced by the music you listen to, but every album will find it's own sound if you let it. I've started off mixing projects before with a specific sound in mind but the finished mix ends up nothing like I expected. You can try to force a sound on a project, but if you listen close enough, the songs will let you know what you need to do. This answer may not make sense to anybody that doesn't mix records for a living.
What were some of the key influences that you feel contributed to what we hear on the new album 'Bullets & Booze'?
ERIK: When the writing started, I was going in a particular direction then it gradually changed and we found we had the makings of two albums as far as theme goes. "Bullets and Booze" wasn't even the original name, but we made changes as we went along and let the songs dictate the final outcome. I'd say the festivals, the road trips, and meeting new fans everywhere we go are big influences. Many of the songs are arena-style singalongs about the shenanigans that happen at shows and on the bus. I am positive that having our own Jagermeister machine on the bus has nothing to do with any of it.
TY: This album has a real party vibe and was definitely influenced by things that have happened on tour over the last couple of years. There are a lot of true stories behind these songs although the names have been changed to protect the (not-so)innocent.
We've picked out 3 songs from the new album – can you give us a bit of background to each song and any important facts you think we should know:
Dragon Tattoo – One of the first songs written for this record. It's based on the Farmer's Daughter legend: she's hot and a lot of fun, but her dad's trigger-happy. This was actually going to be the title track for quite some time, but Bullets and Booze just seemed to capture the essence of the album a lot better.
No Room For Emotion – This song has a little bit of an Aerosmith vibe. If you've ever had a one night stand this song is for you.
Let Me Be – This was the last song written. A friend of mine, when I first met her, was very goth as far as clothes and color choices with almost ivory skin. Just beautiful. I thought back to when I met her and the words just fell into place. When I finished it, I realized it had an almost predatory "Red Riding Hood" vibe to it.
You hail from Little Rock, Arkansas in the USA.  For the benefit of those in galaxies far, far, away…what do you have to say about the rock scene in Little Rock at the moment and Bombay Black's place within it?
TY: being in a rock band in central Arkansas is kind of like being stranded on a desert island. The rock scene here is almost non-existent. We only play here 2 or 3 times a year so we usually have pretty good crowds but most of the clubs in Arkansas cater to top 40 cover bands.
If you were a person in the crowd at one of your gigs, what five words would you walk away using to describe the performance you just witnessed?
ERIK: "What the hell was THAT?!!?!?"
Keeping with the live theme, if I was to walk into the Bombay Black dressing room 30 minutes before a show, what am I likely to find?
ERIK: Business as usual: everyone warming up, maybe having a shot or two to take the edge off, discussing things to keep in mind while we're playing. That's the safe answer, isn't it?
Gigs, gigs, gigs…do you have any shows coming up over the USA summer that you wanted to tell the people about, if so here's your chance!
We are still in the process of booking our summer tour but the current calendar is:
6-14 The Hangar     Jacksonville, Ar.
6-16 Tankz              Tulsa, Ok.
6-23 Shooters          Little Rock, Ar.  (CD release party)
6-30 The Abbey       Memphis, Tn.
7-27 Live 59             Plainfeld, Il
7-28 Cerno's            Kewanee, Il
Check www.bombayblackmusic.com for more tour dates.
With 2012 already four months down, here's a chance to gaze into your crystal ball. By the end of 2012, Bombay Black will have:
1. Re-mixed and Re-mastered our first two albums for an exclusive iTunes release.
2. Possibly finished work on a concept album. A first for us but it sounds like fun.
3. Drank a metric ass-load of liquor and have the scars to prove it.
Essential Information
From: Little Rock, USA
Sounds like: "Modern Rock in the Old School tradition"
Band members: Erik Johnson – vocals & guitar, Justin Velte – lead guitar, Rob McCauley – drums, Ty Sims – bass
Website: www.bombayblackmusic.com
Latest release: Bullets and Booze (May 2012, Triage Records)
Comments
comments