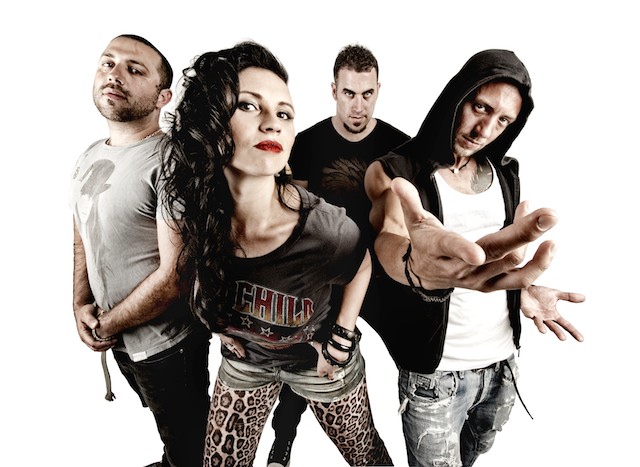 Official Band Bio: Bellusira is a band that has literally put everything on the line to follow their passion.  Few bands can claim the convictions that this Melbourne four-piece collectively hold. From leaving the stability and comfort of home, to traveling solo in a foreign land, to living on the streets; the members of this female fronted alternative rock band seemed to gravitate to one another as though the universe had conspired for it.
Though don't be fooled for a second that this is something driven solely by fate. A fusion of two Latin words 'beautiful' and 'anger', Bellusira has made a clear point of not letting anything get in their way. The brainchild of vocalist Crystal Ignite and bassist Mark Dalbeth, the two built their name in the Melbourne music scene originally performing under the name 'Fallacy'. Building a worthy fan-base over a legitimate lifespan of five years, 'Fallacy' soon disbanded, having accomplished all the band had hoped for. Though too much had been put at stake for Crystal and Mark to simply stop and it was from these ashes that the Bellusira we know today rose.
Having recruited an organic and talented line up including Vinny Mancuso, from Freestate one of the most respected bands in Melbourne's underground scene, Bellusira have wasted no time. Rather than picking up where previous projects had left off, they forged their own path and their own sound. Already with a threatening list of achievements pinned to their name that Crystal and Mark could never have imagined while caught in the haze of their bleak youths including sharing the stage with The Misfits, Dead Letter Circus and Floating Me; bands that have not only influenced the DNA of Bellusira, but also impacted profoundly the lives of the members.
Having played to full capacity venues across the country, and boasting sell out single launches every time they release a single, Bellusira have locked in 2012 as their year. With a highly anticipated full-length album on the horizon including the soon to be released single Culprit and a fresh new line up ready for an up and coming national tour, you do not want to get in the way of this band. Much like a bulldozer colliding into a house of cards, Bellusira have some serious weight behind them. Change is coming, whether you're ready for it…or not."
For more information: http://www.facebook.com/bellusira
Let's start with the basics first, when did the first band get together and what was the inspiration behind the band name Bellusira?
It came from an older darker project that Crystal and I had been working on for a few years. We released our first release for 'Bellusira' in 2008. Inspiration for the name came from a good photographer friend of ours, who referred to our live show as 'Beautiful Anger'; from that the name Bellusira was born.
Can you introduce each member of the band and give us a rock 'n' roll fact or myth about each?
Crystal Ignite is our singer, she is known as the 'Cat lady' with cats all over her house. She is also related to Cyndi Lauper, which might not be true.
Vinny is our lovely Guitarist, he enjoys spending quiet times on the beach, romantic candlelit dinners and talking about Wine and Cheese…. ladies?
Jimmy is our drummer; he is the backbone to our live show and makes a mean Latte. His Bruno impersonation is impeccable!
I am Mark the bassist, I am a kiwi who likes Kumara chips with Aioli.
You have twenty seconds in an elevator to try and convince someone to listen to your new single 'Culprit', without resorting to threats or violence, what do you tell them?
This is going to sound strange, but it's for you…I think it's your father? You better listen to this.
Speaking of the new single, you have released a video clip to accompany it…tell us what you were shooting for as far as the concept etc and how it might tie in with the song?
We were pretty fucked off with the world when we wrote this song, felt like we couldn't get a break and were sick of people trying to bring us down.  This was our response to every one of those people.  The concept for the video was easy, keep it raw and primal and stick to just rocking out.
You have a new release coming out on the horizon, when are we likely to see it drop and is the single Culprit a good indication of what we can expect from the album?
Plans are for a late August/early September release for our debut album.  It's been a long time coming and we want to do it right!  Culprit is an example of what listeners can expect to hear but there will be lots of texturing, layers and different sounds scattered throughout the record.
Recording and writing your album, what did you find to be the most enjoyable and least enjoyable aspects of the process?
The most enjoyable moment of recording is when you hear the song come together, hearing the art that yourself and your family has put together is a pretty magical experience and I don't think any of us will get tired of that!  Probably the least would be financial side of it. It is always a struggle for a band to survive in this day and age with downloads being so popular and record sales not what they once were, so finding the funds to actually get in the studio in the first place is tough.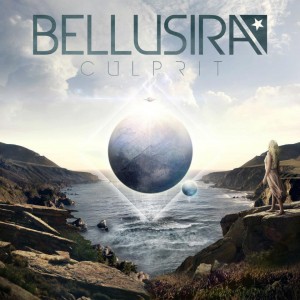 In terms of song writing, what do you consider to be the most important elements that feature in a Bellusira song?
It's Crystal's voice, it comes from a place of darkness, hurt, torture and optimism all rolled into one.
Over the course of the bands evolution, what or who have you found inspires and influences your music the most, in both a lyrical and musical sense?
We get inspiration from each other; we don't worry about what every one else is doing and what the scene is up to.  We just focus on writing the best songs we can write together and that has never changed.  When Karnivool for example came onto the scene a few years ago we noticed hundred's of bands popping up that tried to sound just like them.  I don't understand the point of that at all!
Hypothetically speaking of course, if you could travel back in time (or into the future even, say tomorrow….) and play your music to any one of your musical heroes, who would it, be and why?
Would love for us to play in front of the boys from FNM and Deftones.  Both pioneers of their time and big reasons for me pursuing my musical career.
You hail from Melbourne, arguably the rock capital of Australia.  For the benefit of those in galaxies far, far, and away…what do you have to say about the Melbourne rock scene at the moment and Bellusira's place within it?
For a scene that is so strong and flooded with amazing acts, it still shocks me that local radio and TV don't get behind it.  They are more interested in looking out for what is going on overseas and supporting shoe gazing musos with no talent and no following.  It is a cultural experience to be a part of the scene and everyone in it feels like a family member, so it really is inspiring for us as a band to be a part of it.
If you were a person in the crowd at one of your gigs, what five words would you walk away using to describe the performance you just witnessed?
What the Fuck was that?
Gigs, gigs, gigs…do Bellusira have any local shows coming up that you wanted to tell the people about, if so here's your chance!
Friday May 4th Sydney @ the Square and Sat May 19th Melbourne @ Revolver.
With 2012 already four months down, here's a chance to gaze into your crystal ball. By the end of 2012, Bellusira will have:
1. Debut Album released
2. LA and NZ Tour done
3. Why not a bit of world domination?
Essential Information
From: Melbourne, Australia
Sounds like: "beautiful anger"
Band members: CRYSTAL IGNITE: Voice, MARK DALBETH: Bass, VINNY MANCUSO: Guitar, JAMES MILETO: Drums
Website: http://bellusira.com
Latest release: Culprit (Single, April 2012)
Upcoming Tour Dates
Friday 4 May | The Square, SYDNEY, VIC
Saturday 19 May | Revolver Upstairs, MELBOURNE, VIC
Saturday 26 May | Rollerderby (Special Appearance), BENDIGO, VIC
Friday 8 June | The Zoo, FORTITUDE VALLEY, QLD

Saturday 9 June | Springwood Hotel, BRISBANE, QLD

Sunday 10 June | Miami Tavern, GOLDCOAST, QLD

Saturday 16 June | Enigma Bar, ADELAIDE, SA