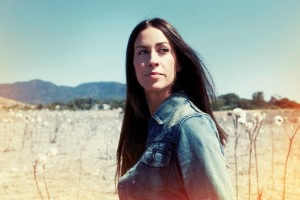 ALANIS MORISSETTE TO RELEASE NEW STUDIO ALBUM  – HAVOC AND BRIGHT LIGHTS  ON AUGUST 31st, 2012 

Los Angeles, CA (May 2, 2012) – Multi-platinum, Grammy winning artist Alanis Morissette will be releasing her highly anticipated seventh studio album, HAVOC AND BRIGHT LIGHTS, on August 31st, 2012 through Sony Music Entertainment Australia. Produced by Guy Sigsworth (Björk, Madonna, Seal) and Joe Chiccarelli (Tori Amos, Elton John, My Morning Jacket, U2) and recorded in Los Angeles, the album marks the songstress' first release in four years. The album will be preceded by the first single, "Guardian", in June.
"This record, as always, is a snapshot of what I currently obsess about, care about, and what strikes me at 4 in the morning in my most introspective moments," says Morissette. "It is my emotional, psychological, social and philosophical commentary through song. I can't wait to share it with this fun and funny planet, and to tour, and can't WAIT to have the lively, engaging and challenging conversations that these songs may invite."
TRACK LISTING:
1. Guardian
2. Woman Down
3. 'Til You
4. Celebrity
5. Empathy
6. Lens
7. Spiral
8. Numb
9. Havoc
10. Win and Win
11. Receive
12. Edge of Evolution
ABOUT ALANIS MORISSETTE:
Since 1995 Alanis Morissette has been one of the most influential singer-songwriter-musicians in contemporary music.  Her deeply expressive music and performances have earned vast critical praise, 12 Canadian Juno Awards, 7 Grammy® Awards (with an additional 14 nominations), a Golden Globe nomination and sales of over 60 million albums worldwide.  Morissette's 1995 debut, "JAGGED LITTLE PILL, was followed by such eclectic and acclaimed albums as SUPPOSED FORMER INFATUATION JUNKIE (1998), MTV UNPLUGGED (1999), UNDER RUG SWEPT (2002), FEAST ON SCRAPS (2002), SO-CALLED CHAOS (2004), JAGGED LITTLE PILL ACOUSTIC (2005), her greatest hits album, THE COLLECTION (2005), and FLAVORS OF ENTANGLEMENT (2008). She has also made many memorable contributions to theatrical releases including: "Uninvited" to the film CITY OF ANGELS (1999), "Still" to DOGMA (1999), and "I Remain", which she wrote for the PRINCE OF PERSIA: THE SANDS OF TIME.  Most recently Alanis has acted on the small screen with roles in hit television series "Weeds" and "Up All Night", and has appeared as a celebrity guest mentor on the current season of "The Voice".  For more information please visit www.alanis.com.