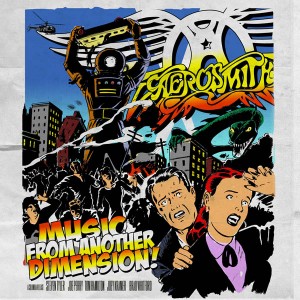 AEROSMITH TO RELEASE NEW ALBUM MUSIC FROM ANOTHER DIMENSION OUT AUGUST 24
New Single "Legendary Child" Available on iTunes May 25
Sony Music Entertainment is excited to announce America's greatest rock and roll band Aerosmith will release their new album Music From Another Dimension on August 24, 2012.
The first single "Legendary Child" from Aerosmith's long – awaited new album Music From Another Dimension will be available on iTunes in Australia on Friday 25th May. Aerosmith premiered this single by a live performance on the season finale of American Idol with an Australian screening on FOXTEL's Fox8 Channel May 24.
Aerosmith are one of the most popular rock bands of all time and have an impressive legacy, having sold over 150 million records worldwide with 55 total Gold, Platinum, and Multi-Platinum certifications and even 1 Diamond certification for their Greatest Hits collection.  The band has also won numerous awards including 4 Grammy Awards, 10 MTV Video Music Awards, and 7 American Music Awards.  Aerosmith were inducted into the Rock and Roll Hall of Fame in 2001.
The band celebrated their fortieth anniversary in 2010 and shows no signs of slowing down anytime soon. This quintessential live act truly defined rock and roll as we know it, bringing their heart-pounding sound and millions of fans to their feet over the past four decades.  Never succumbing to the trends and fads in music, Aerosmith blazes their own path and remains as ground-breaking as they were when they first formed in 1970.
Track listing for Music From Another Dimension below
1. What Could Have Been Love
2. Beautiful
3. Street Jesus
4. Legendary Child
5. Oh Yeah
6. We All Fall Down
7. Another Last Goodbye
8. Out Go the Lights
9. Love Three Times a Day
10. Closer
11. Shakey Ground
12. Love a Lot
13. Freedom Fighter
14. Up on the Mountain
http://www.bandit.fm/aerosmith 
http://www.aeroforceone.com
http://www.facebook.com/aerosmith