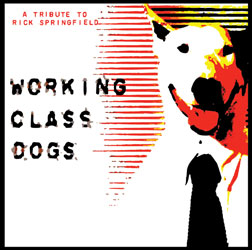 The big question is not 'why pay tribute to Rick Springfield?', but rather 'why did it take so long for someone to do so?' And when you consider some of the many other tribute albums that have hit the market in recent years, and with Rick's record of 17 Top 40 hits, it is a confounding question indeed. Thankfully all has been put right with this first ever tribute to one of melodic rock's most accomplished singer/musician/songwriters.
MelodicRock Records in association with Angelmilk Records and Fastlane Records is proud to bring you Working Class Dogs – A Tribute To Rick Springfield, set for release worldwide on June 15.
The album was compiled in two different stages, with the original tracks recorded under the supervision of the album's architect Shawn C. Lane and Fastlane Records and coming later, the second stage saw 5 more tracks added under the guidance of MRR's Andrew McNeice.  Combining both sets of tracks into the perfect running order gives the listener a truly wild ride and results in one of the best and most consistent tribute albums ever.
No one sounds like Rick Springfield. But many love to play his songs.  And this tribute to Rick Springfield brings together a whole range of artists to do just that. Many have admired the artist from afar, but several others have actually worked closely with Rick. Case in point is Rick's own live backing band appearing on the rocking track Kristina. And friend and long-time collaborator Jeff Silverman appears alongside AOR legend James Christian on the original RS/JS tune Right Planet Wrong World.
A true indication of a song's brilliance is that it will translate into other genres without losing any of its original charm. That's exactly what happens here.  All of the songs on this album have been updated and contemporized, but none of them have lost any of their original zest. You have the rapid fire punk/pop live feel on several tracks like Love Somebody, Living In Oz, Jessie's Girl; the polished and mature AOR of Stranger In My House (featuring Argentine AOR group Hardway with guest vocalist Thom Griffin) and Right Planet Wrong World; the heartfelt Beautiful You and even the country tinged What Kind Of Fool Am I (performed by Taylor Swift's touring guitarist/vocalist Paul Sidoti).  And of course the raw energy of Souls, I Get Excited, Carry Me Away and Affair Of The Heart.
Other artists involved include Eric Martin (Mr. Big vocalist), Chicago's finest 7th heaven, one man band Gary Schutt (Jeff Scott Soto band), CJ Szuter (The Szuters), Mitch Malloy, Eric Ragno, Vic Rivera (Poley/Rivera, Adriangale), Steve Newman and British guitarist Vinny Burns (Ten, Burns Blue).
Great performances are needed of course, but at the heart of the matter are some of the best songs Rick Springfield has ever written. This tribute album has something for all Rick fans, no matter what the era. And what other tribute album can boast the center of attraction giving it his seal of approval.
Rick Springfield: "What a cool compilation. I like the song choices and the versions still retain a lot of the original vibe, but have definitely been updated. These versions are a lot more like how we now play the songs live. Great work everyone!"
Track Listing (Artist/Title and audio sample):
01) Waltham – Light Of Love
02) American Anthem – Jessies Girl
03) Handsome Devil – Love Somebody
04) Gary Schutt – Carry Me Away
05) CJ Szuter – I Get Excited
06) The Meddling Kids – I've Done Everything For You
07) Tom Cinefro & The Rick Springfield Band – Kristina
08) Eric Martin & Vic Rivera – Souls
09) Hardway w/Thom Griffin – Stranger In My House
10) James Christian & Jeff Silverman – Right Planet Wrong World
11) 7th Heaven – Affair Of The Heart
12) Steve Newman & Vinny Burns – Human Touch
13) Brand New Machine – Calling All Girls
14) Keith LuBrant – Rock Of Life
15) Paul Sidoti – What Kind Of Fool Am I
16) Mitch Malloy & Vinny Burns – Tear It All Down
17) Barely Pink – Don't Talk To Strangers
18) Fig – Wasted
19) Clay Howard – Beautiful You
20) Endway – Living In Oz

Purchase your copy right here: www.melodicrockrecords.com