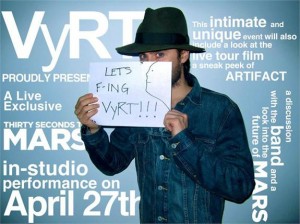 FANS TO PARTICIPATE IN A UNIQUE VIRTUAL EVENT. BROADCAST LIVE IN AN ONLINE SOCIAL THEATER, THE EVENT INLCUDES AN INTIMATE LIVE PERFORMANCE, PREVIEW OF THE UPCOMING LIVE TOUR FILM, SNEAK PEEK AT THE MARS DOCUMENTARY 'ARTIFACT' AND AN INTERACTIVE
Thirty Seconds To Mars have announced that they are currently working on their 4th studio album, the follow-up to 2009's global hit This Is War.
The new album is a "dramatic departure from the past", says singer and songwriter Jared Leto, describing it as being "very orchestral, narrative, interactive and even more electronic than previous projects". Leto is once again producing the album along with several other talented producers including the return of Steve Lillywhite (U2, THE KILLERS). The trio are working out of their studio in the Hollywood Hills dubbed 'ICAASS' (International Center for the Advancement of the Arts and Sciences of Sound) or 'The Lab' for short, as well as incorporating site specific recording in locations as far reaching as India, Africa, Yosemite, the California desert and Europe. Jared spoke with Rollingstone.com about recording the upcoming album and new technology venture VyRT, the feature can be read here.
The band plans to re-launch their successful event dubbed The Summit and plans to launch The Summit 2.0 as an app which will allow fans to be a part of live recording for the album through Facebook, Twitter and a new technology platform called VyRT.
The band is also using VyRT for a live performance and sneak peek into the workings of Mars, inviting fans directly into The Lab studio on April 27th for a live digital experience which will include an intimate live performance, preview of their live tour film, sneak peek of their documentary film ARTIFACT, and a discussion with the band. Digital tickets are available at VyRT.net/Mars For the first time ever, VyRT gives artists the opportunity to sell digital tickets to live events that are broadcast worldwide in an online social theater. This isn't your grandmother's live stream. VyRT is a high quality, high production value event that's centered around the idea of creativity and community. VyRT gives artists the ability to share their work without having to rely on the current prevailing sponsor based model. By avoiding that system VyRT helps to create meaningful content that customers truly value. It is a one of a kind digital experience.
In December, Thirty Seconds To Mars celebrated their final shows in support of This Is War with a week-long celebration in NYC dubbed "MARS300" to commemorate their 300th tour date. They were honored by the Guinness World Records® for performing more concerts than any other band in a single album cycle. Fans around the world were able to experience the big Guinness World Record-breaking MARS300 show by purchasing a digital golden ticket through VyRT.net, allowing them access to a live and interactive broadcast. A first of its kind, ticket buyers got to watch the show live and connect socially with friends and other global fans simultaneously.
Signed to their first record deal in 1998, Thirty Seconds To Mars consists of brothers Jared and Shannon Leto and Tomo Milicevic.
To get involved in the Thirty Seconds To Mars community dialogue, check out the band's social media sites below.
For further information, please contact your local Virgin Music representative, or check out:
www.theinsoundfromwayout.com
http://www.facebook.com/thirtysecondstomars
http://www.myspace.com/thirtysecondstomars
http://twitter.com/30Secondstomars
http://www.youtube.com/30secondstomars
www.thirtysecondstomars.com
http://30secondstomars.shop.musictoday.com
www.vyrt.net