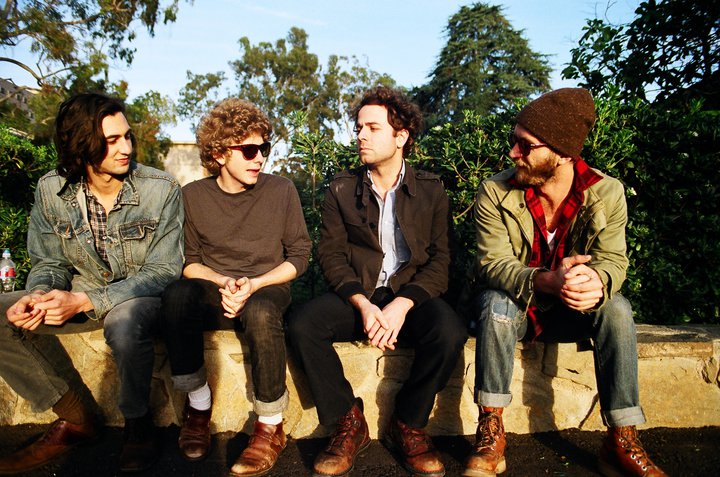 "I guess it's really song oriented music and I think each one of us really takes pride that we work really hard at being able to play our instruments, so there's a lot of musicality and it's kind of just four guys playing non synthesised instruments on stage."
Having received the patronage of both Jackson Browne and The Band's Robbie Robertson, Dawes are seen by many as heirs to the classic West Coast sound of the '70s. Others just see them as a great natural rock'n'roll band taking a classic sound and making it fresh and relevant to today's young audience. Whichever way you look at them, there is no denying the quality of their songs and the warmth of their performance. With gigs at Bluesfest and Boogie as well as shows with My Morning Jacket, Justin Townes Earle and their own headliners, Dawes are set to deeply impress a large audience down under.
A self-described "American rock 'n' roll band," Dawes represent everything pure and true about that fundamental delineation, four talented friends making music together, fueled by a shared belief in the power of their songs.  With Nothing Is Wrong, the Los Angeles-based band – singer/guitarist Goldsmith, his brother Griffin on drums, keyboardist Tay Strathairn, and bassist Wylie Gelber – continue to master their blend of singer/songwriter reflection with folk, country, and AOR-inspired arrangements, all ringing guitars, soaring harmonies, and heartfelt melodies.  After spending much of the past two years on tour, songs like "Coming Back To A Man" and "Time Spent In Los Angeles" have a restless, unsettled quality evocative of life lived on the road.  A collection of songs that expertly builds upon the template laid by 2009's extraordinary debut, North Hills, Nothing Is Wrong sees Dawes displaying staggering growth and evolution while still manifesting their distinctive, unforgettable voice.

We chatted to Dawes keyboard player Tay Strathairn about the band, their Australian tour and plans for their new album.
Welcome to Australia, this being your first time here were you given any indication as to what to expect?
Just positive things, everybody just said it was a great place, I haven't heard any negative reports from other people I know that have toured down here, so we were really looking forward to it.
How have the shows been going?
They've been really fun, you know we've just done two shows but the My Morning Jacket guys are great guys and it's a really good opportunity for us to play to a larger crowd than we would otherwise and it's been a really good time.
For those that haven't seen you perform before, what can people expect at a Dawes show?
I guess it's really song oriented music and I think each one of us really takes pride that we work really hard at being able to play our instruments, so there's a lot of musicality and it's kind of just four guys playing non synthesised instruments on stage.
As a part of the Bryon Bay Bluesfest, you're on the bill with quite a line up.  Is there anyone in particular you're looking forward to seeing?
I'm really excited to see Lucinda play, I've seen her play a couple of times and she's amazing.  We did a record with a track with John Fogerty so I'm really looking forward to seeing him play.  There's just a lot of really, I know we're there for some of the days I know the Jacket guys are going to play, I think today or tomorrow and even though we've been playing shows with them their live show is really awesome.
Are you going to try and check out some Australian bands you may not have heard of like Cold Chisel?
Yeah absolutely, we've been hearing a lot about Cold Chisel and apparently they're huge and we've never heard of them so I'm really curious to check them out.  I hear they're a legendary band.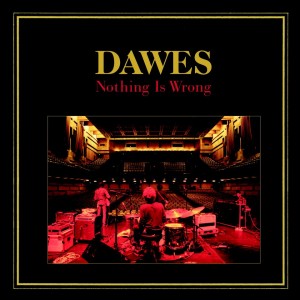 You've repackaged your album 'Nothing Is Wrong' here in Australia with your debut album 'North Hills' as a special edition release for the tour, what was the idea behind doing that?
I think it was just so people can hear.  Like in Europe they released 'Nothing Is wrong' first and it's nice about hearing a progression and how a band starts, so you can kind of get a two for one deal.  Hearing our first record and hearing how we progressed to the second one.  It's just about making fans familiar with our material faster.
What is that inspires the band to create the songs for Dawes?
I don't know, Taylor our lead singer writes the lyrics and comes up with the chord progressions on the guitar and then he brings them to us and we arrange them.  As far as lyrical content, that's something that I think he draws from his experiences from life, I think he's an amazing lyricist and whether or not we're writing, we all can kind of connect with what he's saying.  As far as the sound of the band I think it's just a natural progression, where we all come from and how we all work together, you know we all have different backgrounds musically but it all seems to coexist nicely.
Listening to the album it is so easy to listen to, it's so good.  With comparisons to artists such as Jackson Browne and some Springsteen in there, how do you take that kind of praise?
I mean, being compared to guys that are iconic and legends and some of our biggest influences is quite humbling. It's kind of hard to wrap your head around that Jackson, not only do we sound like him but he's a friend of ours and we've played some of his songs with him, it's nothing short of a dream come true.  You've kind of gotta rub your eyes and look around and think is this really happening.
The one song that is stuck in my head is 'When My Time Comes' from your first album, is there a story behind that one specifically?
I don't know, that's on the first record and we've been playing that song for a long time.  I don't know, that would be a question better suited for Taylor, but I remember when he brought it in though and this was before we had even recorded anything or even really toured as a band and we were like wow, this song is great.  We've been playing that one for a really long time ha ha.  It's always fun to play actually and it always gets a really good response out of the crowd and it's one of our more cathartic songs.
'Nothing Is Wrong' has been out for a little while now, are you already working on new material for another album?
Yeah, Taylor's got some songs and we've been trying to get the arrangements at sound checks here and there and working them out.  I think we're trying to get a record out by the end of this year, or at least finished recording it.  It's kinda hard, we've got a busy summer, we've got to finish the cycle of this record and then I think we're going to take a break in the fall and get some stuff recorded.
What are the plans for the rest of the year once you head home?
Yeah we're going to tour through the Summer, and then try to, who knows, stuff always pops up, we say we're going to have time off and then some good opportunity comes, but I think the idea is to have a record out by next spring, so hopefully…
Well, thanks for your time Tay, hopefully we can see you back in Australia on the next album cycle.
I hope so, I was just saying to the bass player this morning that this is one of my favourite places I've ever played.
Essential Information
From: USA
Band members: Taylor Goldsmith – Vocals / Guitar, Griffin Goldsmith – Drums, Tay Strathairn – Keyboards, Wylie Gelber – Bass,
Website: http://www.dawestheband.com
Latest release: Nothing Is Wrong Tour Edition (Warner Music Australia)
Remaining Australian Tour dates:
APRIL 6 • BOOGIE, TALLAROOK, VIC
APRIL 7 & 9 • EAST COAST BLUES AND ROOTS FESTIVAL, BYRON BAY, NSW
APRIL 11 • TOFF IN TOWN, MELBOURNE, VIC – HEADLINE SHOW