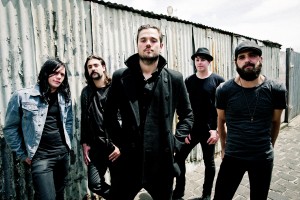 STRANGERS make rock&roll sound the way it was always meant to! Loud, brave and proud. This is a band churning out urban rock anthems that could only have come from the backlots of Sydney's fertile Southern Beaches.
 Not convinced? Oh, ye of little faith! Get thee to the World Wide Web for a taste of the hard hitting new video for radio monster 'Bred For Breeding'. After having been rotated in the nicest possible by triple j radio since late 2011, Strangers will premiere the gritty video on Faster Louder at midday on Tuesday 17 April. www.fasterlouder.com.au
 Shot in living black and white, the band have created their perfect day in the life. Staged in a one room house party, surrounded by their best friends and cranked up really high, it's a world of faded glory, beach flats and house parties that manage to roll into tomorrow…all set to the soundtrack of the Strangers, and the roar of the surf coast!
 Recently signed to Shock's new imprint label Permanent Records, and with a new single about to be released and their debut album due in July, Strangers have just been announced to support UK's men in tights, The Darkness, in Melbourne at The Palace on Wednesday May 9 and Adelaide on Saturday May 12 at Thebarton. You can also catch the flexing their muscle supporting long-time friends Calling All Cars.
 TOUR DATES
STRANGERS with CALLING ALL CARS
Friday 27 April – FOWLERS LIVE – Adelaide, SA
Saturday 28 April – THE LOFT – Warrnambool, VIC
Thursday 3 May – TRANSIT BAR – Canberra, ACT
Friday 4 May – THE ANNANDALE – Sydney, NSW
Saturday 5 May – THE ZOO – Brisbane, QLD
Sunday 6 May – CAXTON STREET FESTIVAL – Brisbane, QLD
Thursday 10 May – KAY STREET – Traralgon, VIC
Friday 11 May – THE HIFI – Melbourne, VIC
supporting THE DARKNESS
Wednesday 9 May – THE PALACE – Melbourne, VIC
Saturday May 12 – THEBARTON – Adelaide, SA
STRANGERS new single due out May!
STRANGERS debut album due for release August 2012 on PERMANENT RECORDS