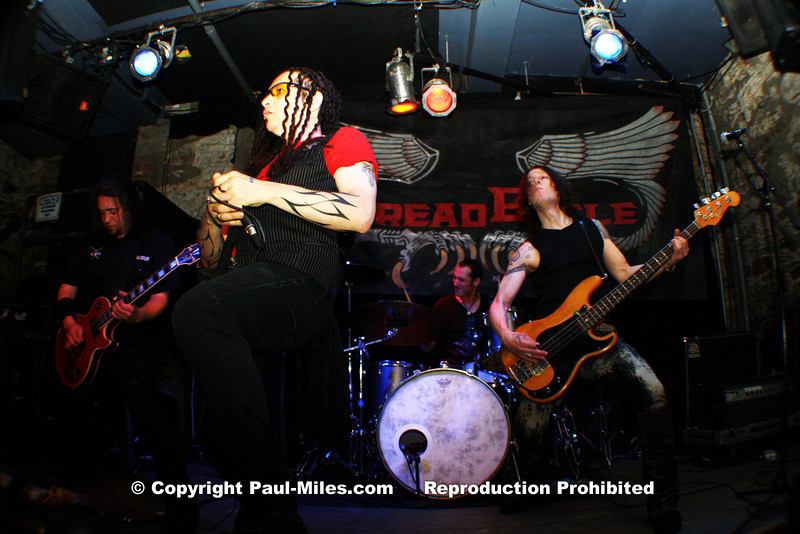 Reviewed by: Paul Miles
Date: 22 April 2012
Venue: The Bowery Electric, New York City, USA
Website: Spread Eagle Facebook
Full Photo Gallery (click link): http://rockshots.paul-miles.com/
As heavy rain and gusty winds buffeted New York City all day, a crowd of rockers ignored a flood watch warning and ventured down to The Bowery Electric in Manhattan's East Village to see Spread Eagle perform a rare show in the very neighborhood where they formed.
Spread Eagle first caught my attention with their 1990 self-titled debut on MCA Records, who had quickly signed them, but then failed them in many ways. This tough hard rock band was always more street metal to me than their West Coast glam counterparts of the era – think denim vests over leather jackets. So tonight's harsh weather conditions also felt somewhat symbolic of the struggles Spread Eagle has faced over their career, which I suspect have made them stronger now since reforming in 2006, after an eleven-year break.
Jumping out of my cab at the corner of Joey Ramone Place, I ventured down the venue's stairs and found support act Ten Ton Mojo midway through their set of honest, hard rocking songs with a southern edge, after Wicked and Electric Black Horse had kicked-off proceedings. Following an encore song, a Spread Eagle backdrop featuring their wings and talons logo was affixed behind the drum kit.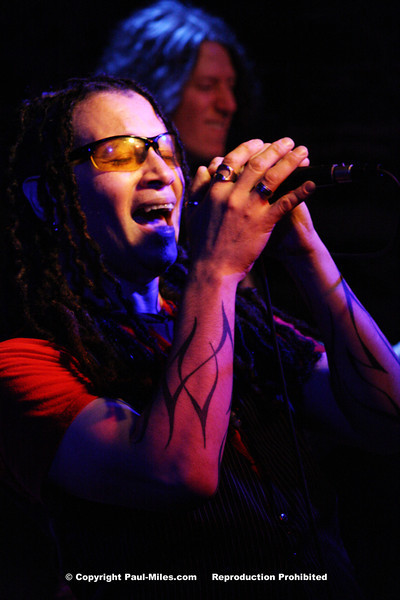 Spread Eagle soon took the stage under the static house lights, commencing with a one-two punch of King of the Dogs followed by Rhythm Machine, sequenced just as they are on the band's second album Open To The Public from 1993. Vocalist Ray West was confident and smiling from the onset (he seems in a great place these days after some addiction and rehab stints during their hiatus). Sporting some newer tattoos around his forearms that look like a sparse pattern of interlocking wishbones in a tribal style, he kept things light-hearted with effectual banter between songs, saying, "We have a lot of friends here tonight" and making sure to thank the night's promoter Shar Gorgiss. Devil's Road was up next, taking us retrospectively back to start of that album.
As the band meshed into their groove and the audience warmed, it was songs from their self-titled debut album – recently voted one of the Top 20 glam albums of all time – that were best received. The gritty Back on the Bitch got heads rocking, before it was followed-up with Broken City that was "written on the roof top of… some building."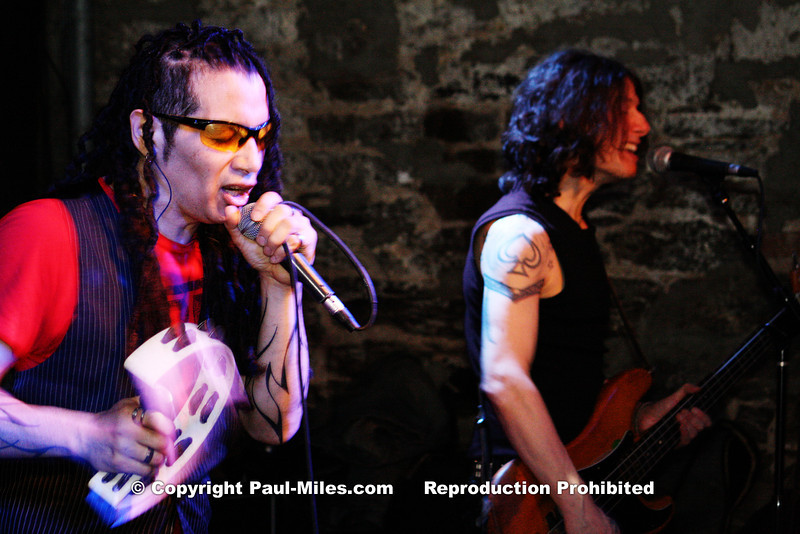 The other original Spread Eagle member is bassist Rob De Luca, who's just spent six years playing with Sebastian Bach (of Skid Row fame) as direct support for Guns N' Roses on their 2006-2012 Chinese Democracy World Tours, and has also been touring the world playing bass with English legends UFO in recent years. Sporting a sleeveless black t-shirt showing his toned arms capped with some tattoos, the ever-professional De Luca moved smoothly to and from his microphone for back-up vocals, while his fingers worked away at his four strings.
The band's newest member is Rob's cousin Rik De Luca, who has been drumming with the band since 2010. His hard-hitting style stood out during the next song, the fast-paced Suzy Suicide, a story about the wildest thing you've ever seen. Strumming away on his red Les Paul that popped against his black attire and long hair, guitarist Dennis Kimak was solid all night, moving to the front of the stage for his solos that were in keeping with the recorded originals.
As the band slowed the pace for their ballad Through These Eyes, front-man West said the band is currently working on their next (third) album, presumably to be released by Lovember Records, who recently remastered and reissued Spread Eagle's debut.
This track proved to be the calm before the storm since Switchblade Serenade was up next, which satisfied anticipation and evoked people to hit record on their iPhones as they captured a great rendition of perhaps their most well-known song. After generous response, the band launched into their ninth and final song of their headlining set, the down'n'dirty hit Scratch Like a Cat, with West whipping his long, thin, curly dreadlocks around the stage, as the band finished on a high with the song the crowd seemed to love most.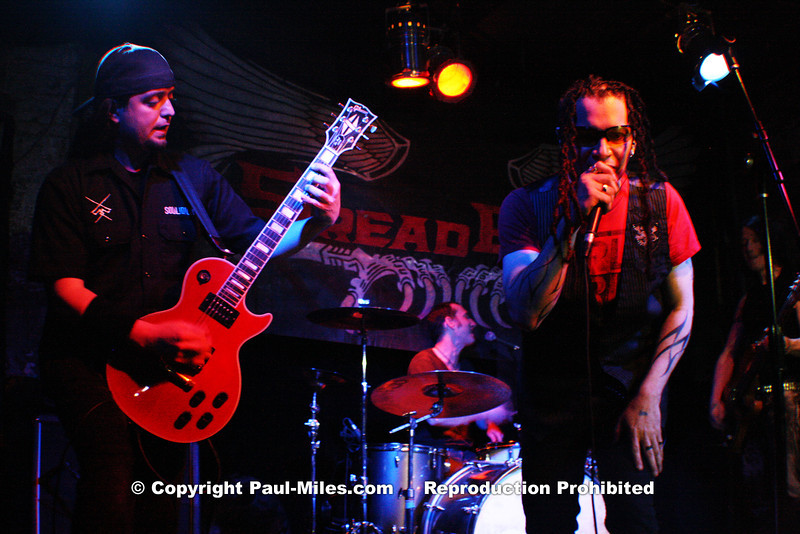 A final thank you and thumbs-up to the balcony with no encore was a fitting, no bullshit ending to a great set of hard rock. During the show West had also told the crowd, "We don't do this for the money, we do this because we love it" and tonight it showed. The band certainly appears to be fresh and reinvigorated, and while they will soon play upcoming dates across Eastern states, they're said to be making plans for more touring of North America, Europe and even Australia, so catch them when you can.
Leaving the club before S.W.A.K played to close Sunday night's event, my umbrella got turned inside-out from the appalling conditions outside, but I soon managed to right it and take strides forward once again… just like Spread Eagle has.
About Paul Miles
Our U.S. Contributor Paul Miles (www.Paul-Miles.com) is the author of five paperbacks on the world's most infamous rock band: Motley Crue. The pages of his Chronological Crue website (www.CrueTime.com) have been read well-over five million times. His best-selling book Sex Tips from Rock Stars was published worldwide (Omnibus Press, 2010 www.SexTipsFromRockStars.com) and has been reprinted in foreign languages. Paul Miles is also a New York City-based freelance rock photographer, specializing in live music photography that captures the true spirit of rock'n'roll in action from some of the world's greatest performers.