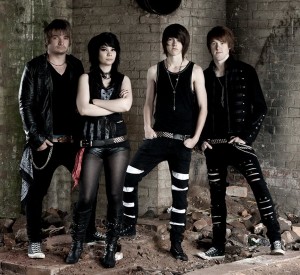 Official Band Bio:"Born in the summer of 2010 in North Lincolnshire, Skarlett Riot are a brazen four-piece female fronted Hard rock unit who deliver the melody and grit of Halestorm and Courtney Love fused with the muscular garage rock'n'roll guile of early Guns N Roses. Spitting out fiery riffage and infectious hooks, the northern noiseniks boost a sound that is both truly captivating and anthemic, packed to the brim with attitude and a confidence that belies their age.
Composed of Skarlett (Vocals and Guitar), Danny (Lead Guitar/Backing Vox), Tom (Bass/ Backing Vox), and Luke (Drums), Skarlett Riot have shared the stage with the likes of Taking Dawn, L.A Guns, Glamour Of The Kill, Crashdiet, Vains Of Jenna, Black Spiders, Forever Never, Deaf Havana, and Francesqa. The High-flying foursome have also recently played Tramlines Festival organised by the Arctic Monkeys and headlined by UK eternal-rockers, Ash.
The band's debut EP, released late 2010, received glowing accolades from everyone from Metal Hammer and Classic Rock Magazine, to Powerplay and Big Cheese. Along the way, the North Lincolnshire starlets also notched up the prize for winning the best overall band of 2011 by Playmusic Magazine. Skarlett Riot have also received broad radio play from Kerrang!, BBC, Total Rock, Total Biker FM, and are currently endorsed by Fernandes Guitars (home to Journey, Judas Priest, Marilyn Manson, Motorhead, and Scorpions).
Skarlett Riot now unleash their eagerly awaited sophomore EP Villain in the spring 2012. Packing a hearty punch to the senses, their EP Villain fully concocts an acute mixture of soaring high-energy melodies with dark aggressive undertones. Skarlett Riot are sure to gain a rising new fan-base and carve their name as one of the bands to rise in 2012."
Let's start with the basics first, when did the first band get together and what was the inspiration behind the band name Skarlett Riot?
Skarlett Riot formed late 2010.  Before Skarlett Riot, the band was playing under a different name but decided to take a new direction with the style of music.  We all met at school years back, minus Luke (drums) who is Danny (Lead guitarist's) brother, so we are a tight little family!  The name was made to represent having a female stamp on the band being "Skarlett" and the Riot was aimed at the guys and the balls that we have as a band!
You have twenty seconds in an elevator to try and convince someone to listen to your new EP 'Villain', without resorting to threats or violence, what do you tell them?
Hey…listen to this, it's the sex 😉
Speaking of your EP, looking back on the whole process of creating it, what did you find to be the most enjoyable aspects of the journey?
The recording process of the songs really brought out the energy and sound of Skarlett Riot so we were very excited to hear everything back as a product in the studio, we always love studio time.  Also seeing ourselves on Kerrang TV is a definite achievement with our single Villain, which is also our EP title.
In terms of songwriting, what do you consider to be the most important ingredients that need to feature in a Skarlett Riot song?
Definitely balls, soaring guitar riffs and solos with a classic rock edge, all spiced and mixed together with new hard rock & metal!
Over the course of the bands evolution, what or who have you found inspires and influences your music the most, in both a lyrical and musical sense?
We all have many different influences, from: Guns N Roses, AC/DC, Halestorm, Bless The Fall, Shinedown, Bullet For My Valentine, Alter Bridge, Joan Jett, the list goes on!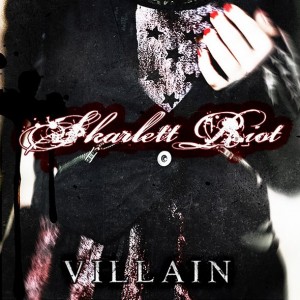 Hypothetically speaking of course, if you could travel back in time (or into the future even, say tomorrow….) and play your music to any one of your musical heroes, who would it be and why?
We all have many different influences ranging from Slash, Joan Jett, Heart, Thin Lizzy, Guns N Roses, but it would definitely be to try and get their approval of our music!
So if you were asked to have your music featured in the soundtrack of a movie, what kind of movie do you think it would likely to be for?
Well all our music is based on different things but looking at Villain, it would be an adventure, or horror film haha.
If you were a person in the crowd at one of your gigs, what five words would you walk away using to describe the performance you just witnessed?
Sweaty, energetic, rockin', fun and hopefully awesome?
Gigs, gigs, gigs…do Skarlett Riot have any coming up that you wanted to tell the people about, if so here's your chance!
Shows coming up include: April 6th – Bradford Gasworks with Night By Night (Ben Christo from Sisters Of Mercy's band), April 18th – Grimsby Yardbirds with Breed 77!, April 21st – Worksop – The Frog (Headline show), April 27th – York Stereo (Supporting The Hype Theory). Yeah!
With 2012 already a couple of months down, here's a chance to gaze into your crystal ball. By the end of 2012, Skarlett Riot will have:
1. Taken over the world
2. An awesome new single as a taster of a rumoured album release in 2013 😉
3. And a smashing amount of sales of the new EP Villain
Can we have a 4th or is that greedy? Oh well…and done our first headline tour!
Essential Information
From: United Kingdom
Sounds like: Ball tearing, female fronted ROCK!
Band members: Skarlett – Vox/Guitars, Danny- Guitars/Backing Vox, Tom – Bass/Backing Vox, Luke – Drums
Website: www.skarlettriot.co.uk
Latest release: Villian EP (March 16, 2012)