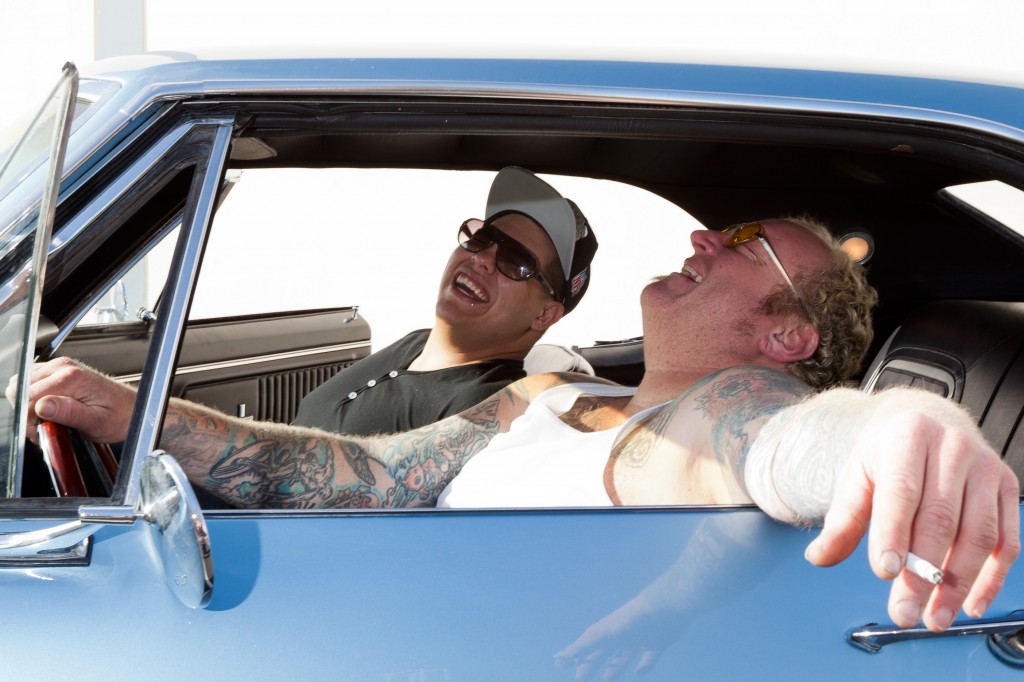 "It wasn't so much the fear of if it wasn't going to work, because you can't take the fact away that the fuckin' songs sound awesome, but there was always that kind of question in the back of our head of 'Oh, can we?  Can we? What if?'"
TOUR PRESS RELEASE: Featuring founding members of Sublime along with new frontman, singer/guitarist Rome – Sublime with Rome will reintroduce themselves and Sublime's classic hits to fans across Australia on their 2012 Australian tour.
One of the most notable and successful ska-punk bands of all time, Sublime has sold over 17 million albums worldwide with songs like What I Got, Doin' Time and Date Rape all in constant radio rotation across the globe. To this day, the group's multi-platinum landmark debut album "40oz. to Freedom," lo-fi follow up "Robbin' the Hood," and multi-platinum self-titled major label debut (a virtual greatest hits set in itself) are all widely regarded as music collection staples.
Formed in Long Beach in 1988, Sublime's final performance was in the spring of 1996 after the death of original singer Bradley Nowell. In 2008 Rome, a 21-year-old northern California native, was introduced to Gaugh and Wilson. Last year, a handful of jam sessions led to an impromptu show at a small club in Nevada flooring a packed-house crowd. The trio later performed a one-off at the Smokeout Festival last fall and was a surprise special guest at the infamous KROQ Almost Acoustic Christmas show, before officially dubbing themselves Sublime with Rome.
We had a quick chat with Rome about the band and their Aussie visit.
You've got your first show in Australia the other night, what can people expect if they come out and see you on this tour?
Hell yeah, oh dude, a good fuckin' time, last night was amazing, we had the time of our lives.  We never even been here so it's our first time touring and the show was packed and the energy was there and people were just going crazy.  That's the kind of stuff we really vibe off.
Now on the flip side, this is your first time to Australia, what are you expecting?
I expected good weather and beautiful women ha ha.  The crowds, I was expecting them to go crazy, whenever we go out of The States, it gets a little crazier as people don't get to see their favourite bands so often, so they're jumping around and crowd surfing and mosh pitting and all that shit, so we like to see that man.
You're doing the Byron Bay Bluesfest as well as your own shows, how do you treat a festival crowd compared to a headlining show?
I mean depending on what the other bands on the bill are; we may change a couple of songs in the set to fit the overall vibe of the shows so to speak.  We just go there and do our thing man, we just get up there and play the songs as best we can and make sure that people go fuckin' crazy.
With the album out now for almost a year, how has the reaction to it been?
Great man, great, amazing.  Everyone's really picked up on the sound and the evolution of the band as a whole and we're very grateful for that.  I can't believe it's almost been a year man, that's crazy.  I remember just putting that thing out…
In putting that together, how were the songs created?  Were they ideas you'd had for a long time or was it all fresh and new?
Most of the album I had already previously written and there was a couple of tracks that I had a couple of ideas and the guys went in on them and changed up the parts, and funked up the parts and reggaed up the parts, they're rad man, they Eric has a very, very unique way of writing music.  Me and him team up very well.
Are you currently working on new material?
Yeah for my solo record, I'm dropping a solo record at the end of the December probably.
How has being on Fueled by Ramen helped you get back out there?
Oh man, they're fuckin' awesome, they just sent me two bottles of Jack Daniels, to Australia, how cool is that?  I didn't even know about it, I just found out about it, they were like, 'oh yeah the label sent you over two boxes of Jack Daniels' I was like fuck yeah!  But some real shit, they let us be artists, and that's so important man, as a band, we're in control of how we want the band to sound and how we want the band to look and for the most part they utilise their machine to the best of their abilities.
Now when Bud decided to leave the band and now bring in Josh Freese, did you ever think that maybe it was the end or was that not even a question?
It wasn't so much the fear of if it wasn't going to work, because you can't take the fact away that the fuckin' songs sound awesome, but there was always that kind of question in the back of our head of 'Oh, can we?  Can we? What if?' well we played our first show with Josh and we killed it, we knocked it out of the park and anybody who had saw the show was giving the same message and we just kind of kept it going and we're very happy with it man, we're better, faster and tighter than ever.
What does the rest of 2012 hold for Sublime with Rome?
We have a huge American tour this Summer and then we're keeping touring to I think South America, I'm working on the solo record while the guys have some time off with their families and then I'm going to drop the record.
Plans for a new Sublime with Rome record?
Oh definitely, I think we volunteered to the busiest band of all of 2012.
Essential Information
From: Long Beach CA, USA
Band members: Rome – Vocals / Guitar, Eric Wilson – Bass
Website: http://www.sublimewithrome.com
Latest release: Yours Truly (Warner Music Australia / Fueled By Ramen – 2011)
Remaining Tour Dates
Friday 6 April 2012 Byron Bay Bluesfest
Tickets: www.bluesfest.com.au
Saturday 7 April 2012 UNSW Roundhouse Sydney
Tickets: www.ticketek.com.au or 13 2849
Monday 9 April 2012 Palace Theatre Melbourne
Tickets: www.ticketek.com.au (13 2849) or Oztix www.oztix.com.au (1300 762 545)
Tuesday 10 April 2012 HQ Complex Adelaide
Tickets: Oztix www.oztix.com.au (1300 762 545)
Wednesday 11 April 2012 Metropolis Fremantle
Tickets: www.oztix.com.au (1300 762 545) or www.heatseeker.com.au 08 6210 7270