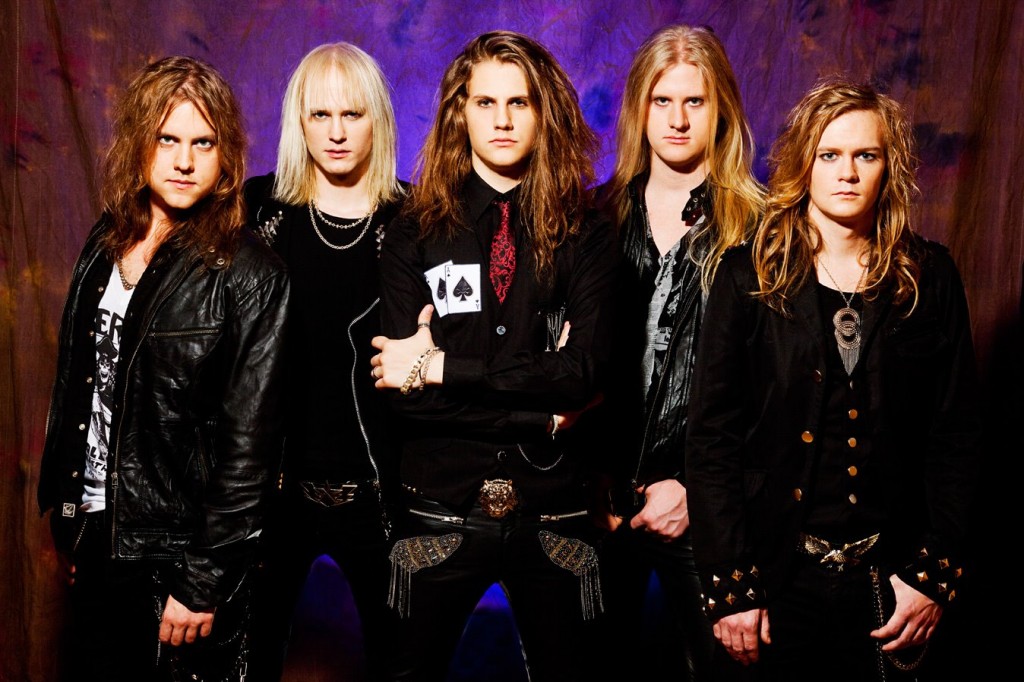 Having just released their third album, Sultans Of Sin, the Stockholm, Sweden based Dynazty have unleashed a collection of storming killer hard rock songs that are set to propel the band amongst the leaders of the Swedish contingent of rock bands dominating the hard rock scene worldwide such as Crashdiet, H.E.A.T, Hardcore Superstar and Crazy Lixx.  Having formed in 2007 and with relentless touring under their belts on the back of their first two albums Bring The Thunder and Knock You Down, new album Sultans Of Sin sees the band well and truly answering their true musical calling.
Rob "Love" Magnusson kindly answered our questions to give a great insight into the new album and the bands now slightly heavier, but no less anthemic, sound as can be heard all through the new album!
Rob thanks for taking the time to talk about the new album "Sultans Of Sin" which is an awesome album!  How have you found the reaction to the album so far from fans and media etc?
Hello Scott! Great to be back again and I'm glad to hear you like our new album!  The reaction so far has been great. We are receiving very good reviews in the media/webzines and we have gained lots of new fans on this album.  The old fans seem to be more than pleased, which is a blast for us!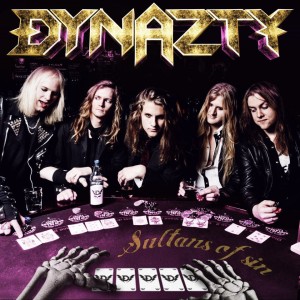 The new album is titled "Sultans Of Sin", what is the background to settling on that as the album title and the concept of the cover art?
The song "Sultans Of Sin" was written before we decided to use it as the album title, and as you might have thought, it's a little word play with Dire Straits "Sultans of Swing"!=)  The cover is us gambling with death himself, defying that when you live like a sultan of sin, death is always watching you…
In a musical sense, what inspired you this time around, the songs seem to have a bit of a heavier sound in parts?
It's very hard to say exactly what inspired us this time due to all that music we listen to.  I think that when you write a song everything around you, not only musically, affects you.  However, this time we really wanted to give it a more modern and heavier touch.  So we tuned down the guitars and bass a few steps, which did a lot to our sound I think!  We also worked with producer Peter Tägtgren for the first time, which also inspired us on that path and since we all like it heavy it was the natural development for us.
What do you feel are some of the biggest changes fans are likely to notice with the songs on "Sultans Of Sin" compared to the first 2 albums?
It's a lot heavier than the first two albums and has a more modern edge to it.  I think the song writing has improved and it has more aggressive attitude to it!
For this album, you used Peter Tägtgren from PAIN to produce the album.  What led to the decision to use Peter and how did you find the experience working with him?
We were in a meeting with our booking agency and our manager in a town in the northern part of Sweden, discussing which producer/where to record our next album.  After a while our booking agency suggested Mr Tägtgren as a producer. So we drove to Peter's own town "Pärlby" and met him and checked out the "Abyss" studio.  After our visit there it didn't take long before we decided to work with him!
How did the song writing happen for this album, was it something you all contributed to?
This time around, in difference from our first two albums, the whole band wrote almost all of the songs together, which really added something extra to it!  It's so much more inspiring to write together, discussing ideas and trying different stuff when you get stuck in something while writing.  We bought a lot of coffee, beers and locked ourselves in for 1 month, writing the whole album during this time.
Do you feel that "Sultans Of Sin" is the album that has so far best delivered what you guys ultimately consider to be the true Dynazty sound and style?
Absolutely! No doubt about that!
Picking a few songs from the album, here's your chance to tell us a little bit about what each song is about, any interesting experiences whilst recording/writing the song etc:
Bastards Of Rock N Roll – this one is about our relationship as a band to a minority of the Swedish media who referred to us as "fake rockers" and "not true" for some reason.  So we made a great song out of it!=)
Raise Your Hands – this song is all about partying and having fun!  We wrote this song together with old time friend Chris Laney and was the first song written for this album.
Falling – this is about losing someone you love due to your own stupidity and not being able to let it go.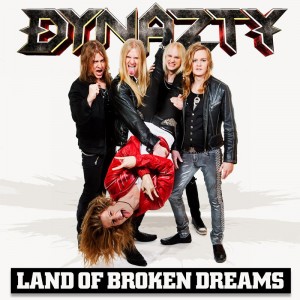 With the song Land Of Broken Dreams, you competed in the Swedish Melodifestivalen, tell us a little background to both that song and how you came to compete for the chance to represent Sweden at Eurovision Song Contest in 2012?
As you might know we did the song This Is My Life in the 2011 year's Melodifestivalen finals.  Not as a competitor but as an entertainment act.  We got a lot of great feedback from the artists and the producers, so we started to think about participating ourselves.  It was a great experience for all of us!
You have some awesome touring opportunities coming up, supporting Sabaton and also playing at Sweden Rock Festival!  Congratulations, it sounds like you are going to have a pretty busy time this year touring?  Are there plans yet to do much touring outside of Sweden?
We have lots of plans touring outside of Sweden, but as it isn't confirmed yet, I can't tell you about it at the moment! The one thing I can tell you right now is that we will do a show May 22 in London!
Here's a chance to gaze into your crystal ball and make some predictions.  By the end of 2012, Dynazty will have….
1) Released lots more kick ass videos.
2) Started writing new material for album number four.
3) Gotten even closer to conquer the world! 🙂
Essential Information
From: Sweden
Band members: Nils Molin – Vocals, Rob Love Magnusson – Guitar, George Egg – Drums, Joel Fox Apelgren – Bass, Mike Lavér – Guitar
Website: www.dynazty.com
Latest release: Sultans Of Sin (February 29th, 2012, Stormvox Records/SoFo Records)