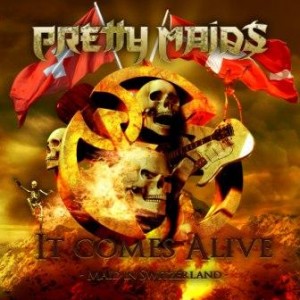 Celebrating their 30th anniversary this year, Pretty Maids have finally satisfied the wishes of long standing fans with a live DVD release….and what better way to celebrate their 30 years as one of Denmark's greatest metal/rock bands than this  21 song 2 CD and DVD release, complete with bonus backstage footage and interviews.  (Please note however that this review is based upon the CD release, not the DVD which didn't accompany the digital review release.)  Recorded live on October 1st 2011, the show takes place in Pratteln, Switzerland in front of what quite obviously is a bunch of die hard fans and it's great to hear throughout this live recording plenty of crowd noise and participiation, which in my book is always essential to be kept prominent in the mix on live CD releases.
Pretty Maids over the span of their 12 or so studio releases have certainly been a band capable of delivering a wide musical variety, from pulsating heavy metal such as Future World, hook infested melodic rockers such as Walk Away, 80's style power ballads aka Savage Heart and everything in between.  The great news about this release is that all bases are covered.  The bands opening duo of albums Red Hot and Heavy and Future World, well represented in the track listing, as is the bands most recent release, 2010's Pandemonium.  Testimony to how strong that last album was, is how well the newer tracks such as Pandemonium, Little Drops of Heaven and INVU fit amongst the absolute classics.  As far as live CD's go, this has to be one of the most enjoyable ones I've heard for some time, the energy from both band and the crowd is electric and as I mentioned earlier, it actually feels like you are listening to a true live performance.
Pretty Maids have enjoyed a great resurgence in recent years and Pandemonium and the pounding energy with which the deliver songs after song across this live release certainly shows there's still plenty of rock left in these Danish legends yet.
Essential Information
For fans of: Pretty Maids
Release date: 23 March 2012
Record label: Frontiers Records/Riot! Entertainment (Australia)
Website: www.prettymaids.dk
Tracklisting:
CD1: Pandemonium; I.N.V.U; Hell on high heels; Wake up to the real world; Destination paradise; Another shot of your love; Scream; Walk away; It comes at night; Queen of dreams; Savage heart; Clay.
CD2: Yellow rain; Rock the house; Back to back; Rodeo; Lovegames; Future world; Little drops of heaven; Please don't leave me; Red hot and heavy; Lethal Heroes *bonus track
DVD Contents: Pandemonium; I.N.V.U.; Hell On High Heels; Wake Up To The Real World; Destination Paradise; Another Shot of your love; Scream; Walk Away; It Comes At Night; Queen Of Dreams; Savage Heart; Yellow Rain; Rock The House; Back To Back; Rodeo; Love Games; Future World; Little Drops Of Heaven; Please Don't Leave Me; Red Hot & Heavy. Rockumentary (incl. backstage footage and interviews with the band)