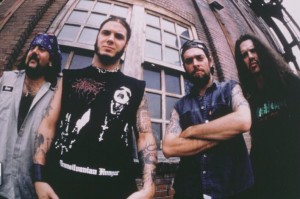 Pantera Honours The 20th Anniversary Of Vulgar Display Of Power – With Two-Disc Deluxe Edition Featuring Previously Lost Studio Recording "Piss" and Unreleased Live Video From The 1992 Monsters Of Rock Concert In Italy – CD/DVD Set Available May 18 From Warner Music
February 25 marked the 20-year anniversary for Pantera's Vulgar Display of Power, a landmark album widely acknowledged as one of metal's most enduring and influential masterworks. Recorded by singer Philip Anselmo, guitarist "Dimebag" Darrell Abbott, bassist Rex Brown and drummer Vinnie Paul, the album has been certified double platinum by the RIAA and features several of the group's most iconic songs including Walk, Mouth For War, This Love, and Fucking Hostile.
To celebrate, Warner channels the album's relentless blitzkrieg of musical aggression onto a two-disc Deluxe Edition. The CD includes the original album remastered and Piss, a recently discovered unreleased track from the recording sessions. The DVD contains an unreleased live performance filmed in Italy in September of 1992 plus the three official music videos from the album.
The collection features the debut of Piss, an incendiary blast of vintage Pantera from the original recording sessions. It remained lost until Vinnie Paul rediscovered the track while going through the band's vault. The film clip for Piss features newly filmed footage of Pantera fans rocking out and slow motion 'face punch' scenes that recreate the Vulgar Display of Power cover art. The video can be viewed here.
Along with the unreleased song, Vulgar Display of Power (Deluxe Edition) also features unreleased video of the quartet performing six songs at the Monsters Of Rock show in Reggio Emilia, Italy on September 12, 1992. The set list draws almost exclusively from Vulgar (This Love, Rise, Mouth For War), but also includes the title track from their previous album, Cowboys From Hell, and a melding of Vulgar's Hollow and Cowboys' Domination, which was a live staple of the band.  Video of Pantera performing live during this era is extremely rare, making the DVD one of the few ways to see them in their prime. 
http://www.pantera.com/
http://www.facebook.com/Pantera
https://twitter.com/#!/OfficialPantera
www.warnermusic.com.au/