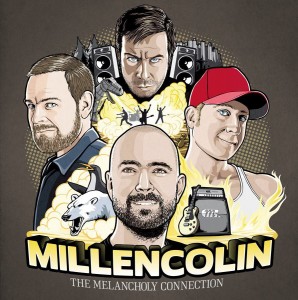 MILLENCOLIN CELEBRATES 20th ANNIVERSARY 
Band To Release CD/DVD Bundle 
The Melancholy Connection out June 1 in Australia.
Renowned Swedish punk outfit, Millencolin, celebrate twenty years with the release of The Melancholy Connection on June 1. This assemblage of b-sides, a follow up to 1999's The Melancholy Collection, features two brand new songs and twelve rarities spanning from their break-out album,  Pennybridge Pioneers (GOLD IN AUSTRALIA), through today.  The CD is paired with a ninety minute DVD that takes fans inside the making of Pennybridge Pioneers with never before seen archival footage, interviews with the band and live performances (including their visit to Australia last year on the Soundwave Festival playing main stage).
The two new tracks hold up the classic Millencolin sound with energetic pop infused punk, combined with driving beats, anthemic choruses and irresistible melodies that will please diehard fans and new converts, alike.
You can preview a trailer for the CD/DVD bundle below:
"We've released a lot of songs since Pennybridge Pioneers that were not released on our previous albums, so we thought it was about time to put them all on one," says Erik Ohlsson. "We recorded a bunch of new songs in our own studio where we also recorded our previous album Machine 15 from 2008, and picked two of them for this release. We're really excited about the new stuff we recorded! We're taking it back to our roots and mixing it with the new sound we've developed over the last years."
With an impressive string of releases behind them, nearly two million records sold worldwide and having shared stages with the likes of Blink 182, the Foo Fighters and Queens of the Stone Age, the Örebro based quartet of vocalist/bassist Nikola Sarcevic, guitarists Erik Ohlsson and Mathias Färm and drummer Fredrik Larzon have put together an rousing collection of material that allows fans get an inside look at the past twenty years which have brought Millencolin to where they are today.
"We had a lot of footage archived from the Pennybridge Pioneers recording that we shot ourselves," says Ohlsson.  "No one has ever seen any of that footage and since we have new live footage from the 10th anniversary tour of the album, now would be a perfect opportunity to make somthing out of it."
For more information:
www.epitaph.com
Comments
comments