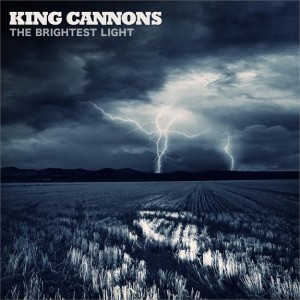 Some bands talk their way into opportunities or use algorithms to feign blog hype.  Others drag themselves up by the teeth.
Dubbed by The Daily Telegraph's Kathy McCabe as "heirs apparent to The Living End", electrified rock n rollers King Cannons are currently in the throws of launching their career in Europe via a 17 date tour spanning across Germany, Austria, Switzerland and The Netherlands.  The dates come as the result of a personal invitation from one of Deutschland's biggest bands, The Broilers to be their main support.
This European extravaganza comes in the lead up to the June 22 arrival of the band's debut album 'The Brightest Light' in Australia, New Zealand, Germany, Austria & Switzerland. 
The inspiration? Because tangled crowds of people shout their blistering choruses back to them in ramshackle band rooms. Because the band's six members have fought poverty and hardship to stay together. Because there's something to their songs that both reminds of rag street poets from days gone by and speaks the truth of everyday lives, heartache and boozy nights of the present.
To find the real beginning of King Cannons is to go back to the street corner where a ten-year-old Luke Yeoward struggled to wield the acoustic guitar handed down to him by his mother.  With a hat at his feet, Yeoward played covers he'd picked up at home and school: Creedence Clearwater Revival, Neil Young and Cat Stevens, as well as primitive songs he'd written from the chords he knew.
"I got my stripes through punk music," Yeoward tells now as King Cannons' imposing frontman and songwriter. "That's how I learned to play, how I learned to write a song, with the punks I met and made bands with as a teenager."
King Cannons' self-titled EP, released in late 2010, showed what was on the horizon with live-recorded tracks 'Take The Rock' and 'Teenage Dreams,' the latter described by Yeoward as the most personal song he'd written up to that time.
On the lead up to the recording of the band's debut album, Yeoward locked himself in the music room of his house and wrote every day for two months, landing the gang with over 50 tracks to work from.
With Tom Larkin, drummer for the internationally known rock force Shihad, at the helm of the album's recording inside Melbourne's famed Sing Sing Studios, the intention for the album was to capture King Cannons' live sweat with the greatest production values.  
"Whether it's up-tempo rockin' sort of songs or slower songs, our music is soul music," Front man and lead songwriter Luke Yeoward explains, "and if you try and record soul music in any other way than those people in a room together making that music, it just doesn't translate."
"That's how the six of us said we were going to make this record," he continues. "It's going to be performed in an honest way, and the songs are going to have integrity and, more importantly, when we're in there doing it in the studio, our performance is going to have integrity. Otherwise it takes away from that basic ethos we forged right at the beginning."
That ethos is what makes King Cannons the valiant underdogs of 2012 as their debut album is released through Capitol Records/EMI.
One band, one honest voice, from the street corner to The Brightest Light.
Luke Yeoward: vocals/guitar 
Rob Ting: guitar 
Mikey Ting: keys/piano 
Jonno Smith: bass
Lanae Eruera: percussion
Dan McKay: drums
The Brightest Light | track list:
1. Stand Right Up 
2. Too Young 
3. The Brightest Light 
4. Too Hot To Handle 
5. Call For Help
6. Shot To Kill
7. Ride Again
8. Charlie O
9. The Cool Change
10. On Our Own
11. Everyman's Tale
12. The Last Post
Stay close to www.facebook/kingcannons for updates from the road.
www.theinsoundfromwayout.com
www.facebook.com/kingcannons
www.kingcannons.tumblr.com
www.twitter.com/kingcannons
http://www.youtube.com/kingcannonstv