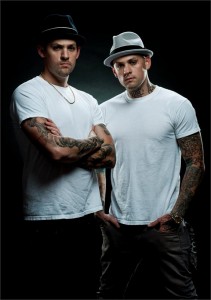 Twin rockers and honourary Aussies, Joel and Benji Madden, are set to announce an album under the moniker The Madden Brothers, slated for release later this year. The Maddens are in the studio recording music for the new project, which sees them work with iconic producer and sometime hip hop star Pharrell Williams.
Good Charlotte co-frontman, Joel Madden, has of course seen his star rise to epic heights following his current stint on The Voice Australia – but there is no love lost down under for his twin, as Joel will be soon be joined on the hit TV show by his brother Benji as a mentor.
Joel says, "Benj and I have had a lot of fun this year, not only with him coming on as a mentor and working on The Voice with me in Australia but also writing and producing music together and also working on a "Madden Brothers" record. While Good Charlotte takes some time off, we have been working on new music as the Madden Brothers, writing songs that really mean something to the two of us. Can't wait to share it with GC fans, and all music fans around the world. We remain grateful to still be making music together, and to have the support of the band, our family and all of our friends "
As well as Pharrell Williams, the Maddens are planning on working with some additional big names on the project like Eric Valentine and others still to be announced.
The debut of The Voice was a highly anticipated premiere and is proving to be one of the TV hits of the year with the highest launch of 2012. Last night's peak ratings of 3.085 million viewers follows the Sunday night debut peak of 2.93 million viewers and ensured The Voice was the #1 rating show on both nights.
This success has been reflected in the charts this week, with the Madden's band Good Charlotte seeing a boost in iTunes album chart position: their latest album Cardiology – which features the song Last Night, the 2nd most played song on Australian radio in 2011 – is currently sitting at No.20 today.
While Joel and Benji have their hands busy with their side project The Madden Brothers, and their appearances on The Voice Australia keeping them here down under for a while longer yet, Good Charlotte are officially on haitus.
Stay tuned for new music, coming soon from these two rockers – expect to be surprised.
THE MADDEN BROTHERS | NEW MUSIC | DUE IN 2012