HEROES FOR HIRE
The "Just Shoe It" Tour with special guests LUCA BRASI and CARRY ME HOME
HEROES FOR HIRE kicked off 2012 with a bang, touring nationally on the Soundwave Festival (alongside Slipknot, A Day To Remember, The Used, You Me At Six and many more) and playing to their biggest crowds to date.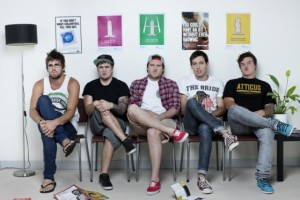 The group has also found time to write and release 2 brand new tracks this year. The first, "Heart Stops," premiered in the days leading up to the Soundwave Festival, with the tune quickly finding a home on radio stations throughout Australia, while the song's accompanying video raced towards 100,000 plays in a little over a month!
The second of these is "Set In Stone," featuring Joel Birch of The Amity Affliction, which was coupled with a video documenting HEROES FOR HIRE's tour antics throughout the Soundwave Festival. "Set In Stone" premiered internationally via taste making US site www.propertyofzack.com, with the track receiving some serious attention both at home in Australia and abroad, so much so that the band was invited to tour Japan for the first time supporting Mayday Parade, Every Avenue and There For Tomorrow!
The "Just Shoe It" tour will see HEROES FOR HIRE embark on their most extensive headline run to date, with support coming from two of Australia's most promising young punk acts.
Forming in 2009, Tasmanian four?piece Luca Brasi cut their teeth playing in pubs, lounge rooms, kitchens and anywhere else that was game enough to play to host their raucous brand of melodic punk rock. Released last year, their debut full?length Extended Family has turned plenty of heads, netting Luca Brasi shows with everyone from local legends Frenzal Rhomb through to touring acts like No Use For A Name and Senses Fail.
Featuring members of Confession and I Killed The Prom Queen, Carry Me Home is the latest Australian act to throw their hat into the pop?punk ring. Only forming in the earlier part of this year, the group have already hit the studio to record their eleven?track debut, Get Wet, which features guest vocals from Andrew Neufeld of Comeback Kid.
Don't miss the "Just Shoe It" tour when it hits your town this June and July!
? TICKETS ON SALE THIS MONDAY APRIL 23RD ?
Friday June 29th – The Basement, Brisbane (18+)
Tickets available from Oztix on 1300 762 545 and www.heroesforhire.oztix.com.au, as well as Kill The Music, City Beach, Cooly Hotel, Eatons Hill, Rockaway Records, Rockinghorse Records, Sunflower Music, The Tempo Hotel and UQ Union Bookshop
Saturday June 30th – The Price Street Hall, Nambour (AA)
Tickets available from Oztix on 1300 762 545 and www.heroesforhire.oztix.com.au, as well as Kill The Music, City Beach, Cooly Hotel, Eatons Hill, Rockaway Records, Rockinghorse Records, Sunflower Music, The Tempo Hotel and UQ Union Bookshop
Sunday July 1st – The Loft, Brisbane (AA)
Tickets available from Oztix on 1300 762 545 and www.heroesforhire.oztix.com.au, as well as Kill The Music, City Beach, Cooly Hotel, Eatons Hill, Rockaway Records, Rockinghorse Records, Sunflower Music, The Tempo Hotel and UQ Union Bookshop
Wednesday July 4th – The Loft, Newcastle (AA)
Tickets available from Oztix on 1300 762 545 and www.heroesforhire.oztix.com.au as well as the Newcastle Rock Shop 
Thursday July 5th – The Patch, Wollongong (18+)
Tickets available from Oztix on 1300 762 545 and www.heroesforhire.oztix.com.au
Friday July 6th – Oxford Arts Factory, Sydney (18+)
Tickets available from Oztix on 1300 762 545 and www.heroesforhire.oztix.com.au, Moshtix on 1300 438 849 and www.moshtix.com.au, as well as Lopez Records, Sydney Uni Access Centre, Utopia, The Record Store, Resist Records and Red Eye Records
Saturday July 7th – Oxford Arts Factory, Sydney (AA)
Tickets available from Oztix on 1300 762 545 and www.heroesforhire.oztix.com.au, Moshtix on 1300 438 849 and www.moshtix.com.au, as well as Lopez Records, Sydney Uni Access Centre, Utopia, The Record Store, Resist Records and Red Eye Records
Sunday July 8th – Wesley Hall, Dubbo (AA)
Tickets available from Oztix on 1300 762 545 and www.heroesforhire.oztix.com.au 
Wednesday July 11th – Karova Lounge, Ballarat (AA)
Tickets available from Oztix on 1300 762 545 and www.heroesforhire.oztix.com.au
Thursday July 12th – TLC, Bayswater (AA)
Tickets available from Oztix on 1300 762 545 and www.heroesforhire.oztix.com.au as well as Fist 2 Face, Greville Records, Polyester Records and The Espy Hotel
Friday July 13th – The Evelyn, Melbourne (18+)
Tickets available from Oztix on 1300 762 545 and www.heroesforhire.oztix.com.au as well as Fist 2 Face, Greville Records, Polyester Records and The Espy Hotel
Saturday July 14th – Thornbury Theatre, Thornbury (AA)
Tickets available from Oztix on 1300 762 545 and www.heroesforhire.oztix.com.au as well as Fist 2 Face, Greville Records, Polyester Records and The Espy Hotel
Sunday July 15th – Fowlers Live, Adelaide (Lic AA)
Tickets available from Oztix on 1300 762 545 and www.heroesforhire.oztix.com.au, Moshtix on 1300 438 849 and www.moshtix.com.au and Venuetix on (08) 8225 8888 and www.venuetix.com.au, as well as the venue direct, Clarity Records and Live Clothing
Friday July 20th – The Den (Civic Hotel), Perth (18+)
Tickets available from Oztix on 1300 762 545 and www.heroesforhire.oztix.com.au as well as 78 Records, Mills Records and Star Surf
Saturday July 21st – YMCA HQ, Perth (AA)
Tickets available from Oztix on 1300 762 545 and www.heroesforhire.oztix.com.au as well as 78 Records, Mills Records and Star Surf