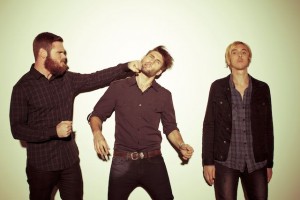 Official Tour Press Release: "Rewind to August last year – CALLING ALL CARS released their second album, the ARIA charting "Dancing with a Dead Man", and set off on a tour cycle around the country. Taking their triple j featured album to the masses on the back of national airplay and hot supporting cast that introduced Redcoats and Boy In A Box they played to sold out rooms and stamped themselves as one of Australia's most incendiary, young, live rock bands.
Calling All Cars finished 2011 in a blaze of glory supporting their new best friends' the Foo Fighters and being added to the East Coast run of The Big Day Out. After an unexpected blow to the jaw of lead vocalist Haydn Ing prematurely ended their Sydney BIG DAY OUT performance earlier this year.  Melbourne's CALLING ALL CARS have bounced off the rock& roll canvas and are ready to rumble!
With the starters flag unfurled Calling All Cars are set to roll out THE DELIRIUM TOUR, and in their continuing efforts in the war against the jive have invited co-conspirators Strangers and Arts Martial along for the  fun.
Named after the barn storming, live favourite 'She's Delirious' and with a new video by the same creative team that made their 'Reptile' and 'World's Collide' clips, this 12 show victory lap around the country will be their last national headline tour before taking a well-earned break and beginning the process that will create album number three!"
In the midst of writing and rehearsal sessions, we chatted to Haydn Ing about the upcoming touring action and progress so far on the bands third album.
Hey Haydn, thanks for taking the time to chat today.  So how are things going right now in the Calling All Cars camp…as always, it seems like there's plenty happening!
Yeah man, it's non stop for us.  Even though we may not be in the eye of the public at the time, we are always doing something behind the scenes.  Since the Big Day Out we've been in the rehearsal room writing as much of the new album as we can.
As you mentioned, you have started on some work for the new album….at what stage would you say you are at with that right now, is that still in the jamming out ideas/songwriting stage, or are you actually a little more advanced than that?
We are still very much starting out at this stage.
Starting out on the journey for the new album, did you have a few ideas lying around from the last album sessions, or are you starting totally new?
Starting a fresh is always good I think as we've still got the leftover stuff from the last album as a worst case scenario.  It's always good to try and keep things new and fresh and to beat the last song you've written!
I know it's only early days, but are you anticipating to turn around your 3rd album in a similar timeframe as you did between your 1st and 2nd?
No not really, it just totally depends how we go really.  The last one we really pushed ourselves to get it out there as quickly as possible to really keep our band name out there.  At this stage we just really want up focus on making the best album we've made, so we're concentrating on writing right now to get a good, solid album together.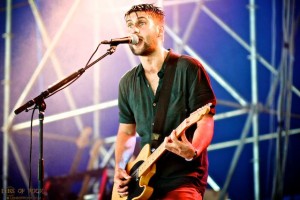 Going into the 2nd album, you obviously were much wiser for having recorded your 1st album…now with the 3rd album, what's the mindset, are you approaching this in a different way in terms of likely writing and recording processes, or were you happy with the process for the last album?
Exactly, we kind of found our niche with the second album how we work as a band.  The first album I guess was an experiment of sorts I guess.  We've kind of found what we want to do and found things to do and keep things fresh but we probably won't stray too far from our sound. That first album was just like, holy shit, I'm actually not that good.  Then for the second album we had our shit together and we could have a bit of fun during recording.
Have you gotten to the point where you are also considering who you might want to produce, and where you want to record the album?
Well we are definitely looking at doing it overseas, so we will probably head to the States I guess.  I don't know about producers at this stage, I think once we have more idea on how the album is sounding, that's when we'll see where we head.
You guys must be pretty damn happy with the way people responded to that album?
We never really go out with expectations really, we just go out and do what we think will work, or hope will work and hope for the best really.  But everything we've got from that album has been awesome, we've been stoked.
How much interest did you get from overseas on the back of Dancing With A Dead Man?  Is that something you might be looking to focus on in 2012?
There's certainly been interest, for sure, but I think it's more been a case of us wanting to get our shit together before we make the move.  We want something new to be able to sell and hopefully have the strongest album to date before we actually hit it.
Whilst we've had this talk of the new album, Dancing With A Dead Man is still going strong, and you've just recently released a new video clip for She's Delirious.  I've gotta ask, who came up with the concept for that video clip?
All of us actually (laughs).  Initially we thought we will just do a performance clip as that's what we are good at, then someone brought up that every time you see a performance clip it starts as a performance clip and then ends as a performance clip and it's the same old thing that's been done a million times.  We started exploring ways of how we could make that different, so that's how the women's clothing and the chicken and the milk thing came in as an added feature.  It was definitely….interesting!  We had to do that take like 15 times, it was so shit, I even got an allergic reaction to the makeup and woke up the next day with my face all swelled up.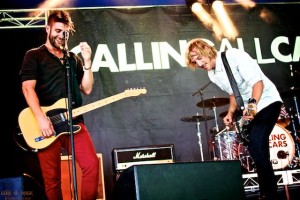 Speaking of your face being swelled up, I know there has been much discussion of you getting knocked out at Sydney Big Day Out, you've supported the Foo Fighters and there's been lot's of touring action, what do you consider to be your personal memorable moments over the last 6 months?
I think we've been pretty lucky the past year, so I've definitely got a few of them.  Doing the Queens Of The Stone Age support was insane.  Also the Foo Fighters support.  So I got to meet Josh from QOTSA and also Dave Grohl, then there's the Tenacious D guys as well.  They were all awesome guys and pretty much everything you've heard is true.  Dave Grohl especially, he's just the same guy on stage as he is off stage.  I think it was in Adelaide, he rocked up to the show riding a Mountain Bike and short, shorts and a singlet, they're just such cool guys, so that whole tour was a massive highlight.  Seeing just how those guys work as well, they've got thousands of people coming to see them, so they are clearly doing something right!
Looking to the future, you have another tour you are embarking on.  Last time you unearthed Boy In A Box and Redcoats, this time you've got Strangers and Arts Martial heading out with you, what can you tell us about them?
Well we haven't played with Arts Martial yet, but Strangers, we did a single tour with them last year.  They're just rad dudes and they've got an album coming out very soon, an awesome band, I think we will definitely be hearing more about them.
It's obviously now an interesting position where Calling All Cars are at with regards to support acts, given you have been given amazing opportunities by bands such as Foo Fighters, Queens Of The Stone Age etc, then in a way you get to repay the favour to the bands you take out on the road with you, is this the case?
When we are out on the road with a band like the Foo Fighters it's interesting to see how they work as they are obviously like a well oiled machine now.  They just know now after doing it for so many years that the easiest way to deal with things is to just be nice.  Which at the end of the day is the easiest way.  So definitely we've learnt from that and be nice to our support bands!
Where are you at with regards to thinking about a setlist for this tour, are there any potential new songs you might be looking to roadtest?
We are, but I'm not sure if we are quite there yet, but we are going to play a couple of the new ones anyway and see how they go.  We are also going to play a couple of songs off the second album that we've never played live before.  I think it's actually going to be the longest set we've played!
Now before we wrap up, I saw a post on your Facebook asking people to list their 3 desert island discs.  Apologies, but I'm going to put you on the spot and ask you for yours…
This is tricky.  We chat about it a bit and it's one of those things we chat about when travelling in the car out on tour or whatever.  Id probably go……oh man, this is so hard.  Queens Of The Stone Age – Rated R, Nirvana – Nevermind and then I don't know, maybe The Beatles Greatest Hits or something.
Essential Information
From: Melbourne, Australia
Band members: Haydn Ing – Vocals/Guitar, James Ing – Drums/Backing Vocals, Adam Montgomery – Bass/Backing Vocals
Website: www.callingallcars.net
Latest release: Dancing With A Dead Man (2011)