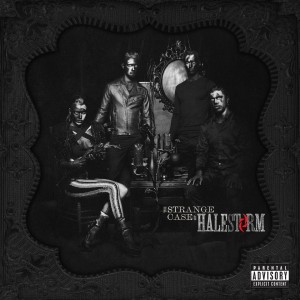 In 25 words or less: "Balls out rock, amazing ballads, modern rock songs, and balls out rock.  Yeah that's right, said that twice, but it's the truth."
It's been three years since the release of Halestorm's debut in 2009 and this new album has been a long time coming!  I'm happy to say that it was well worth the wait as this album is exactly what I've been looking for this year; it covers it all, there's balls out rock, there's amazing ballads, modern rock songs and there's balls out rock.  Yeah that's right, said that twice, but it's the truth.
From the opening count and riff of 'Love Bites (So Do I)' you know you are in for a treat, with a chorus that will have you humming it like an idiot for hours after hearing it you know they've done well.  It was of course the lead single from the album and deservedly so as it showcases Lzzy Hale's vocal talent that I feel is second to none in the female rock voice department at the moment, I mean this girl can sing! 'Mz Hyde' showcases the band musically with the drums a pounding in this one and lyrically I love the concept and officially do not want to get on the wrong side of Mz Hale as I'm scared what may happen, but a great song as you all may have heard from the EP released in February, an instant winner.
'I Miss The Misery' and 'Freak Like Me' continue the bands rocking ways complete with 'Oh oh ohs', 'Heys!' and gang vocals, both are songs perfectly targeted for a live show, in fact I'm air pointing right now just listening to them, so imagine how good they'd be in a live environment.  This band really needs to come to Australia, you reading me Halestorm?  Come and play for us please!
OK, I mentioned amazing ballads at the top and here's exactly what I'm referring to.  'Beautiful With You' is everything a song should be.  Lyrically it tells a story, one you can feel, and vocally this one is hit so far out of the park that it broke a car windscreen in the car park.  I shit you not; this is my favourite song of the year so far.  Maybe it just struck the right chord with me, but hey, that's what music is supposed to do right and all I can do is thank the band for writing it BUT make up your own mind on it, I'll shut up about it now.
What I love with this album is the balance of tracks, 'In Your Room' steps in between big rocker and ballad and gives us a great middle of the road rock song and then 'Break In' is a purely piano driven ballad once again allowing Lzzy to belt it out, I mean how good is this lyric "Put your lighter in the air and lead me back home…" Moving back to the guitars, we get 'Rock Show' a story all about what we know and love.  Not only story wise is it the truth but we get everything that a rock show is about in this song, guitar solos, power chords, the high notes, ad lib to fade… a perfect show opener in my books. 'Daughters Of Darkness' with its 'Na Na's' and great chorus and arrangements, this one took a couple of listens to grab me but when it did, well let's just say it hasn't let go yet.
I can count how many times I've said 'You Call Me A Bitch Like It's A Bad Thing' well, one, but hey, I can still count it, but it's not about me, this track is back to the balls out rocker standard, and I'm loving it, lyrically this song is awesome, this band isn't scared to say how they feel, and I'm pretty sure it's the first time I've heard 'see you next Tuesday' used in a song, oh holy shit, this middle 8 is splendid, where did that come from?  That's always the way to my heart with a perfectly thrown in Middle 8. So, you can tell that Halestorm haven't been to Australia yet, as the next song is called 'American Boys' as otherwise, well, it'd be called something else ha ha, I kid.  This has a groove to it and actually is quite a cleverly written song with some great guitar work.
Not that many of our readers watch it, I mean I don't… but if you do, you may have heard the song 'Here's To Us' featured on Glee, now of course the album version features some choice words not suitable for that timeslot, so it was somewhat rewritten for the show.  I must say its better with the curse words, it drives home the point.  This is a great sentimental song, and a perfect way to finish this stand out release.  Regardless of where it was heard, it's great that this song got some exposure and hopefully it'll help to get them more.
So, if I didn't already have a rock star crush on Lzzy, I totally would now ha ha, this album is one of my favourites of the year and I'm not sure what will come along that could topple it.  Vocally amazing, musically, can't fault it and lyrically it hits where it's supposed to.  This is one great band.  In summing it up, more people need to hear this album.  Tell your friends, tell a stranger, call your local congressman (that's what you do right?)
Check out our interview with Lzzy and Arejay Hale of Halestorm here…
Essential Information
From: Pennsylvania, USA
For fans of: Rock!
Release date: 10 April 2012 (UK / USA) 13 April 2012 (Australia)
Record label: Roadrunner Records Australia / Atlantic Records
Producer: Howard Benson
Website: www.halestormrocks.com
Track listing:
Love Bites (So Do I)
Mz. Hyde
I Miss The Misery
Freak Like Me
Beautiful With You
In Your Room
Break In
Rock Show
Daughters Of Darkness
You Call Me A Bitch Like It's A Bad Thing
American Boys
Here's To Us