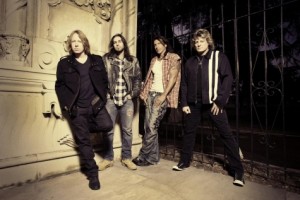 TOOTH AND NAIL — the new project featuring current and former members of DOKKEN — George Lynch (guitar), Jeff Pilson (bass), and Mick Brown (drums) — has been forced to shorten its name to T&N for legal reasons. The band states, "We cannot keep [the name] as TOOTH AND NAIL as there is a label that has it trademarked. [Fans] can still call us TO$%H AND NA$L… We can't."
T&N taped an appearance on an episode of VH1 Classic's"That Metal Show" which aired on April 14.
T&N's debut album is expected later in the year. The CD will feature new original material as well as reworked versions of around five or six DOKKEN classics. Pilson has contributed vocals to a new track title "When Eagles Die", with additional lead vocal duties on the CD by former SKID ROW frontman Sebastian Bach (on DOKKEN's "Alone Again"), Doug Pinnick (KING'S X), Tim "Ripper" Owens (YNGWIE MALMSTEEN, JUDAS PRIEST, ICED EARTH, DIO DISCIPLES on a killer new version of DOKKEN's "Kiss Of Death" in what is described as aRonnie James Dio-inspired performance) and Mick Brown (onDOKKEN's "When Heaven Comes Down"). The drum tracks on the new, original compositions were laid down by Brian Tichy (WHITESNAKE, FOREIGNER).
Regarding how T&N came together, Pilson said in an August 2011 interview, "The DOKKEN [original lineup] reunion has been scrapped, and I take a lot of the initial responsibility for that because of my schedule and commitment to FOREIGNER. . . Then George asked me about working with him on the next LYNCH MOB record — and I jumped at the chance. He and I started writing, got into a groove and wrote an album's worth of stuff, all with the intention of Oni [Logan, LYNCH MOB singer] writing lyrics and it being their next record. Brian Tichy laid down some incredible drums at his studio (and co-wrote some music on one track) and we had an incredibly strong start. Then Oni just wasn't feeling the music as being LYNCH MOB, so it was shelved. We figured it'd be the start of another LYNCH/PILSON record some day. Then, actually, it wasBrian who had the idea that Mick, George and I should do a band, similar to what HEAVEN & HELL was to BLACK SABBATH, and call itTOOTH AND NAIL. Because of everything else we have going, it'll be just a recording project at first, but sure sounds fun. We'd record the classics keeping true to the originals but make them fresh and organic. Then the idea of doing new songs came up, and it grew from there."
He added, "I have absolute belief that the music George and I make together (along with Brian Tichy in this case) is real and inspired, and that's what it's really all about. So out of a mess of a reunion attempt, I think we'll end up with a really fabulous record, and what could be better than that?"
When asked if T&N is basically DOKKEN without Don, Pilson said, "Donis, and will always be, the singer of DOKKEN and an invaluable part of the DOKKEN chemistry. No one ever wants to take that away or dispute it one iota. But the three of us do have time tested amazing chemistry, and because we were writers on these songs, I feel we have a lot to express. If anything I think this will be a show of respect for Don, not some kind of competition. I only hope people enjoy it in the spirit for which it's intended . . . Don't think of this as DOKKEN without Don… that's misleading. Think of it as a band with great chemistry coming up with new music that excites them, and also paying tribute to DOKKEN — music which the members all are heavily invested in emotionally."
Band website: http://www.facebook.com/pages/TN/264254906995701