Soundgarden return with their first single in 15 years LIVE TO RISE which appears on the new Avengers Assemble compilation out April 27. 
You can now download Live To Rise for free on iTunes for one week, click on the cover below for the link to the song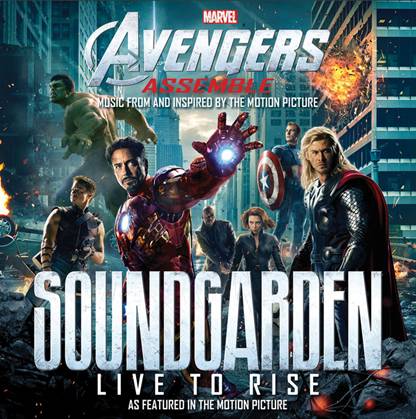 You can also pre-order the Avengers Assemble compilation, featuring Soundgarden, Kasabian, Rise Against, Evanescence & more. It's all part of a massive global Marvel/iTunes promotion hyping up Marvel's new movie The Avengers.
Check out the iTunes Marvel's Avengers SuperRoom to watch exclusive trailer footage, download Live To Rise & pre order the soundtrack by clicking HERE
Get ready for Marvel's big blockbuster, The Avengers – in cinemas Anzac Day.
Starring Robert Downey Jr., Chris Evans, Mark Ruffalo, Chris Hemsworth, Scarlett Johansson, Jeremy Renner and Tom Hiddleston, with Stellan Skarsgård and Samuel L. Jackson, and written and directed by Joss Whedon, "Marvel's The Avengers" is based on the ever-popular Marvel comic book series "The Avengers," first published in 1963 and a comics institution ever since.
SOUNDGARDEN – Live To Rise
At radio now & available at iTunes til 23 April
THE AVENGERS ASSEMBLE compilation
Pre-order it now at iTunes. Out April 27
MARVEL'S "THE AVENGERS"
Only at the movies April 25
Comments
comments