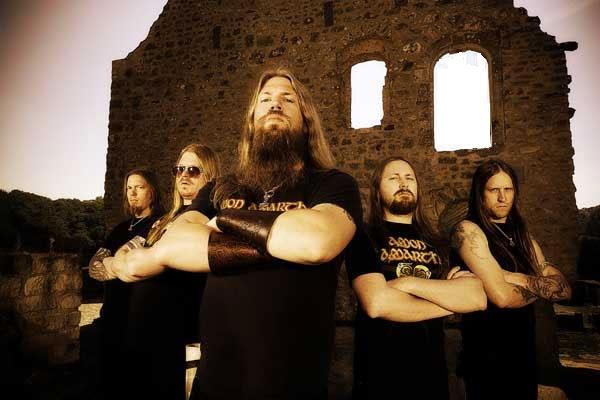 Tour press release: 'Rockstar Productions' in conjunction with 'Riot! Entertainment', 'Metal Massacre.com.au'  and 'Metal Obsession.net' present the return to Australian shores of one of the most popular and charismatic acts of the genre; AMON AMARTH!
The 'Guardians of Asgard' are gracing our shores for the first time since their almost sold out national tour of Australia of 2009.  Performing tracks off their latest chart busting album 'Surtur Rising' along with all the fan favourites, this tour has every indication that it will go the distance and perform to full houses in every venue.  Well renowned to be one of the best live acts on the circuit, Amon Amarth never let their fans down and each show is nothing short of an adrenaline packed power punch to the solar plexus!
Having that truly unique ability to have a tremendous genre cross over fan base the band has a diehard following.  What's not to like about Amon Amarth?  Each album and each track has overwhelming appeal and one cannot help but to like, admire and crave more from these Viking Gods!  Their latest album, 'Surtur Rising' offers ten tracks of fist-raising, peckflexing, hyper climactic fight anthems led by the fiery lungs of Johan Hegg, searing rhythms and a volatile twin riff assault with a courser, more organic-sounding production to add more depth to their already consuming tone.  Each track writhes under the weight of its own valiant heaviness with the band's signature Viking themes pulling it all together."
We chatted with drummer Fredrik Andersson to find our what's in store when the band hits Australia!
Hey Frederik, thanks for taking the time to chat today!  You guys are out on tour right now aren't you, how has that tour been going so far?
Yes it's all been going all right.
You've got some Latin America shows coming up haven't you?, then it's time to hit Australia for your 3rd time?
That's right we've got some Latin America dates and then a one off show in Japan before we hit Australia.
Is that going to be your first time in Japan?
Well we played at Loudpark a few years ago, but this is going to be the first time we headline one of our own shows.
Having toured Australia twice already, have you been noticing the interest in the band over here growing with each tour?
Maybe a little bit, but it's pretty constant I would say.  I think we are drawing our fans basically.  We are only doing headline shows, so it's a little difficult to reach out to more people or new people and we haven't played any of the major festivals you have down there.  So it's a bit tricky to get noticed I guess.
It's been what, close to 1 year since Surtur Rising has been released, has the world seemed to receive it well as you tour around the globe?
I think a lot of people have grown into it.  Some who were sceptical at first, started to appreciate it.  I feel like the response has been great now, as those that may not have liked it initially, are now starting to like it.
Did you anticipate that the album might get such a reaction?
To be honest, it's refreshing to get a different reaction from our fans.  It seems like we usually get the same kind of reaction and people dismiss us as a band that always sounds the same or does the same thing, then when we do something a little different, it's good to get that different reaction.
Reflecting on the recording and writing process now, what are your thoughts on the album?
It actually went pretty smooth.  We wrote it pretty quickly and everything came pretty naturally.  We also had Jen our producer come visit us in the rehearsal room occasionally and check up on the progress and he would listen to it.  It went really smooth and maybe even too smooth, maybe we need a couple of things not falling into place immediately.
Has there been any talk yet of working on a follow up?
Well we've been working on some riffs and come up with some ideas.  But since we haven't gone down to the rehearsal room to do anything with them, its just ideas at the moment.  But it's something we will start working on once this touring cycle is done.
It's your 20th anniversary this year, isn't it, what things have you got planned, I think I saw some shows were recently announced, any special releases of any kind?
We feel like we have done everything when it comes to special releases.  We've been approached by our label Metal Blade to do something, but we thought we've done enough with the different things for our recent releases and we are not here to try and milk every dollar out of our fans.  We will play a couple of shows and play some older material, which will be dedicated to our older fans, and we really want to concentrate on writing our new album.
Since you joined, the band has had a stable lineup now since 1998, has there been a secret to keep yourselves from going insane with each other's company haha?
Well we have our share of frustration and anger, but the key I think has been to show respect and actually tolerate each other.  Which is what you need when you practically live on top of each other for a couple of weeks or months out on tour.
Recognising that you have been in the band for 14 of those years, how much of a shift have you noticed in the fan base of the band, have the demographics changed over the years?
Maybe we saw a change come through about 5 years ago when some younger fans started showing up, or maybe that was just us getting older?  But I think it has a bit more to do with the scene as a whole moving and going down into younger ages.
Well Frederik, thanks for your time as we are out of time, any last words you wanted to share?
I hope you're ready for some metal from Sweden coming your way!  It will be fun and it's the first time we've toured around this time of year so we are not sure what to expect with the weather as we normally come in January!
Essential Information
From: Sweden
Band members: Vocals – Johan Hegg, Bass – Ted Lundström, Guitar – Johan Söderberg, Guitar – Olavi Mikkonen , Drums – Fredrik Andersson
Website: www.amonamarth.com
Latest release: Surtur Rising (2011 – Metal Blade/Riot! Entertainment)
Tour dates:
Tickets: www.metalmassacre.com.au
BRISBANE
Friday 13th April – Hi Fi Bar
SYDNEY
Saturday 14th April – Hi Fi Bar (All Ages)
MELBOURNE
Monday 16th April – Billboard The Venue
ADELAIDE
Tuesday 17th April – Fowlers Live (All Ages)
PERTH
Thursday 19th April – Capitol Theatre