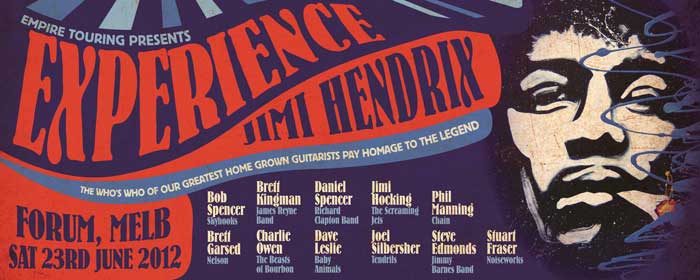 Sat 23rd June 2012, Forum, Melbourne, Australia
For more information visit the EXPERIENCE JIMI HENDRIX website.
The guitar concert event of the year.  Australia's hottest guitarists together on one stage for one night only to pay tribute to Jimi Hendrix.   Inspired by Jimi Hendrix's unparalleled creative and musical influence 'Experience Jimi Hendrix' was originally conceived in Sydney by Empire Touring in 2010.  This tribute concert brings together an all-star lineup of some of Australia's musical guitar greats each performing their 2 favourite Jimi Hendrix songs.   For the last 2 years 'Experience Jimi Hendrix' has sold out Sydney's Enmore Theatre and it has proved massively popular to fans and critics alike who have raved about the show proving again how persuasive Hendrix's influence still is 42 years after his passing.  The show is a tribute to the iconic artist's songs, showmanship and trailblazing technique and that Hendrix's music is still very much alive and well.
The June 23 show at the Forum will feature the following artists:  Bob Spencer (Skyhooks), Brett Garsed (Nelson), Brett Kingman (James Reyne band), Charlie Owen (The Beasts of Bourbon), Joel Silbersher (Tendrils), Daniel Spencer (Richard Clapton band), Dave Leslie (Baby Animals), Jimi Hocking (The Screaming Jets), Phil Manning (Chain), Steve Edmonds(Jimmy Barnes Band), and Stuart Fraser (Noiseworks).
They are joined by the incredible Dario Bortolin on bass and Mick Skelton on drums.
They will be performing all the Hendrix classics including All Along the Watchtower, Fire, Hey Joe, Foxy Lady, Wind Cries Mary, Castles Made of Sand, Purple Haze and Voodoo Chile.
To make the evening that much more memorable, there will be two almighty jam sessions at the end of each set performed by various combinations of our featured musicians.
This is going to be a live concert experience but with a unique interpretation of the music by some of our own guitar greats. With a line up like this, and songs that have influenced generations of music lovers the world over, be prepared to experience all of the greatest Jimi Hendrix moments, Live, once again…. and for one night only.