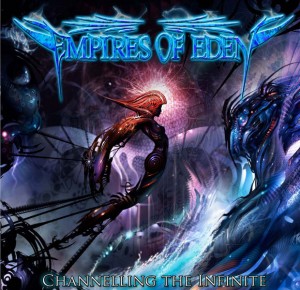 Empires of Eden is proud to announce the release of "Channelling the Infinite", the third album from global recording project Empires of Eden. Japanese release date of June 1 through Rubicon Japan, rest of the world June 6 via Music Buy Mail.
Conceived and orchestrated by Australian shredding maestro Stu Marshall (ex-Dungeon), the album features some of the most influential voices in metal, including:
Udo Dirkschneider (Accept, U.D.O.), Rob Rock (Impellitteri, Driver), Steve Grimmett (Grim Reaper, Lionsheart), Mike Dimeo (Masterplan, Riot), Sean Peck (Cage), Carlos Zema (Outworld, Vougan), Ronny Munroe (TSO, Metal Church), Alessandro Del Vecchio (Hardline, Eden's Curse, Edge of Forever), Danny Cecati (Eyefear, Pegazus), Louie Gorgievski (Crimsonfire), Vo Simpson (Darker Half)
Loaded with 12 tracks of brain-blasting power metal, Channelling the Infinite features killer production and powerful, hook-laden music that will appeal to any aficionado. Each song is carefully crafted specifically to suit the singer involved, and designed to best complement their range and style. From there, the vocalists have complete freedom to write the lyrics and melodies, providing a unique insight into what truly inspires these artists.
Also available as a limited-edition Digipak that includes bonus tracks for each territory. In addition to the spectacular vocals, face-melting lead breaks and riffs that could take on a nuclear arsenal. Empires of Eden once again showcases the incredible cover art by L.A based "Alex Ruiz".
Producer Stu Marshall says, "I am overwhelmed by the power and emotion of the vocal performances that these amazing singers have brought to the album. It's pushed my playing to levels I never thought possible and has created the most well-rounded release I have ever been involved with. Writing for these incredible artists is a dream come true and the finished product has actually exceeded my expectations. Every song is filled with a passion and spirit that immediately grabs the listener; I am very excited for people to hear this album."
Empires of Eden's winning formula was proven with the multi-vocalist sophomore release Reborn in Fire receiving worldwide critical acclaim with enthusiastic reviews and a consistent 9/10 average rating. Now, Channelling the Infinite brings us to the threshold of a new chapter in shredding melodic power metal.
This album is set to be one of the standout releases of 2012 and must not be missed. A digital single release "This Time" featuring Steve Grimmett is scheduled for 26/05/2012.
Empires of Eden – teaser – "Channelling the Infinite" featuring UDO, Rob Rock and more:
For all song samples, news and information check out:
www.empiresofeden.com
www.facebook.com/empiresofeden
www.youtube.com/user/empiresofedenTV
www.rockngrowl.com
www.facebook.com/RockNGrowlPromotion