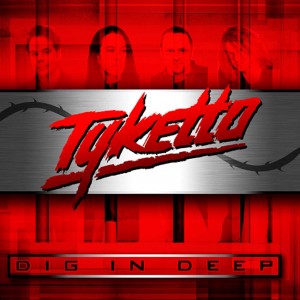 Formed back in 1987 by former Waysted vocalist Danny Vaughn ; Brooke St. James (guitar), Jimi Kennedy (bass), and Michael Clayton (drums), Tyketto and their classic albums Don't Come Easy and Strength In Numbers have forged the band a reputation over 20 plus years, that is still as strong as ever in 2012.  Since getting back as a touring entity over the last few years, the band has been in demand at such iconic festivals such as Sweden Rock, Download, Firefest, Hard Rock Hell and Hard in Rio.
Making the commitment to write new matieral, April 20th or April 24th, depending upon where in the world you live, the band will be unleashing new album Dig In Deep, which will see the release of the first Tyketto studio album in 18 years with the classic original lineup.  Across the last couple of years, the band overcame the tyranny of distance to write and record an album that my ears hear to be classic Tyketto.
Danny Vaughn checked in with May The Rock Be With You to introduce us to the new album, Dig In Deep.
Hey Danny, firstly, thanks for taking the time to talk about the new Tyketto album Dig In Deep.  Following the recording of the album via your tour updates, there certainly were a few "challenges " and "obstacles" along the way – was that journey what inspired the choice of Dig In Deep as the album title?
It was a coincidence, really.  Making an album is rarely a smooth process because there are so many various elements involved aside from the music.  But I wrote the song Dig In Deep as a way to give myself a personal kick in the ass because I wasn't writing much material and the deadline was closing in.  It's my "cure for writer's block" song.  Basically, it's my way of assaying to myself to stop whining and get the job done.
Lead track Faithless has served as a teaser, but on April 20th, Tyketto fans worldwide will get to hear Dig In Deep in its entirety.  In a musical sense, how do you describe the Tyketto sound circa 2012?
It's a funny one: people have been making a variety of comments in that area. Some say "it sounds just like Tyketto" or "it doesn't sound like Tyketto", which I find really funny because, it's the four of us so how could it sound like anything else?  But, to answer your question, I feel that the sound of the album very clearly shows our roots but also encapsulates so much more of what we are now.  There is a modern sound to the production without being a radical departure from what Tyketto has always been.
Reuniting the classic line-up, whilst you had played some shows together, how "immediate" was the song-writing chemistry that had previously produced such classic songs such as Wings and Forever Young? Was that something that evidently had remained over the years, or did it take a little while for the four of you to get back into the writing groove?
Things were very different because we no longer live in the same country, much less the same house, the way we used to.  But it began over 2 years ago with Michael, Brooke, and myself getting together quietly in Las Vegas for about a week.  We wanted to see if we could still write together effectively without any outside pressure.  So, if nothing occurred, we would simply shake hands and go home with no one the wiser.  But what happened was that we ended the week with the beginnings of 6 or 7 songs that had real promise. So we knew we had to continue.
Further on the songwriting dynamic, I guess you also had the fact that the majority of the songwriting for this album took place from your own individual studios/home, which would have no doubt added further complexity to the process?
It did.  I think it slowed things down some times.  Certainly it did from my end because I didn't have any immediate responses to ideas to influence me.  You know, if I'm playing an idea on guitar and Brooke is right there in the room with me he can immediately influence what's going on.  But with no one there I sometimes stall and can't find my way through.
Do the songs we hear on Dig In Deep originate from recent songwriting sessions, or do some of the ideas/tracks go back to the early days?
Almost everything was written for this album over the past 2 years.  There were 2 songs (one of which will be used as a separate itunes single) that Brooke wrote as solo songs a few years back but all the rest were written for this album.  No ancient left overs.
Songs such as Sound Off, Faithless and Here's Hoping It Hurts, there are some musically and lyrically aggressive moments on the album, did you feel this coming through in the writing and recording sessions?
Eventually, yes. I was surprised that we all had as much angst as we did towards a number of issues.  But here's the thing: we're not under any public pressure at our level.  We can say what we want and not be concerned about offending people the way pop stars are always under such pressures.  The fact is, most television sucks these days.  Playing voyeurs to a bunch of morons stranded on an island together or locked in an apartment is not only the extreme of unimaginativeness (not a word but perhaps it should be?), but it's also a sad state of affairs in general.  As are all of these "pop stars out of nowhere" who have been so obviously auto tuned and fixed in the studio that the producers don't even take the time to effectively hide the fact.  And it's our fault.  We just sit there and take it.  Tired of paying ridiculously high prices for a day out with your kids at a sporting event?  Stop going altogether.  If we all did that for one year, watch how fast the ticket prices would go down!  Yup, I'm still angry!!   LOL!
As far as lyrics on the new album, did they largely came from yourself Danny, or did you all contribute lyrically to the songs on this album?
That's one of the really cool differences on this album.  Before, we never strayed into each other's territories.  But on this album, Brooke presented some songs with lyrics and melodies done and I wrote a couple of guitar riffs so we really did get the best of all of our talents.
Picking a few songs from the album, here's your chance to tell us a little bit about what each song is about, any interesting experiences whilst recording/writing the song etc:
The Fight Left In Me – is my favorite Brooke St. James moment on the album.  This album is by far his best work and he was able to really take the time to work through a lot of ideas on guitar beyond the standard rhythm and solo parts.  I will admit that it was a real nail biting process for the rest of us while we waited for what he would send in.  But he never once produced the obvious and this song exemplifies that.  The solo at the front is a full on, minor key, "Eruption" type of guitar blaze that every guitarist dreams of doing.  But then the solo in the song is more of a Brian May sounding, multi layered musical piece.  I love listening to that because we all contributed something to that section.  Hand claps, castanets, stomping and shouting, it's all in there.
Sound Off – is one of the songs that I wrote during the first writing session. I wrote the riff and Brooke developed it into a monster.  As I mentioned before, it's all about my disappointment in the various entertainments that we are settling for these days.
This Is How We Say Goodbye – may be the best song I've ever written.  It's a very personal exploration of the death of two people that were dear to me, my spiritual brother, Charlie White Elk, and Michael's mother, Evelyn.  They had met once, a long time ago and therein lies the story. They were from two entirely different worlds but both were real lovers of family and dear human beings.  As we get older, death is a subject we cannot run away from.  I wanted to deal with loss head on.  It's the only song I have ever recorded that I have had trouble singing because I would keep breaking up.  You can hear a touch of that in the finished vocal and I wanted to keep it.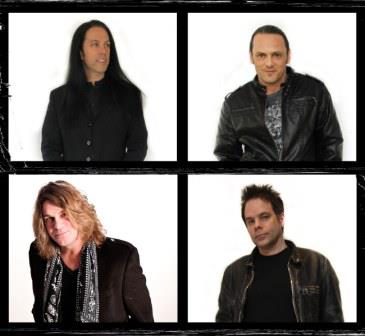 Perhaps this question will be best answered after Dig In Deep has been released for a number of months, but in your experiences over the last few years playing a bunch of live Tyketto dates, have you noticed an influx of new fans discovering the band for the first time?  It must be an exciting time for you with a new album to help that cause in the coming months…
There have been some, yes.  And it's a really wonderful feeling to meet people that have been turned on to the band by older siblings or by their parents.  It proves that not all music has to be trendy and generational.
For me personally, Tyketto has had an enduring legacy that hasn't wavered over the years.  A legacy that for me that has been built on the strength of the bands songwriting and musicianship abilities, as opposed to one based upon image or reputation alone, for example.  Do you think my comments are an accurate representation of how Tyketto as a band is generally considered out there in the collective music world?
I think that your comments greatly summarize how I, personally, feel about Tyketto.  I've always felt that we offered a slightly deeper view of song writing than some of our contemporaries, but that's just my opinion and I would never slag off any band for believing in what they do. But, to be fair, to some people, we're just a "hair band".  Not a title I'm happy with  but what can you do?
Another personal observation following on from that last comment is when I listen back to Don't Come Easy and Strength In Numbers, they don't necessarily sound like they came from a period of around 20 years ago, unlike many albums that were released around that Tyketto were generally lumped in with.  At the time, did you actually pay attention to producing a sound that in a way might be considered "timeless"?
Yes, I think we did. Remember, too, that we had 2 masters of their craft at the production helm in Richie Zito for the first album and Kevin Elson for the 2nd. Guys like that are always conscious of not making dated sounds on their albums. And certainly, that would be our goal as well when writing songs like "Seasons" and "The End Of The Summer Days".  A friend once told me that our songs sound like they've always been there. What a great compliment!
In recent years, Tyketto has made appearances at festivals across Europe and the UK, such as Sweden Rock Festival, Firefest, and Hard Rock Hell.   Compared to the USA where the band originated, this region of the world has always seemed to represent a stronger market for the band, is this something you have formed an explanation for over the years?
American audiences have a really short attention span and they are often dictated by fashion. In Europe and the UK they have longer memories and less concern about what's in style and what isn't.
Late last year you performed a live show over the Internet, where fans around the world could buy a ticket and watch Tyketto perform in the comfort of their own lounge room…how did you find that experience performing in that capacity?
I loved it. There was a lot of stress around the whole set up but, in the end, we had over 17 different countries tuned in and I think it got us seen by a large group of people that never got to see the band live because we couldn't get out to where they live.  So it accomplished what we wanted and I hope to do it again. And we have some good footage for a possible DVD in the future.
So what are fans likely to expect on the horizon as far as Tyketto touring action…obviously this is based upon your respective schedules and availabilities.  Might we even see a few more Internet based performances?
I hope so. We are very limited as to what we can do live because of people's schedules and we are not a year round concern. I'm hoping that we will do 7 or 8 shows around October, when we play Firefest.
Danny thanks for your time answering these questions, for the music since the days of Waysted and I look forward to watching the legacy of Tyketto continue to grow from afar over here in Australia!
Thanks Scott, and I'm hoping that we get to visit you down there before our story is all over!
Essential Information
From: USA
Band members: Danny Vaughn – Lead vocals, Brooke St. James – Lead guitar & backing vocals, Jimi Kennedy – Bass guitar & backing vocals, Michael Clayton – Drums
Website: www.tyketto.de
Latest release: Dig In Deep (20 April 2012, Frontiers Records)