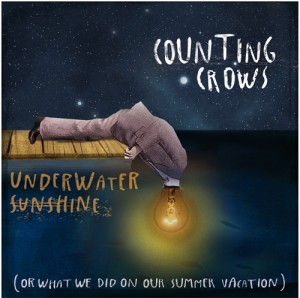 Counting Crows fans, the bands new album Underwater Sunshine is due out very, very soon on April 13th, but the band want YOU to hear it right now, via the music player below.  So check it out and be sure to buy the album when it's released shortly, by Sony Music.  PS: Make sure you give the player a few moments to fully appear on your screen.  All the details about the album appear below…
You can pre-order the album via JB Hi-Fi via the following link below:
http://www.jbhifionline.com.au/music/pop-rock/underwater-sunshine-or-what-we-did-on-our-summer-vacation/664164
You can pre-order the album via JB Hi-Fi via the following link below:
http://www.jbhifionline.com.au/music/pop-rock/underwater-sunshine-or-what-we-did-on-our-summer-vacation/664164
Multi-platinum American rock band Counting Crows have announced they will be releasing their first new album in over 4 years on April 13th, 2012 via Sony Music Australia. Underwater Sunshine (or What We Did On Our Summer Vacation) is a collection of songs, both familiar and obscure, interpreted by one of the most soulful and recognisable bands of the past two decades.
Underwater Sunshine is a testament of a band geek-obsessed with music, "There's a million great songs written every day that you discover, and wish your friends could appreciate as much as you do," says singer/songwriter Adam Duritz. "These songs come from bands young and old, stretching from the early 60s to last year. They're all great and will hopefully be heard by a few more people now."
Produced by Counting Crows and Shawn Dealey, Underwater Sunshine features tracks written by artists such as Big Star, Gram Parsons, Tender Mercies, Kasey Anderson and The Faces. Each rendition offers an entire spectrum of human emotion, delivered with the conviction and intense honesty the band is known for.
As with their previous releases, it was the right time for the Crows to make this album. "If you wonder why we didn't just write our own record, it's simply because we wanted to do THIS one," says Duritz, We now have the creative freedom to release albums like this and offer our fans more music than ever."
The Crows also gave their fans the opportunity to design their new album package. Just as the band is interpreting songs from others, fans became a part of this unique album by visually interpreting the Crows. The winning designer is working with the band's creative director to develop the rest of the album layout. The contest was ran by Creative Allies, and is proving to be their most successful contest to date. To find out more, go to: http://creativeallies.com/contests/314-Design-an-Album-Cover-for-Counting-Crows
Counting Crows will also partner with Indaba Music and Guitar Center to launch a contest in search of the best Counting Crows covers. After listening to all submissions, the band will select 3 winning tracks to be awarded various prizes. For further info go to: http://www.indabamusic.com/opportunities/counting-crows-cover-song-contest
Underwater Sunshine track listing:
Untitled (Love Song) by Romany Rye
Start Again by Teenage Fanclub
Hospital by Coby Brown
Mercy by Tender Mercies
Meet On The Ledge by Fairport Convention
Like Teenage Gravity by Kasey Anderson & The Honkies
Amie by Pure Prairie League
Coming Around by Travis
Ooh La La by The Faces
All My Failures by Dawes
Return of the Grevious Angel by Gram Parsons
Four White Stallions by Tender Mercies
Jumping Jesus by Sordid Humor
You Ain't Going Nowhere by Bob Dylan
The Ballad of El Goodo by Big Star
Counting Crows hail from the San Francisco Bay area and consist of Adam Duritz (vocals), David Bryson (guitar), Charles Gillingham (keyboards), Dan Vickrey (guitar), Jim Bogios (drums), David Immergluck (guitar) and touring bassist Millard Powers. The band have sold over 20 million albums worldwide and in the US achieved Eight Top 5 singles and three records of which have broken the Top 5 on the Billboard 200. The band's success dates back to the 993 debut release of August And Everything After which featured the hit single "Mr. Jones." The band's most recent accomplishments include a # 1 hit with the song "Accidentally In Love," which was featured on the Shrek 2 soundtrack, as well as nominations in 2005 for a Grammy Award, a Golden Globe Award and an Academy Award for the track. In 2004 the band released their first ever "Best Of" set Films About Ghosts which featured songs from every phase of the Counting Crow's recording career and in 2006 a live record was released, *New Amsterdam: Live at Heineken Music Hall 2003, while the band ventured out on a summer tour. Their most recent album, Saturday Nights & Sunday Mornings was released to critical and popular acclaim in March 2008.
http://www.countingcrows.com/