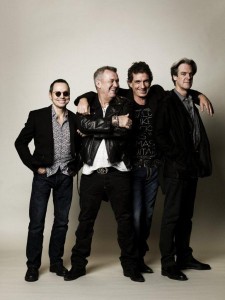 It's as hard to believe that 14 years has passed by since Cold Chisel's last studio album, Last Wave Of Summer, as it is to then ponder that it's now been some 28 years since the album before that, Twentieth Century, when Cold Chisel "broke up".  No Plans, the newly released seventh studio album from arguably Australia's most iconic rock band, sees the band delivering an album chock full of everything that at least my ears yearn for when it comes to Chisel, as I am sure it does the ears of many others.  It may have been years between albums, but the legacy of Cold Chisel has never wavered, particularly with Barnesy and Mossy being so active as live solo performers.  Having an opportunity recently to chat with "Mossy", he sums it up, "you know it's a great product, whether we're together or not, we've always supported Cold Chisel."
The impetus for what ultimately led to No Plans can be traced back to late 2009, as Mossy explains "An opportunity came to do the V8 Supercars Concert in Sydney at the end of 2009, which at that stage was just going to be a one off, because we were all fairly busy with stuff.  We did that and it was such a great experience and we thought we're not getting any younger, and we could continue to do well and continue Cold Chisel if we work hard at it.  So we thought c'mon let's go for it."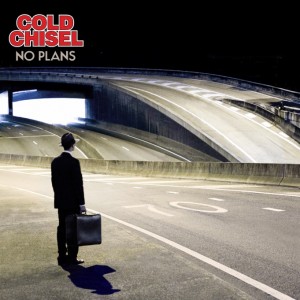 Featuring 13 tracks that were recorded across sessions during 2010 and 2011, the passing of drummer Steve Prestwich in January 2011 could easily have resulted in this album never being completed, but in true resilient fashion, the band continued what had been started.  From the opening seconds of lead track No Plans, as alluded to earlier, it is undoubtedly Cold Chisel, I mean that combination of Barnesy's vocals and the stabbing piano of Don Walker, unmistakeable.  The title track No Plans sees Chisel at their most aggressive, and it's not just my ears that think so, as Moss reveals, "it's definitely one of the most aggressive albums we've done, however, we don't want to kick pop out of Cold Chisel completely, because some of us are naturally quite melodic.  But we thought, we're a rock n roll band, let's get agro with this."
Combined with that musical aggression of the title track and the hard rocking blues of the Moss sung Too Late, you also have some lyrical tongue in cheek aggression such as the first single Everybody which has a great video to accompany, as can be seen below. Integral to the album and the aggression mentioned earlier, is the production courtesy of Kevin 'Caveman' Shirley (Journey, Iron Maiden, Rush, Europe, The Angels, Silverchair), which is raw and live sounding, but I guess when you are talking about one of the country's greatest live bands, would you expect to hear anything less?
Those unmistakable melodies of Don Walker are all over tracks such as All For You, which should be instantly familiar to the hundreds of thousands who attended last years massive Light The Nitro tour, which was one of two new songs the band featured, the other being the rollicking blues of HQ454 Monroe which is destined to be an instant live favourite, as I have already witnessed it to be.
Missing A Girl, with it's simple acoustic guitar, piano and restrained vocals from Barnes, is in contrast to the rockabilly influence that dominates the album, as Moss adds "it was almost a definite plan to focus in on an early 60's rockabilly kind of thing as a starting point and influence as nothing else.  I think we've managed to do that, we've got that going on with a 2012 edge to the whole thing."
The Horizon, one of my own personal favourite tracks, gets about as close Cold Chisel are ever likely to get sounding like a Jimmy Barnes solo track, it really does almost channel that Working Class Man style and I love the country'fried twang in the guitar solo.  The legacy of Steve Prestwich is throughout this whole album, both in a drumming capacity on a few tracks, as well as his haunting vocal featuring on the closing track I Got Things To Do.  With the final words sung on the album "I've got things to do today"… 
For Cold Chisel, there are indeed plenty of things to do today….  Right now, as I type, the band will be gearing up to launch No Plans at their headline performance at the Byron Bay Bluesfest, then there's a couple more shows that sees the band get back to some slightly more intimate venues, after the arena tour that was Light The Nitro.  April 12th the band will be back in Melbourne playing at Festival Hall, then April 18th,the Horden Pavillion in Sydney which will be a show beamed into cinemas Australia wide for a special live screening.
Beyond that, believe it when the band says No Plans!  Recent years has taught them that and Moss makes it pretty clear when referencing the album title as a reminder to us all "obviously when Don was writing the songs, the album title was the furthest thing from his mind.  But it's definitely an indication of what's coming up, we're going to release this album and do a couple of shows to promote it, but after that, there's No Plans!"
Whilst it may be a case of No Plans…whether it may be this year, or next year, or it may be another 14 years, rest assured the story of Cold Chisel still has much more to be written, says Moss "this band is still unbeatable in a lot of ways and we've still got a lot to say…."
No Plans, out now at record stores Australia wide through Warner Music Australia.
Essential Information
From: Australia
Band members (No Plans): Jimmy Barnes – Vocals, Ian Moss – Guitars/Vocals, Steve Prestwich – Drums/Vocals, Phil Small – Bass/Vocals, Don Walker – Keyboards/Vocals, Charley Drayton – Drums/Vocal
Release date: 6 April 2012
Record label: Warner Music Australia
Track listing:
1.     No Plans
2.     Everybody
3.     All For You
4.     HQ454 Monroe                                         Written by Don Walker and Troy Cassar-Daley
5.     Dead And Laid To Rest                           Written by Jimmy Barnes and Guy Davies
6.     Missing A Girl
7.     Too Late                                                       Written by Ian Moss
8.     I Gotta Get Back On The Road
9.     Our Old Flame
10.   This Day
11.   Summer Moon
12.   The Horizon
13.   I Got Things To Do                                   Written by Steve Prestwich
All songs by Don Walker except as indicated above
Producer: Kevin Shirley
Website: www.coldchisel.com
ON TOUR IN APRIL
Thursday April 5           Bluesfest, Tyagarah Tea Tree Farm
Saturday April 7           Perth – Sandalford Estate, Swan Valley
Thursday April 12         Melbourne – Festival Hall – NO PLANS ALBUM LAUNCH
Wednesday April 18    Sydney – Hordern Pavilion – NO PLANS ALBUM LAUNCH